I wanted to let you know that your books are the inspiration behind this new concept. – William.
Last month, that brief e-mail hit our general inbox at Whole30 HQ. Attached was a press release, detailing the decision Washington-based businessman William Manzanares made to switch his tobacco shop over to a convenience store offering organic, local on-the-go and emergency foods.
The press release included this line: "After losing more than 40 pounds and changing the way he views food and how we nourish our bodies, Tacoma Fresh owner and entrepreneur William Manzanares transformed his North Point Smoke Shop from a tobacco store into the Tacoma Fresh convenience store in order to offer the public a way to eat healthy on the go."
The author of the email was William himself, and he said that It Starts with Food and The Whole30 were his inspiration for making this radical shift. So yeah, we wanted to know more.
An Interview with William Manzanares of Tacoma Fresh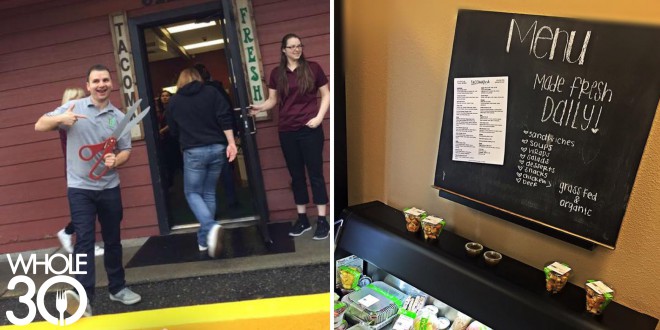 How were It Starts with Food and The Whole30 the inspiration behind your business change?
I've struggled with my weight all of my life. I was an emotional eater as a child, as a way to cope when my parents divorced.  I lost weight in high school when I started working out, but I got married young and started gaining it back. I topped out around 240 pounds. After my divorce I started to work toward a black belt in Hapkido, which meant an hour a day of straight cardio.
Through my training I lost weight, but I could never lose those last few pounds. Trainers would tell me, "Oh, it's your diet," but I didn't think I was eating too much. Eventually I earned my black belt. I was so excited, but I also hurt my body a lot. I tore a shoulder in one of my defense classes in the spring of last year and was unable to work out. By last August, my weight was back up, but I refused to acknowledge it. I wouldn't buy a size bigger, so I would just buy the stretchiest shirts I could find in my size.
I realized that I had read thousands of business books in my life; it was time to start reading diet books.  That lead me to lots of books about nutrition, including The Whole30 and It Starts with Food. What I liked about the Whole30 is that it is an an experiment on myself. I started experimenting and lost weight.
How did that personal journey have such a profound effect on your business?
At a certain point during my research into diet, I took a business trip to a convenience store convention in Vegas. By this point, I'm a label reader. I know what I need to stay away from. So here I am in a 400,000 square foot convention hall, and I'm not able to eat anything. Junk food everywhere, and the exhibitors are telling everyone, "It's healthy!" It sparked the idea of a convenience store where you can get something on the go that actually is healthy.
In my area [of Tacoma, WA], there is NOTHING like this. I've visited similar concepts of natural food stores down the coast, but no one has really taken that idea to the convenience store level.
What's your store, Tacoma Fresh, like?
As much as possible, products are organic and locally sourced. We have pre-packaged foods along with fresh produce, salads, sandwiches, and ready-made meals, all of which are prepared in our own kitchens. There's a refrigerated section with cage-free eggs and grass-fed meats, cheeses, and milk. We're encouraging our customers to "grow their own" by stocking vegetable seeds that are organic and non-GMO product certified. And, we have a little indoor greenhouse with flowers and plants for the garden.
What Whole30 options do you carry?
If you were Whole30ing during a road trip and made a pit stop at Tacoma Fresh, you could definitely find a wide range of items to satisfy your hunger.
Our concept is fresh food to go. We make all of the items for our prepared food section in house, which gives us freedom to experiment with different items. We will tailor a dish specifically to your needs. If you have dietary restrictions or preferences, come here, talk to our chef about it and we'll meet your needs. Our menu includes several fresh salads and we have an amazing, dairy free, Whole30-compliant house made ranch dressing to go with them. We have compliant prepared dishes like our popular Swiss Steak with Sweet Potatoes dish. Some of the soups on our rotating menu are coconut milk based. And, we sell cups of fresh cut fruit as well.
We also carry some compliant beverages like bottles of Hint water and Humm kombucha on tap, and packaged items like Go Raw seed mixes. Right now, I'm working on getting some of the Whole30 Approved brands in store, and I'm making arrangements to carry copies of It Starts With Food and The Whole30 too.
What's next for you?
I'm an entrepreneur. I own other businesses, including smoke shops, because that's the business that I know. But it started bothering me that when I went to career days at the local elementary school, I was promoting tobacco. I don't want to. If I'm in the capacity to do something right in the world, I want to be a leader instead of a follower.
I don't think anyone else has ever closed down a tobacco store to open an organic food convenience store. My businesses support my employees and provide jobs in my region so I have to be strategic, but I'd like to convert all of my businesses over to healthy eating establishments.
There is no one doing this kind of business [of convenience stores stocked with organic, locally-sourced food] because the model isn't proven. Tacoma Fresh is the first! Once it is proven, it will be copied. I want to be an early adopter so that other people copy me. Our region, state, and world will be a better place for it.
To learn more about Tacoma Fresh, visit their website or follow them on Instagram and Facebook.
Photos courtesy of Tacoma Fresh