Have you heard?
Whole30 has partnered with Whole Foods Market in Colorado, Idaho, Utah, New Mexico, and Kansas!
We couldn't be more excited about this new Rocky Mountain-region partnership, designed to make preparing for and succeeding with your next Whole30 easier than ever. Whole30 headmistress Melissa Hartwig has been working with Whole Foods management for more than six months to roll this partnership out. In her own words:
"When Whole Foods approached me about creating Whole30 sections in their stores, it was an immediate YES. Their mission, values, and offerings are already so closely aligned with the Whole30, and the project is a huge win for my community. The intention was to make my 'best of' list of Whole30 Approved and compliant offerings really easy to find in the store, and they exceeded expectations, with a huge 'be on the lookout for Whole30 Approved' sign as soon as you enter the store, large call-outs in sections featuring Whole30 goods, and individual 'bib chips' under specific products that fit our program rules. Management has been so attentive to detail, ensuring the right products are highlighted and working with me to make adjustments to signage where needed. It's obvious that Whole Foods really cares about this initiative, and I could not be happier with our partnership."
Here's how the program works… and make sure you scroll to the very bottom of the page, where we'll announce TWO WEEKS of giveaways from Whole Foods Market and our Whole30 Approved partners, open to everyone in the U.S. (not just the states featured here).
Whole30 in Whole Foods
When you walk into a Rocky Mountain region Whole Foods Market, you'll be greeted by a huge sign telling you to look for Whole30 Approved items marked throughout the store. As you browse the aisles (even in produce and the freezer/refrigerated sections), you'll see large, prominently placed signs next to Whole30-compliant highlighted brands. As you search for an individual product or flavor, you'll see small tags under those varieties that fit our program rules.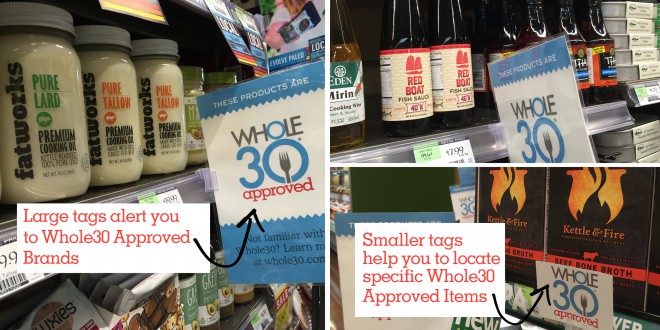 Now, the fine print:
Read your labels. You still have to read your labels. You ALWAYS have to read your labels. The stores have done an amazing job making sure their signage is accurate, but the signs may fall down. Someone may move a bottle from one shelf to another, or put something back in the wrong slot. The sign may be between two products, and you're not totally sure which one it points to.
These signs are designed to help you easily spot Whole30-compliant items throughout the store, but we're not going to do your shopping for you. Read your labels. Make sure the highlighted product really does fit the program rules. Don't let these signs allow you to skip out on one of the most valuable lessons the Whole30 has to offer: teaching you how to spot potentially less-healthy or hidden ingredients on a label, and helping you understand exactly what's in the food that you are eating.
Know there are other compliant products. It would have been an impossible task to highlight EVERY compliant offering in the store, from mustard to salmon burgers to nut butters. We chose our favorite lines from companies we know and love, and individual products that are staples in a Whole30 meal plan (like coconut oil and almond flour). Just because something isn't highlighted doesn't mean you it's not compliant, so again, read your labels.
If you see something, say something. All of the Whole Foods stores we've been working with have shown tremendous dedication to making sure products are accurately highlighted, but when the roll-out is this big, there are going to be some kinks in the process. If you notice a brand of kombucha or salad dressing is marked "Whole30 Approved" when it's clearly not compliant, point it out to your store's management, and/or take a photo and either email us (content@whole30.com) or tag us in social media so we can connect with the store directly.
Do you live outside of these featured states? Let your local Whole Foods Market know that you would love to bring our Whole30 Approved program to your region! Speak to store management in person, tag your local store on social media, or drop a comment on their Facebook or Instagram page.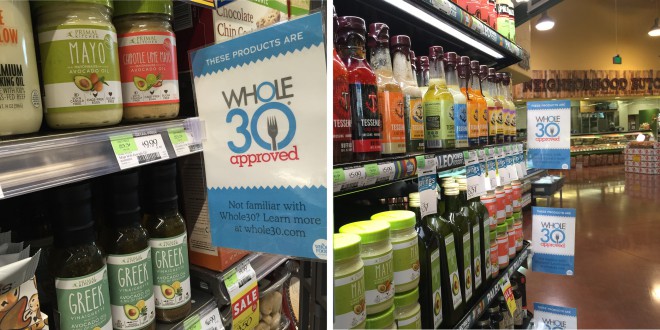 Whole30 & Whole Foods Market Quick-Shop Guide
Whether you are preparing for your first Whole30 or your sixth, preparation and planning are the keys to success with our program. From shopping for your 7-day meal plan (page 196 in The Whole30) to keeping a few pre-made meals in the freezer to stockpiling compliant emergency options at the office, our partnership with Whole Foods is designed to help you locate what you need to succeed with your Whole30. To help you navigate your way throughout the store, here is a list of some (but not all) of the Whole30 Approved brands featured in this partnership.
Note: Each Whole Foods is organized a bit differently, so if you are having trouble finding any of these Whole30 Approved products, ask an employee to help you find where they are located in your local store.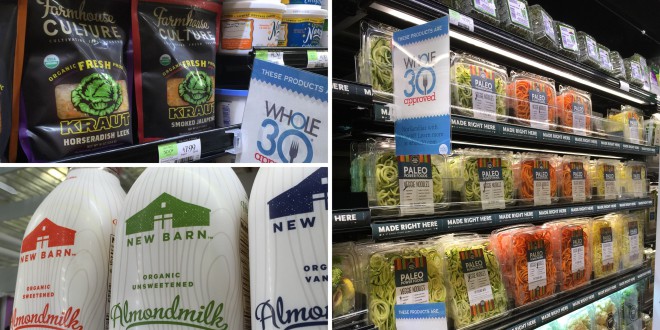 Refrigerated Items (near Produce or Dairy)
Farmhouse Culture: All sauerkraut and Gut Shot varieties except the Kimchi are compliant. (Note, sometimes these are located near the dairy section.)
Tessemae's: You'll find salad dressings, mayo, and other condiments here. Note: anything that contain soy or honey are not Whole30-compliant. For a complete list of approved Tessemae's products, click here. Want some creative ways to use Tessemae's Dressings? We have a couple fun and exclusive recipes in our Whole30 & Tessemae's post!
EPIC: All Bits salad toppers except the Maple Bacon are Whole30 Approved. Check out these awesome salads featuring EPIC Bits!
EPIC: All Sippable Bone Broths (beef, chicken, and turkey) are Whole30 Approved.
Primal Kitchen: Featuring their Mayo, Chipotle-Lime Mayo, and Greek Dressing. You may also find Avocado Oil here. All of these offerings are Whole30 Approved.
The New Barn: Unsweetened Almondmilk (in the green bottle).
Bonus: In the produce section, you'll also find Whole Foods fresh spiralized veggies, a quick and convenient option for your Whole30! Check out this recipe from The Whole30 using spiralized zucchini noodles.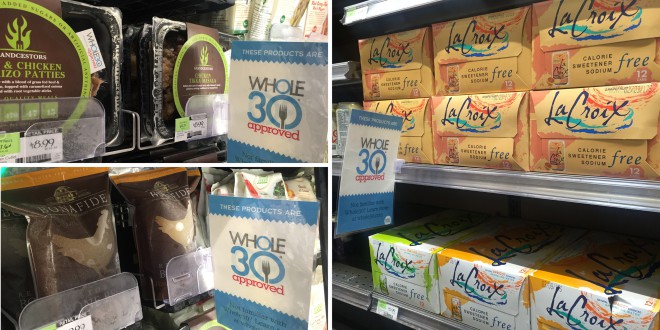 Packaged Meat Section
Pederson's Natural Farms: One of the only Whole30 Approved bacons on the market! Look for the Whole30 logo on their packaging, too.
Frozen Foods Section
Grancestors frozen meals: All varieties are Whole30 Approved; these are often found near the frozen meats, or pre-thawed in the refrigerated case near the hot food bar.
Beverages & Coffee
LaCroix Sparkling Water: All flavors of sparkling water are Whole30 Approved.
Crio Bru Brewed Cocoa: All varieties of Crio Bru are Whole30 Approved. (Located with coffee.)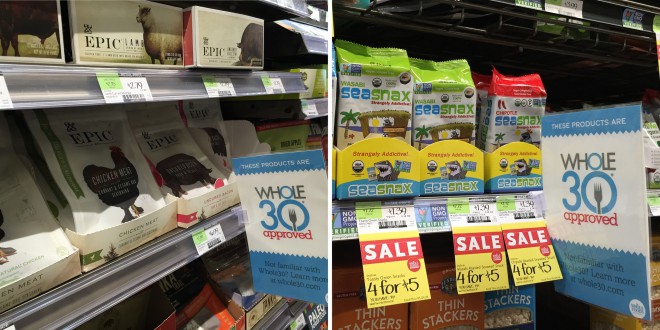 Cooking Fats
Fatworks Animal Fats: Their entire line, including tallow, lard, duck fat, and chicken schmaltz, is Whole30 Approved. To learn more about cooking with traditional animal oils (and check out some amazing recipes), see our 4-part series featuring Fatworks.
EPIC: Their entire line of animal oils, including tallow, duck fat, and lard, are Whole30 Approved. Looking for some delicious recipes to try out your EPIC Animal Fats on? Check out Cooking with EPIC animal oils.
Snacks/Bars, Soups, & Ethnic Foods
Kettle & Fire Bone Broth: Their pastured, organic beef broth is Whole30 Approved. (Sometimes you'll find this in the refrigerated section in Produce.)
Red Boat Fish Sauce: The only Whole30 Approved fish sauce, located in the Asian foods section.
EPIC – all Bars except the Bison-Bacon-Cranberry, all Bites except the Salmon Maple Dill and Maple Bacon. For a complete list of all Whole30 Approved EPIC products, check out the Whole30 page of their website.
Sea Snax: All varieties of Snack Sheets are Whole30 Approved, but not the Chompers or Stix.
Supplements
SFH Fish Oil: All varieties are Whole30 Approved; if they don't carry this in your local Whole Foods Market, order online with the affiliate code whole30 to save 10%.
It's a Whole30 Whole Foods Celebration!
To celebrate this new collaboration, this month we're giving away gift cards from Whole Foods Markets and prize packs from participating Whole30 Approved partners.
It's easy to win. Today through June 1, simply find your favorite Whole30 Approved product on the shelf at any Whole Foods Market nationwide and snap a photo. Then, share it with us via social media. Here's how:
On Instagram
Share the photo to your account with the hashtag #Whole30WholeFoods. Don't forget to tag @whole30 and @wholefoods.
On Twitter
Tweet the photo with the hashtag #Whole30WholeFoods, and tag @whole30 and @wholefoods.
On Facebook
Post the photo to the Whole30 Facebook page. Use the hashtag #Whole30WholeFoods and tag the Whole Foods Markets page.
On Snapchat
Snap your photos to us (whole30) and Whole Foods (wholefoods). Caption them with the #Whole30WholeFoods hashtag
Note: While we're thrilled to see photos from Whole Foods stores that include Whole30 Approved signs, you can take a photo at ANY Whole Foods location. In fact, help us bring this collaboration to other Whole Foods regions by telling your local store manager you want to see Whole30 Approved signage in YOUR store!
So get out there and start shopping – and be sure to stay in touch with us as we share new Whole Foods/Whole30 news by following Whole30 on Instagram and signing up for our free bi-weekly newsletter, Wholesome.
Liked this article? Get even more FREE
Whole30 goodness!
Subscribe to Wholesome, our FREE email newsletter.