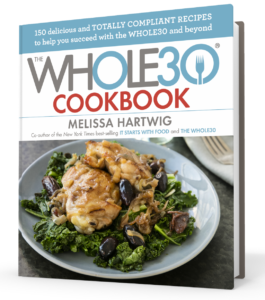 We'll cut right to the chase with some big news: an ALL NEW Whole30 Cookbook, featuring more than 150 totally compliant Whole30 recipes, will be in bookstores everywhere on December 6, 2016.
Yes, you read that right. For the past eight months, working with a talented team of editors, photographers, and stylists, Whole30 headmistress Melissa Hartwig has been hard at work on not just one, but two books for the Whole30 community. (The other book, Food Freedom Forever, will be available on October 4, 2016… but you already knew that, right?)
OMG TWO WHOLE30 BOOKS THIS YEAR!!!!!!!!!
Since the release of The Whole30, you've been talking (and typing) on social media,  and we've been listening. You loved those recipes and cooking tips, but once you gained your kitchen confidence, you were ready to take your meals up a notch, and you wanted recipes to stretch your culinary boundaries for your Whole30 and beyond.
So Melissa was like, "Okay, let's make  a new cookbook with interesting flavor combinations, but still easy enough to whip up for dinner on a Tuesday night."
And now, we're sharing the first glimpse of The Whole30 Cookbook on the blog. It's filled with 150 new recipes, written in the same straightforward, easy to follow style that you loved about The Whole30.
Some of Melissa's favorite recipes include:
Moroccan Chicken with Carrot-Pistachio Slaw (the cover shot!)
Cherry Chipotle BBQ Chicken Thighs
Jicama Street Tacos with Barbacoa
Turkey Larb
Roasted Salmon Caesar Salad with Parsnip "Croutons"
Pork Posole with Tostones
Creamy Caramelized Onion Sauce
Herbed Rutabaga "Fries" with Spicy Ketchup
Spicy BBQ Kale Chips (these will change the way you think about kale chips FOREVER)
In addition to 150 new recipes for main dishes, sides, dressings and sauces, The Whole30 Cookbook also includes recipe variations (what Melissa calls "Recipe Remixes") so that you can make two or three meals out of just one recipe, maximizing your kitchen effort and saving valuable prep time.
And, because the Whole30 community is such an important part of our program, we've invited some of our favorite Whole30 recipe bloggers and creatives (like Melissa Joulwan, Michelle Tam, the Whole Smiths, and Paleo Paparazzi, to name a few) to create some special Whole30 recipes just for you.
Stay tuned for more details on the recipes, the photography (Brent Herrig makes Whole30 look SEXY), and our contributors.
Pre-Order The Whole30 Cookbook Now!
And YES, you overachievers can pre-order your copy today – just visit The Whole30 Cookbook page. We can't wait for you to dig in… just in time for the January 2017 Whole30!
Liked this article? Get even more Whole30 goodness!
Subscribe to our Whole30 email list, and we'll send you 15 recipes from our Whole30 cookbooks for free.