We're just three weeks away from the U.S. and Canadian release of The Whole30 Cookbook (coming December 6th!), and we can't wait to share more than 150 brand new, totally Whole30-compliant recipes with you.
The The Whole30 Cookbook is a collection of creative recipes designed to kick your kitchen confidence into high gear without being chained to your cutting board. The main dishes, sides, dressings, sauces, nibbles, and drinks in this book explore new flavor profiles and experiment with interesting ingredients, but they're still simple enough to whip up for dinner on a weeknight. We know these delicious dishes will support you during a Whole30 (the #JanuaryWhole30, perhaps?), and while you're experimenting with food freedom in life after the Whole30, too.
Some of Melissa's personal favorite dishes include:
Moroccan Chicken with Carrot-Pistachio Slaw
Cherry Chipotle BBQ Chicken Thighs
Jicama Street Tacos with Barbacoa
Turkey Larb
Roasted Salmon Caesar Salad with Parsnip "Croutons"
Pork Posole with Tostones
Creamy Caramelized Onion Sauce
Herbed Rutabaga "Fries" with Spicy Ketchup
Spicy BBQ Kale Chips (these will change the way you think about kale chips FOREVER)
In addition to these traditional recipes, The Whole30 Cookbook also includes Recipe Remixes: instructions on how to make two or three totally different meals out of just one dish, maximizing your kitchen effort and saving valuable prep time. PLUS, we've asked some of your favorite @Whole30Recipes creatives and best-selling authors to contribute their original dishes to this book, making it a true reflection of our vibrant Whole30 social community.
Claim Your Pre-order Sneak Peek
Dishes from The Whole30 Cookbook, from left to right: Slow Cooker Pork Lettuce Wraps with Spicy Peach Salsa; Skewered Ginger-Mango Chicken with Baby Bok Choy; Grilled Lamb Chops and Fingerlings with Arugula Pesto
Can't wait for December 6? Starting today, we're releasing five recipes from The Whole30 Cookbook as a pre-order sneak peek. 
Pre-order* The Whole30 Cookbook through any vendor, at any time before the book is released on December 6th. If you pre-ordered way back in July, you're eligible. Pre-ordering tomorrow? You're eligible too!
Forward your pre-order receipt or confirmation to whole30cookbook@gmail.com.
We'll email you back with instructions for accessing your bonus content.
Enjoy your sneak peek. (And get ready to make some mind-blowingly delicious kale chips. Yes, we're serious.)
*If you live in Toronto, Seattle, Kansas City, Denver, or San Francisco, purchase your copy at one of Melissa's December/January book tour stops, and STILL score the bonus content! See details below.
The Whole30 Cookbook Tour, January 2017
Melissa will be hitting the road in January 2017 to visit more cities and talk about the Whole30 program, Food Freedom Forever, and the new Whole30 Cookbook.
Toronto, ON
Seattle, WA
Kansas City, MO
Denver, CO
San Francisco, CA
If you're planning to attend one of The Whole30 Cookbook events, we encourage you to patronize your local bookstore by pre-ordering or purchasing your copy from the event host. And, BONUS, we'll still send you five free recipes! Simply RSVP for the tour date of your choice and forward your RSVP confirmation using the same instructions above.
Click here for The Whole30 Cookbook January Tour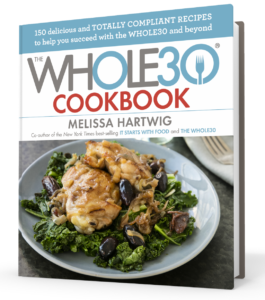 Don't live in a tour city? Pre-Order The Whole30 Cookbook online!
Save