Get your spiralizer out; it's zoodle time! This recipe from the NEW Whole30 Cookbook pairs our love for zucchini "noodles" with a Pho-style soup. It's a light, flavorful dish; the perfect counterpoint for the heavy holiday meals you're likely being served this month. But first, a few details about how you can catch Melissa Hartwig in your hometown during her January 2017 book tour. (Perfect timing if you're doing the #JanuaryWhole30!)
Meet Melissa in January
Just in time for the #JanuaryWhole30, Melissa will be hitting the road in early 2017 to visit Toronto, Seattle, Kansas City, Denver, and San Fransisco. She'll talk about the Whole30 program, Food Freedom Forever, and The Whole30 Cookbook, and will be joined in San Francisco by special guest Danielle Walker of Against All Grain!
Click here for details and to RSVP for one of Melissa's events.
And now… the recipe!
Asian Beef Zoodle Soup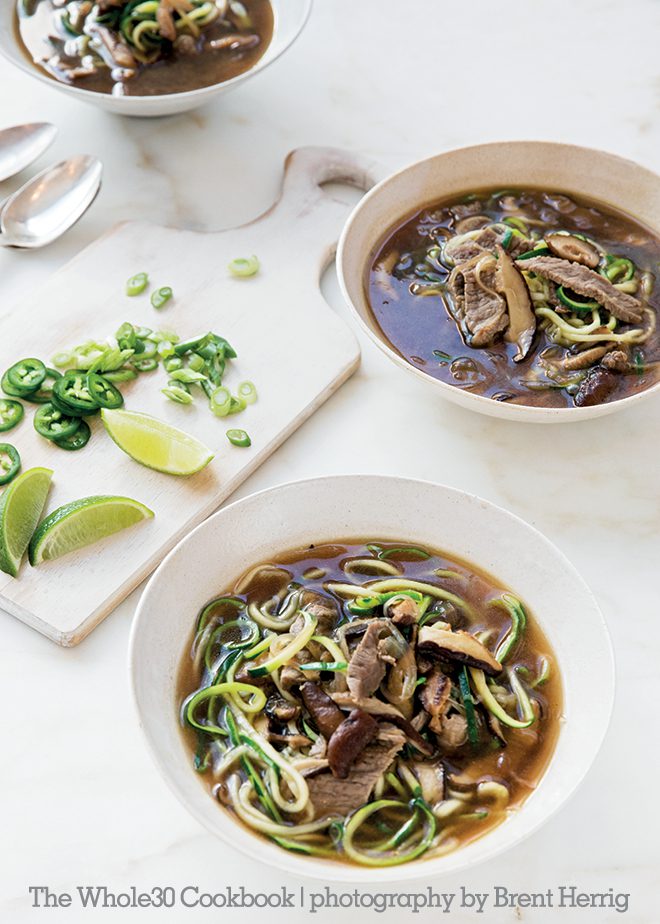 Melissa's note: This Whole30 take on Vietnamese pho subs in zucchini noodles for the classic rice noodles but features the same flavorful ginger-garlic beef broth and toppings—Thai basil, cilantro, sliced green onion, jalapeño, and lime wedges—so you can customize it to your taste.
Ingredients
2 tablespoons coconut oil
1 small onion, halved and thinly sliced
6 ounces fresh shiitake mushrooms, stemmed and sliced
2 cloves garlic, minced
2 teaspoons minced fresh ginger
5 cups Beef Bone Broth (page 285) or Whole30-compliant beef broth
2 tablespoons coconut aminos
2 teaspoons Red Boat fish sauce
1 teaspoon salt
2 medium zucchini
12 ounces boneless beef sirloin steak, thinly sliced across the grain (see Tip)
TOPPINGS
Fresh Thai basil leaves Fresh cilantro leaves Sliced green onion Sliced jalapeño
Lime wedges
Instructions
IN a large pot, heat the coconut oil over medium heat. Add the onion and cook, stirring, until softened, about 2 minutes. Add the mushrooms and cook, stirring, for about 3 minutes. Add the garlic and ginger and cook, stirring, until fragrant, about 30 seconds. Add the broth, coconut aminos, fish sauce, and salt. Bring to a boil; reduce the heat to medium-low and simmer, uncovered, for 5 minutes.
MEANWHILE, use a spiral slicer or julienne peeler to cut the zucchini lengthwise into long, thin strands (or use a regular vegetable peeler to cut the zucchini lengthwise into thin ribbons). Add the zucchini noodles to the simmering soup and cook until just tender, about 2 minutes. Add the sliced steak and simmer until just cooked, 30 to 60 seconds. Ladle the soup into bowls and serve with the toppings of your choice.
Post photography by Brent Herrig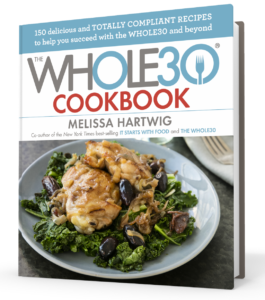 Find The Whole30 Cookbook Wherever Books are Sold
Save
Save
Save
Save
Save
Save
Save
Save
Save
Save
Save
Save
Save
Save