from Whole30 headmistress Melissa Hartwig
Hello to the New Year, and welcome to Day One of your #JanuaryWhole30. In some ways, this group Whole30 with hundreds of thousands of people participating is exactly the same as any other Whole30 you might do alone or with a few friends.
Our rules and recommendations have not changed. You'll still spend the next 30 days eating nothing but whole, nutrient dense-foods. You'll stay connected to our community, gain resources and motivation from our social media channels, and cook delicious food from The Whole30 book, Whole30 Meal Planner, and online recipes.
And if our 2016 survey of nearly 8,000 Whole30'ers is any indication, this month will change your life… as 88% (!) of our survey respondents said the Whole30 changed theirs.
But THIS year, we have two special offerings to maximize your Whole30 joy (and results), and make sure life after stays happy, healthy, and balanced.
The Whole30 Cookbook
First, the Whole30 Cookbook (released December 6, 2016) gives you 150 all new recipes designed to take your Whole30 from "Scrambled eggs again?" to "PRAISE BIEBER WHERE HAS THIS DISH BEEN ALL MY LIFE." The recipes are inventive and creative, kicking your kitchen confidence up a notch with some special ingredients (like coconut aminos) and flavor combinations (like Michelle Smith's Spicy Cherry Barbecue Chicken Thighs), with plenty of simple, no-cook, or make-ahead dishes.
Seriously, you're going to need this. The Spicy Barbecue Kale Chips alone will change your Whole30 life.
Food Freedom Forever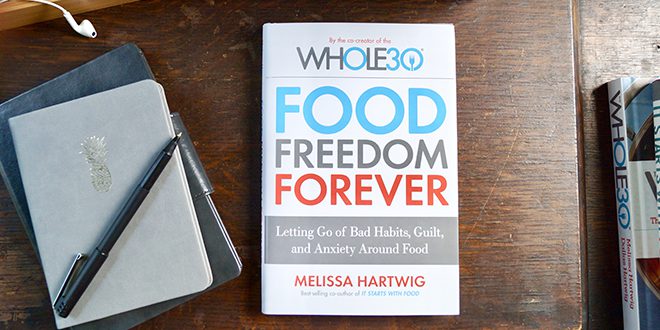 Come February 1st, your Whole30 will be over; but your Food Freedom journey is just beginning. Maybe you bought Food Freedom Forever when it came out in October, and have been working the plan and the techniques outlined during the holidays. Maybe you're still listening to the audiobook version, wrapping your mind around the idea that there IS such a thing as a healthy balance, and it IS available to you. Either way, after the January Whole30, know this one thing: YOU HAVE  A PLAN. And according to Whole30'ers feedback, it's a really good plan.
As often as I've explained that we're not a diet and not a quick-fix (so there is no "rebound"), you deserved more. More of a concrete plan to maintain your new healthy habits. More helpful tips to navigate cravings, habits, and social challenges. Another radical mindset shift in how you think about food, your daily diet, and "balance," the way the Whole30 rules, structure, and support changed your health, habits, and relationship with food.
Food Freedom Forever is my answer.
Welcome to the #JanuaryWhole30
So on January 2nd, we're going to guide you through the most well-resourced, best-supported, most inclusive group Whole30 ever… and then keep that momentum going while everyone transitions into the 3-step plan from Food Freedom Forever.
To say I am excited about these two new resources book and the year to come is a giant understatement.  Stay connected to us via our social media feeds, blog posts, and special FREE weekly newsletters, so you'll be reminded every step of the way that THIS Whole30 is special (and extra-delicious), and that on your Day 31, you'll have a brand-new plan for maintaining the healthy habits you've learned during the #JanuaryWhole30 for the rest of your life.
Now: onto the life changing… and Happy New Year!
Best in health,
Melissa
Photo credit: Laura Miner
Save