Put these Mexican Salmon Cakes from The Whole30 Cookbook into your next Whole30 meal prep rotation. They're a flavorful, versatile protein to have on hand—and the mango relish adds a fresh punch. Pair them with a fresh green salad for a fantastic lunch, or break them up in a potato and veggie hash for breakfast.
In addition to having 150 delicious, creative Whole30 dishes, The Whole30 Cookbook also includes recipes from some of our favorite Whole30 recipe creatives. These are active members of our Whole30 community who share their recipes on social media, their blogs and even in their own cookbooks!
Today's recipe comes from Jenn of Pretend It's A Donut, and it comes with her family's seal of approval. Jenn says:
"Do you even know the level of deliciousness that you are about to embark on with this recipe?! This is one of my family's favorite meals, and the spices can easily be adapted to what you like. Need to spice up your life? Add some diced jalapeño to the relish or some cayenne to the salmon cakes. Also, these freeze pretty well. Cook them up, let cool, place a piece of parchment paper between each patty, and stick them in the freezer until you are ready to consume again. Mangoes not in season? Try peaches, strawberries, or pineapple. You won't be disappointed. I promise."
Mexican Salmon Cakes With Mango Relish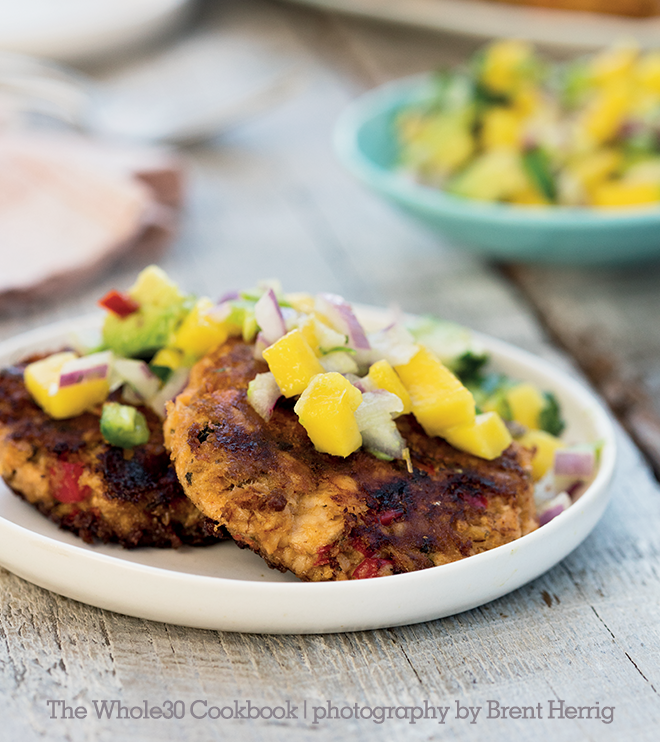 Ingredients
4 teaspoons extra-virgin olive oil
¼ cup finely chopped red bell pepper
3 cans (6 ounces each) wild-caught salmon, drained
¼ cup Basic Mayonnaise (page 287)
1 teaspoon ground cumin
1 teaspoon minced yellow onion
1 teaspoon garlic powder
1 teaspoon sweet paprika
1 teaspoon dried oregano, crushed
¼ teaspoon cayenne pepper (optional)
Salt and black pepper
1 cup diced fresh mango or pineapple
1 cup diced avocado
⅓ cup diced red onion
¼ cup snipped fresh cilantro
1 jalapeño, seeded and finely chopped (optional)
1 tablespoon fresh lime juice
Ingredients
HEAT 1 teaspoon of the olive oil in a large nonstick skillet over medium heat. Add the bell pepper and cook, stirring, until tender, 2 to 3 minutes.
IN a large bowl, combine the bell pepper, salmon, mayonnaise, cumin, yellow onion, garlic powder, paprika, oregano, cayenne (if using), and salt and black pepper to taste. Stir until combined. Shape the fish mixture into nine ¼-inch-thick patties, using a scant ¼ cup per patty.
ADD the remaining 3 teaspoons oil to the same skillet and heat over medium heat. Cook the patties, four or five at a time, in the hot oil, turning once, until browned on both sides, 7 to 9 minutes.
MEANWHILE, in a medium bowl, combine the mango, avocado, red onion, cilantro, jalapeño (if using), and lime juice. Serve the patties topped with some of the relish.
Post photography by Brent Herrig
Text excerpted from The Whole30 Cookbook © 2016 by Melissa Hartwig. Reproduced by permission of Houghton Mifflin Harcourt. All rights reserved.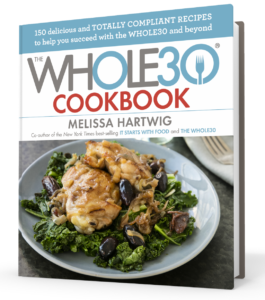 Find The Whole30 Cookbook Wherever Books are Sold
Save
Save
Save
Save
Save
Save
Save
Save
Save
Save
Save
Save
Save
Save
Save
Save
Save
Save
Save
Save
Save
Save
Save
Save
Save
Save
Save
Save
Save
Save
Save
Save
Save
Save
Save
Save
Save
Save
Liked this article? Get even more Whole30 goodness!
Subscribe to our Whole30 email list, and we'll send you 15 recipes from our Whole30 cookbooks for free.