Today's, we're answering your questions about Whole30 pre-workout and postworkout meals, and maximizing exercise performance and recovery on the Whole30, from Registered Dietitian Paul Salter of Renaissance Periodization Introduction It's no longer a secret that cutting sugary carbs and getting away from grains has improved how you feel. Add that to […]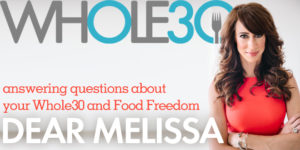 Dear Melissa, Will you talk to me about white potatoes? I am reading It Starts With Food, where white potatoes are allowed but not encouraged unless you're active. I read Food Freedom Forever and it made me feel like no foods are off limits as long as they are truly […]
This question comes up all the time—"I ate something off-plan during my Whole30. Do I really need to start over?" Today, we'll tackle the nuances of this question, and throw in a little of that famous Whole30 tough love. The Whole30 program does require 30 days straight of 100% compliance, but if "because we said so" doesn't suffice, we have four other reasons why we want to stick to your Whole30 with no slips, no cheats, and no special occasions.
There is always a lot of buzz about the term "Tiger Blood," in the Whole30 community, and through running this program since 2009, we've learned that the definition of Tiger Blood can vary widely across our community of Whole30'ers. A few years ago, we expanded our definition of Tiger Blood, because even if a "switch" never "flips" for you, your Whole30 will still bring you a wealth of benefits, and THOSE all add up to Tiger Blood.
Congratulations—Your first Whole30 is over; you look better, you feel better, your self-confidence is at an all-time high! At some point you'll likely come back for another Whole30. For those who come back for a second round, however, more than 1 in 4 of you find the second one even harder than the first. How can this be? Melissa Hartwig goes over the most common scenarios and outlines strategies to help you succeed the second time around.