From Whole30 headmistress Melissa Hartwig, who works really hard to make the program both effective and easy to follow: It's been a long time since I've issued any changes to the Whole30 rules; the last was in 2014, when we brought back the white potato. Making a rule change is a really big deal; it's a huge communication effort to share the new information with millions of people worldwide and update all of our books and resources. Here are two new Whole30 rules, effective April 1, 2017.
Kombucha—a fermented tea—is a delicious beverage that may add some probiotic benefits to your already healthy Whole30 diet. But "Is kombucha Whole30-compliant?" isn't the easiest question to answer. This article is designed to give you an insider's look into the thought process behind the Whole30 rules, and explain a bit about why this subject is actually legitimately confusing.
Taking a road trip or camping trip during your Whole30 might seem daunting, but you can do both quite easily with a good amount of our two favorite Whole30 keys to success — planning and preparation. We've outlined what you need to know about taking your Whole30 food on a road trip or camping adventure—what to pack, what to prioritize, and other ideas to support your Whole30 reset while away from home.
Wondering which alcoholic beverages are best to indulge in while practicing your food freedom? Melissa Hartwig will help you decide what to drink when you feel like indulging in something red, white, clear, or frothy. Spoiler: If you're going to indulge in something that makes you less healthy for the sole reason of pleasure and joy, shouldn't it be delicious?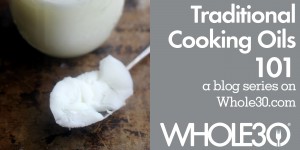 When we asked our community to submit questions about animal oils for a project we're working on with Whole30 Approved partner Fatworks, we were surprised to find that many people replied that after years of hearing the message "fat is bad," they're still afraid to add fat—especially saturated fat from animal oils—to their plate on a regular basis. We want to set your mind at ease about using these healthy fats as part of your healthy Whole30 diet.