This is the third post in a series from Bailey Ryan of Paleo Bailey. Bailey is a Whole30'er who changed her life and experienced tons of non-scale victories (and significant weight loss), all while working 12-hour, overnight nursing shifts. In this series, she'll share her story and the strategies that […]
Our exciting news, right up front: Our Whole30 Approved partners The New Primal have established a scholarship for Whole30 Certified Coaching program applicants. The New Primal scholarship is for Whole30 Coaching candidates who have been accepted into our program, but are currently deterred by the cost of the certification process. […]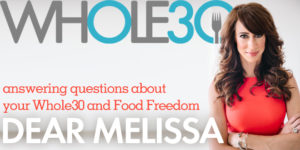 Do you have the best intentions of completing a Whole30, but just can't seem to make it past the first few days? Melissa Hartwig addresses a very common question here — read her response and learn how to build your new action plan for a successfully completing your Whole30 through to the end.
Some pre-holiday "food" for thought from Whole30's own Melissa Hartwig: 'Tis the season… of gift-guides, braving the malls, internet shopping, and wondering what you get the people in your life who already have everything they need. Check out Melissa's Holiday Gift Guide, and remember, celebrating the season isn't about what you unwrap… it's about sharing gratitude, love, and joy with those you love.
As anyone who has completed our program knows, the Whole30 is physically, mentally, and emotionally challenging. Still, some throw other challenging goals into the ring right along with completing the Whole30, like quitting caffeine or adding exercise. As we've observed over the years, this can be a highly effective strategy for generating major health improvements quickly—or it can totally backfire. So, how do you know if doing a Whole30-Plus is right for you?