Michelle is a triathlon athlete who has competed in IRONMAN races all over the country and is currently training to compete internationally, representing Team USA in the ITU World Triathlon in Rotterdam, the Netherlands. She's also a Whole30'er who experienced fantastic non-scale victories; addressed several health concerns; and successfully trained for races during her Whole30 reset. When we heard from her a few months ago we knew we had to share her story.
Here's a question we hear almost every day: Is the Whole30 safe for a pregnant woman? We asked registered dietitian and women's health expert Stephanie Greunke for her perspective. Today, she's answering the question and addressing the four common fears that are often behind it. Her goal is to help you determine how the general principles of the Whole30 program can support your desire to have a healthy, happy pregnancy.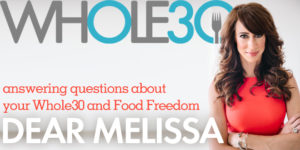 Dear Melissa, besides eating healthy Whole30 foods, in what other ways do you avoid toxins? Do you cook with a microwave? Do you use plastic containers? How do you feel about non-stick pans? Do you buy all organic produce? Find this answer here, where Melissa Hartwig offers strategies and advice for extending your health-focused approach to areas of your life other than food—without becoming overwhelmed.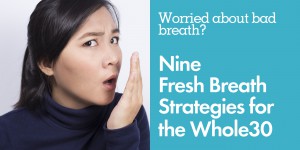 Due to added sugar, artificial sweeteners, or sugar alcohols like xylitol, gum and mints are out for your Whole30 – but that doesn't mean you have to arrive at your after-lunch meeting with the scent of beef stew on your breath. Our nine favorite strategies are below, ranging from common sense ideas to Whole30-compliant fresh breath products we love. So don't be afraid to get up close and personal with your gym buddy, airplane seat-mate, or even on a first date; we've got you covered.
Do you have trouble sleeping while on your Whole30? Sleep expert Dr. Kirk Parsley explains why and gives you several strategies to try out to get a better night's sleep on your Whole30 and beyond. Doctor Parsley has been a member of the American Academy of Sleep Medicine since 2006 and served as Naval Special Warfare's expert on Sleep Medicine. He has lectured extensively on sleep, wellness, traumatic brain injury (TBI), and hormonal optimization and is currently completing an e-book on sleep optimization.