A Note from Whole30 CEO Melissa Hartwig: This week we're thrilled to launch Whole Mamas, a community-inspired online roadmap to help women and their support systems navigate the entire journey of motherhood, from a Whole30 perspective. Whole Mamas provides blogs, podcasts, live chats, and resources to support mamas in every […]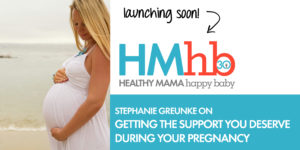 As a Registered Dietitian (R.D.) who specializes in pregnancy and post-partum health, I thought it would be easy for me to create and follow the "perfect plan" during my own pregnancy. I quickly discovered this wasn't the case. Turns out, pregnancy was the one time in my life when I second-guessed every decision I made, even if it made complete sense.
Have the Grandparents of the family been unsupportive of your Whole30 efforts with your kiddos? This is definitely an emotionally-charged issue, but Melissa Hartwig has some excellent advice and strategies for both the Parents AND the Grandparents for having this important conversation.
We're seeing so many families taking on a Whole30 together, kids and all, and we think that's wonderful! However, If you've experienced some less-than-enthusiastic responses from other family members for attempting a family Whole30, check out Melissa Hartwig's advice as she addresses the concerns of a grandmother on the value of her grandkids Whole30'ing alongside their parents.
When we heard Katie's story, we knew we had to share it. Her passion and enthusiasm shine through in her words. Her honesty will break your heart. We fell in love with this brave, tenacious, bubbly teen, and we know that her story will inspire those of you still in junior high or high school to consider using the Whole30 to change your life, and the lives of those around you.