A Note from Whole30 CEO Melissa Hartwig: This week we're thrilled to launch Whole Mamas, a community-inspired online roadmap to help women and their support systems navigate the entire journey of motherhood, from a Whole30 perspective. Whole Mamas provides blogs, podcasts, live chats, and resources to support mamas in every […]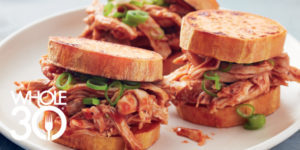 Today, we're sharing a Whole30 twist on standard BBQ fare from The Whole30 Fast & Easy Cookbook. This knife-and-fork open-face sandwich feature the flavors of a classic Southern-style BBQ sandwich without the high sugar and carb content—and with nutrient-rich sweet potatoes. This dish would be perfect for upcoming Memorial Day […]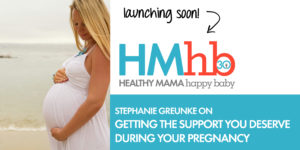 As a Registered Dietitian (R.D.) who specializes in pregnancy and post-partum health, I thought it would be easy for me to create and follow the "perfect plan" during my own pregnancy. I quickly discovered this wasn't the case. Turns out, pregnancy was the one time in my life when I second-guessed every decision I made, even if it made complete sense.
Have the Grandparents of the family been unsupportive of your Whole30 efforts with your kiddos? This is definitely an emotionally-charged issue, but Melissa Hartwig has some excellent advice and strategies for both the Parents AND the Grandparents for having this important conversation.
We're seeing so many families taking on a Whole30 together, kids and all, and we think that's wonderful! However, If you've experienced some less-than-enthusiastic responses from other family members for attempting a family Whole30, check out Melissa Hartwig's advice as she addresses the concerns of a grandmother on the value of her grandkids Whole30'ing alongside their parents.