In May 2012, Whole9 held a Foundations of Nutrition seminar at CrossFit Eminence in Thornton, CO. The seminar resonated so deeply with gym owner, Lindsey Marcelli, that she shared her Good Food knowledge with her members. Brian M. is one of those members, and he credits his Eminence coaches and the Whole30® program with helping him take his health and fitness to the next level.
Stories like his are the reason we are determined to continue to spread the Good Food word.
In Brian's Own Words
Upon starting the Whole30 program, I never would have imagined it would be the extreme mental challenge it ended up becoming for me. I literally had shakes, tremors, many headaches, and constant thoughts about food. By the third week, I even found myself in parking lots of food places, craving things my mind was telling me I just had to have. I sat yelling at myself, pounding the steering wheel in frustration, wondering why these thoughts wouldn't leave me, and trying not to give into the urges to cheat.
All the while I could tell that physically I was feeling better than I ever had. I could tell I was dropping weight, I could feel my muscles getting bigger, my acid reflux was gone (and so were the medications to control it), my skin was healthier, and I was seeing performance gains and results in the gym that I hadn't seen previously.
But I couldn't figure out why, with all this increased energy, deep and restful sleep, visible and noticeable overall success, I was still having these mental struggles. It was confusing and depressing, honestly, and I was having a very hard time. I nearly gave into the psychological pressure many times, in particular over Labor Day weekend, which seemed to be the biggest challenge I faced.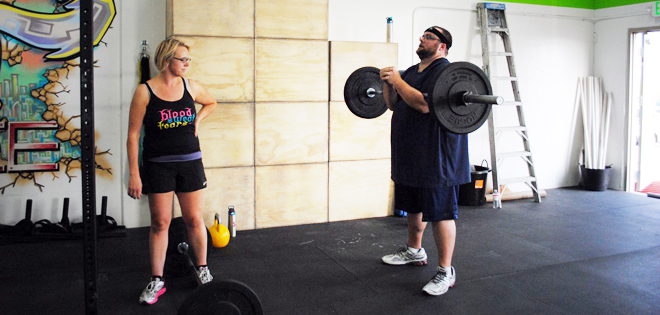 Then one of my CrossFit friends gave me the book It Starts With Food. The first few chapters were eye opening – I felt like I was reading my own personal story. The initial chapters of the book talked about the hormonal imbalances I was having, and reasons for it. They helped me understand where these thoughts were coming from, why I was having them, and that ultimately it wasn't my fault.
Once I understood the "why" of how I was feeling, and that I wasn't the only person who felt this way, everything seemed to get easier and more manageable. I really started to get a handle on my feelings and hormonal changes, and I learned how to deal with them. From that point forward I began to really understand the challenge, and grasp the fact that long-term, this was going to have to be a new way of eating for me. You couldn't argue with the physical and mental results I was getting from the Whole30, and I had never felt better.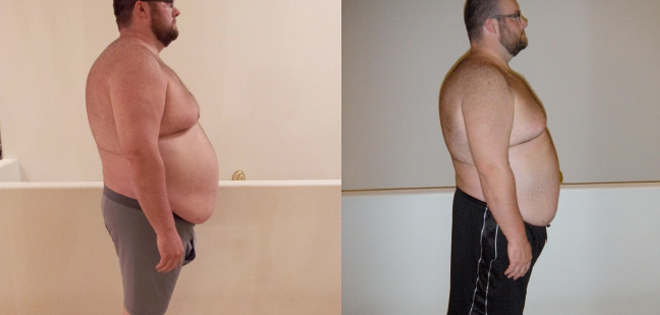 In the end I lost nearly 40 pounds and 5% of my body fat. I lost 5.5" on my waist, 1.5" on my upper bicep region and 2" on my upper leg. I sleep deeper and better than I have in years, my wife says I barely snore anymore, my skin is a soft as a baby without the use of lotions, my hair and nails look stronger then ever, my acid reflux is gone, I can jump higher then I ever have, I just shattered my PR for a back squat (at 305 lb.), and I rowed 500 meters in 1:42. This all coming from a guy who still weighs just shy of 350lbs.
And the best part is, I did all of this in 30 days.
I'm so glad for my trainers Lindsey and Kris for giving me the advice and encouragement to try the Whole30. This has truly been a life-changing experience for me, and has given me even more motivation to continue on and spread the word… because it works.
Just look at my results.
Great work, Brian!
Our kudos to Brian for his hard work, dedication, and persistence – and his rockin' results! Thank you to CrossFit Eminence for hosting one of our most successful Whole9 semianrs ever, and for facilitaing these kinds of amazing life transformations.
Do you have a Whole30 Success Story you'd like to share with us? Email [email protected].
Melissa Urban
Co-Founder / CEO
Melissa Urban is a 7x New York Times bestselling author (including the # bestselling The Whole30) who specializes in helping people establish healthy boundaries and successfully navigate habit change. She has been featured by the New York Times, People, the Wall Street Journal, Forbes, The Today Show, and Good Morning America, and is a prominent keynote speaker on boundaries, building community, health trends, and entrepreneurship. She lives in Salt Lake City, UT with her husband, son, and a poodle named Henry.