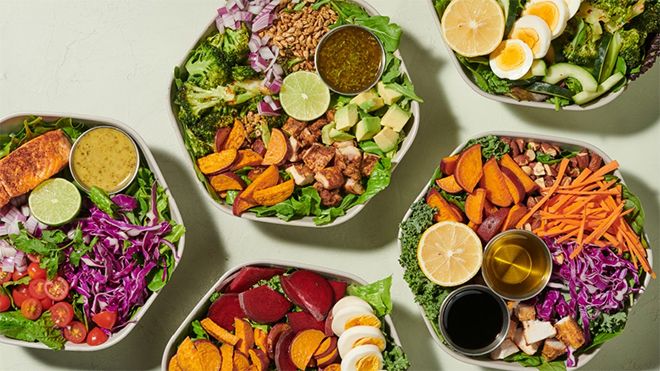 Have you heard? sweetgreen just launched the Whole30 Collection, five delicious and fresh salads created in partnership with Melissa Urban and the Whole30 HQ team.
Apple Almond Crunch: The Melissa Urban special, chock-full of shredded kale and romaine, apples, roasted sweet potatoes, almonds, beets, egg, and chicken breast, all topped off with lime jalapeño cilantro vinaigrette
Chicken Pesto Avocado: A bold, zesty combo of spicy broccoli, blackened chicken thigh, red onion, spicy sunflower seeds, avocado, and more, drizzled with sweetgreen's famous pesto vinaigrette
Crunchy Omega Boost: Tender, flaky steelhead trout with crisp cabbage and a burst of bright flavor from red onion, cilantro, and lime
Sweet Carrot and Sweet Potato: A balanced bowl of kale and spinach with cozy carrots, sweet potatoes, and a light balsamic vinaigrette
Spicy Garden Greens: A vegetarian-friendly party of textures like avocado, egg, cucumber, and cabbage all tied together with a spicy kick of hot sauce, olive oil, and lemon.
Drooling yet? They're the perfect quick meal on-the-go (or for nights when you just you don't want to have to wash the dishes).
Click here to place your order on the sweetgreen app or website.
To celebrate, we've got sweetgreen app credit to give away to TEN of our lucky January Whole30 email subscribers. Each winner will get $100 in sweetgreen app credit.
Want to win? Simply drop your name and email below. We'll close the giveaway on 1/14, choose ten winners at random, and contact them via email.