My, my how time does fly!
Exactly one year ago today our book, It Starts With Food, was released into the world, and we haven't looked back since. We are so grateful to all of you who have purchased ISWF, as well as those who have left reviews on sites like Amazon.com or who've done reviews on your own blog. Every day we are humbled and blessed to hear your life-changing stories and experiences. Thank you so much for taking this journey with us and for continuing to spread the Good Food word.
What better way to celebrate this big day than to share an updated success story with you all. One of our favorite testimonials of all time – Gerry C. – sent us her newest progress report. Prepare to be shocked by her results! Let's just say she's kicking butt, looks amazing, and her health has improved so much that she is impressing all of her doctors. Go Granny Gerry!
In Gerry C.'s Own Words…
First, I am feeling wonderful! I can't believe how much better! Before I started the Whole30, I had pretty much decided that the end was near, and that inevitably I was going to have extra help doing every-day things like dishes and other light housekeeping. I could not stand up more than 20 minutes at a time, and had to rest a lot in between chores. Now, I don't even think about how long a chore takes. I can just do what I need to do.
My doctor is amazed. I am taking her a copy of It Starts With Food when I see her next time. I don't think she really believed it was as simple as I told her. Since my January appointment, all my cholesterol numbers are much better, my A1c is the lowest it has been in 20 years, and my triglycerides are down 80 points. My blood pressure is low enough that I don't need the meds any more. My cardiologist was thrilled and interested as well. She wrote down the name of the book and told me that I get an A+ for all the progress I have made. She said that her patients usually don't smile and say, "Great!" when she asks them how they are feeling.
And the milestone is my weight. I've lost 36 pounds so far – half way to my wedding weight of 155. I've only been below that a couple of times as a young teen. When I was pregnant the first time, I passed 190 pounds on the way up.  That "baby" is now 50 years old. In the time since then I have been on almost every diet known to man. Twice in those years I went under 200, once even got to 192.  This morning I was 191.3.  I had to call the guys and tell them that their mom is smaller than they have ever seen her.
The weight thing is exciting, but the best part BY FAR is that I feel so good and I never have to be hungry.
Many members of my family, and some of my church friends are now on the Whole30® and doing well. I will encourage them to share their stories with you. And I am going to really encourage my 16 year old grandson to share his story. He started January 2nd and has made it his own. He doesn't let anyone get him off track.  He is amazing, and now has the clearest skin of any teen I know. It is so wonderful to see the changes in him, even in his attitude. He told me in March that he does not weigh himself much, but his goal was to lose an Olsen twin!
Thank You!
Gerry C., San Jose, CA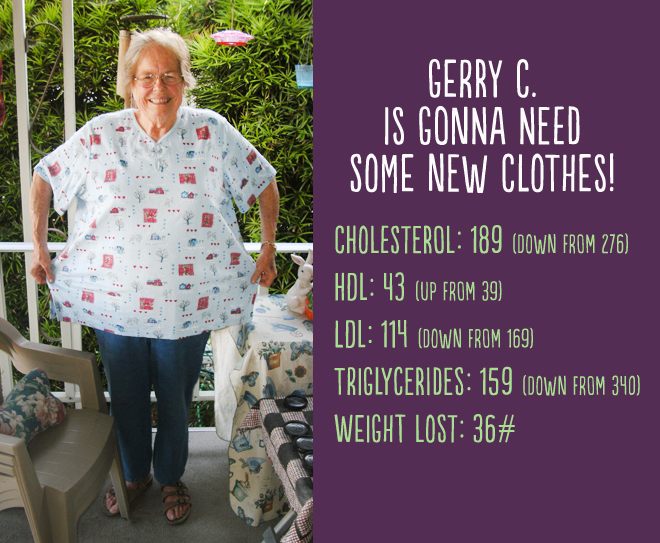 Melissa Urban
Co-Founder / CEO
Melissa Urban is a 7x New York Times bestselling author (including the # bestselling The Whole30) who specializes in helping people establish healthy boundaries and successfully navigate habit change. She has been featured by the New York Times, People, the Wall Street Journal, Forbes, The Today Show, and Good Morning America, and is a prominent keynote speaker on boundaries, building community, health trends, and entrepreneurship. She lives in Salt Lake City, UT with her husband, son, and a poodle named Henry.