Woot woot! Holla! Yay! Hoorah!
Over the last 30 (or more) days, you've successfully changed your health, habits, and relationship with food. Your self-confidence is through the roof, you're more motivated to pursue other healthy habits, and you couldn't be prouder of your commitment, hard work, and non-scale victories.
Go on, brag on yourself a little bit. You've earned it!
To download the graphics and completion certificate

Click on the image you want to use. The full-size image will load.
Right click on the full-size image and choose "Save Image As," or save the image to your smartphone's camera roll
Make it your Facebook Cover, an Instagram post, a Tweet, your new blog header, your desktop background, your email signature, your phone lock screen, your Snapchat profile photo, AND text it at least once to everyone in your contacts list. (Or, you know, use it however you see fit.)
Facebook Cover Image
This graphic was created specifically sized for a Facebook Cover.
Instagram and Twitter Images
We couldn't choose just one favorite from the images below, so we decided to give you three! These are square, so they work especially great as Instagram posts and Tweets, but they'd look pretty good as your Facebook profile photo, too.
Whole30 Completion Certificate
You asked us a fafillion times for something like this, and we're so thrilled to make it a permanent part of our Whole30 resources here on the website. Print it out, post it somewhere you'll see it every day, and remind yourself that you are a healthy person, living your version of food freedom.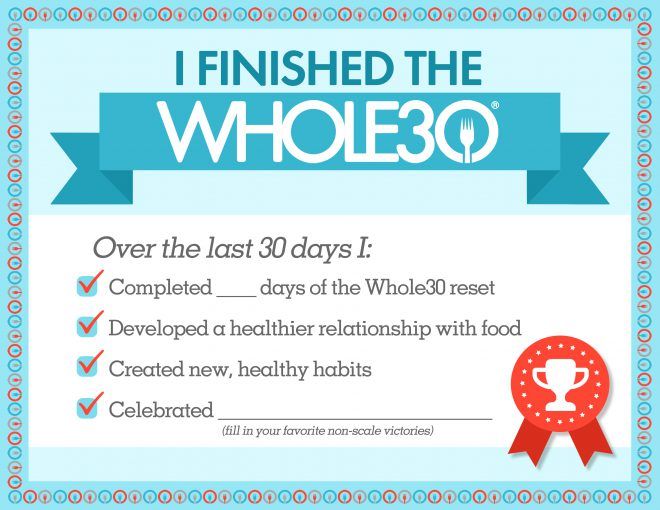 Save
Save
Save
Save
Save
Save
Save
Save
Save
Save
Save
Save
Save
Save
Save
Save
Save
Save
Save
Save
Save