By Shanna, who totes around her Whole30 Approved food in a designated "emergency food" pouch when she travels.
Hi, future January Whole30'er! The official #JanuaryWhole30 starts on Monday, January 1. Because of the business of the holiday season, that date feels like it's happening way in the future … but it's actually just two weeks from today.
Right now, you're probably focusing on holiday planning, but may I steal your attention for a few minutes? There are a few ways you can make your #JanuaryWhole30 a little bit easier, and if you get these sorted now, it's one less thing you'll have to scramble around to do the night before your Whole30 starts.
Here are three tips for setting yourself up for Whole30 success in the new year, from me to you.
Tip One: Sign up for Real Plans.
If you're worried about finding delicious, Whole30 compliant meals; grocery shopping and meal prepping; or getting bored with your food, Real Plans is the service for you. Melissa worked personally with the team at Real Plans to design a Whole30-compliant, fully customized meal planner featuring more than 1,000 Whole30-compliant recipes.
No guesswork. No substitutions. No hidden ingredients. Spend a few moments inputting your schedule, needs, preferences and tastes (don't like mushrooms? No problem.) into the Whole30 planner, and it will generate a 30-day meal plan, complete with a shopping list, printable recipes and meal prep notes. All of this, in minutes.
CUE THE ANGELS SINGING.
Oh, I almost forgot to mention… there is even a place to plan your Fast Track 10-day reintroduction, letting you see recipes that are Whole30 + your reintroduction food without any other ingredients that might throw you off. (Yes, this is absolutely incredible, and takes all the guesswork out of the important reintroduction phase!)
Click here to Get Started with Real Plans Today
Step Two: Stock your freezer with back up meals from True Fare.
Chef Richard of True Fare has been involved in our Whole30 community for a long time. He created the recipes you love in The Whole30, and he's served hundreds of thousands of Whole30 meals through his national meal delivery business Pre-Made Paleo.
Now, Pre-Made Paleo has relaunched as True Fare. True Fare still offers the delicious Whole30 meal plans you know and love, including AIP meals and a Whole30 Emergency Kit including breakfast, lunch and dinner options, plus some fun extras like soup and chicken stock.
I like to keep a True Fare Emergency Kit in my freezer for those days when I return home from a trip to discover nothing but wilted lettuce and some pickles in my fridge. And I promise, you'll love it for the same reasons, too. New customers can use code TRUE10 for 10% off their first order.
Click here to order some True Fare Meals
Step Three: Build your Emergency Food stash.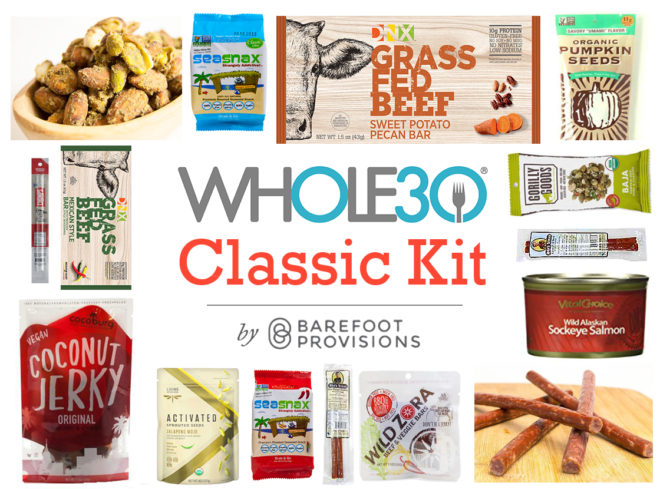 I don't leave the house with out at least two Whole30 Approved on-the-go food options in my purse. I've been in too many Whole30 emergencies to get caught out without compliant food. What's a Whole30 emergency, you ask?
Imagine this. The car mechanic says the repair will just take 35 minutes, so you decide to wait it out instead of Ubering home. But it never takes just 35 minutes, does it? It always takes 2 hours (plus unexpected parts and labor) and suddenly, the clock is ticking towards lunch time, your stomach is rumbling, and the only available options are vending machine snacks. This is why it's so key to have a DNX bar or Chomps in your purse.
Luckily, Barefoot Provisions has curated an entire collection of Whole30 Approved and compliant foods. They have your Whole30 favorites all in one spot. And, they ship worldwide They offer several Whole30 Kits to suit a wide range of needs:
The Meaty Kit rounds up our favorite Whole30 Approved jerky, meat sticks, bars and bites.
Click here to order your Barefoot Provisions Whole30 Approved Kit