According to the Oxford dictionary, "nom nom" is an exclamation used to express pleasure at eating, or the prospect of eating, delicious food. We're pretty sure Oxford came up with this definition after downloading Nom Nom Paleo's cookbook app for the iPad, because one look at the app's gorgeous high res photos and your mouth will be watering at the prospect of testing more than 50 healthy and nutritious recipes detailed in this sleek digital format. (You can also download an additional 60 recipes if you just can't get enough Nom Nom. And who can?)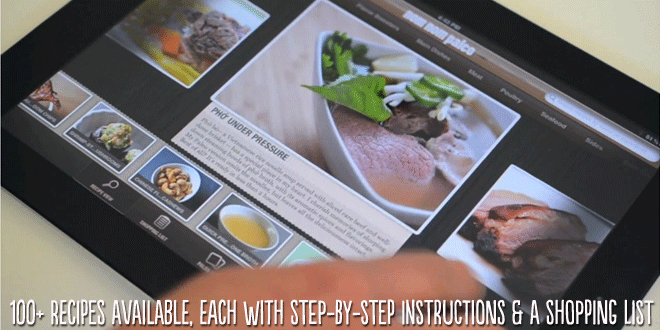 The Whole9 Test Run
Our Director of Operations, Erin Handley, spent one day cooking and eating meals straight from the 30-day plan on Nom Nom Paleo's app. Here is a little insight into her experience, in her own words:
First of all, I don't currently own an iPad (I borrowed Dallas and Melissa's), but I just may have to buy one so I can keep trying out the recipes from Nom Nom Paleo's cookbook app. Also, if every app looked as good and worked as well as this one does, I think I might go broke from downloading cool stuff.

When I started flipping through the photos, I knew I would need to try out some of the recipes right away. I looked through my fridge and cupboards to see what recipes would work for the ingredients that I already had on hand. I settled on Toad-in-a-Hole for breakfast, Burger Bites with Caramelized Onions and Sweet Potato Fries for lunch, and Thai Curry Chicken for dinner.

Can I just say that Toad-in-a-Hole is pure breakfast gold? Eggs. Avocados. What's not to love? The recipe is simple enough, but Michelle Tam has provided insider cooking tips and tricks to keep your eggs soft or hard depending on how you prefer them. At lunchtime, the Burger Bites made me feel like I was noshing at a posh tapas spot without shelling out twenty bucks. I also usually have a hard time getting my sweet potato fries just perfect, but with Michelle's recipe and the easy-to-follow steps in the app, I made perfect fries for the first time ever. The Thai Curry Chicken recipe was the most time-intensive recipe I tried, yet it took less than half an hour to create a delicious and filling dinner. Plus I got to use up some of the lovely basil that my neighbor gave me from his garden. Win win!
Our Favorite Things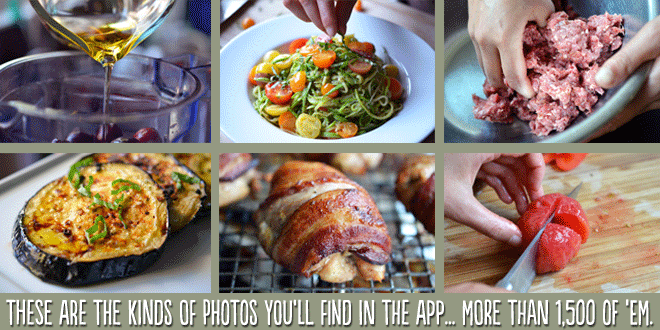 Here are a few of our favorite things about the Nom Nom Paleo cookbook app:
The interface. The app is so simple and fun to use. You can easily flip back and forth between the photos and steps of each recipe.
The fact that it's on the iPad. Although this format is not traditional for a cookbook, it makes so much sense. The iPad is easy to transport, and the app's interactive grocery list is perfect to take to the store while you're shopping for ingredients. You can also email recipes and shopping lists straight from the app. We're pretty sure you can't do this with a regular cookbook.
The commentary. In true Nom Nom Paleo style, Michelle Tam's voice comes though loud and clear in the recipes and notes.
Did we mention the pictures? They were taken by Michelle's husband, Henry Fong (aka FitBomb), and, yeah, they're amazing.
The Best Part Ever. EVER.
More than 100 of the recipes in all of the Nom Nom Paleo packs have been officially deemed Whole30® Approved! Users can simply click on the Whole30 button in the app to view them all.
What, that's not enough? Fine. IT GETS BETTER.
They've also created a 30-day meal plan (complete with breakfasts, lunches, dinners and snacks) for your Whole30 program.
So for all you Whole30'ers asking for a 30-day meal plan… here it is. We told you it was the best part ever.
So what are you waiting for? Visit

http://app.nomnompaleo.com

for a video preview of the app in action, a list of all the amazing features, and a comprehensive FAQ.*

*No, the app is not available on your iPhone, Kindle, or Nook. Those tiny screens just wouldn't do it justice.
Melissa Urban
Co-Founder / CEO
Melissa Urban is a 7x New York Times bestselling author (including the # bestselling The Whole30) who specializes in helping people establish healthy boundaries and successfully navigate habit change. She has been featured by the New York Times, People, the Wall Street Journal, Forbes, The Today Show, and Good Morning America, and is a prominent keynote speaker on boundaries, building community, health trends, and entrepreneurship. She lives in Salt Lake City, UT with her husband, son, and a poodle named Henry.