Steal This Meal: A Wok-Tastic Stir Fry
Today's Steal This Meal comes from Whole9 reader and CrossFit North Fulton member Tom Denham. Tom learned about the Whole30 diet after members of CrossFit North Fulton (Roswell, Georgia) attended a Whole9 Nutrition Worskhop at CrossFit East Decatur on May 1st. He began his first Whole30 on May 14th, and has successfully continued the Whole30 principles ever since.  Tom says: "I'm 52 years old. I've been CrossFitting for the past 18 months.  (When starting the Whole30,) I was miserable for about two weeks, and then my body settled down. I began to sleep well for the first time in more than five years. I have achieved new deadlift and back squat PRs. Within the next week or two, I expect my body weight to slide under 200 pounds for the first time since  2004. This is cool."
We loved the flexibility of Tom's wok-based stir fry.  It works with a variety of meat and vegetable ingredients, so try mixing things up with what's local, fresh, seasons, or what happens to be on hand in your refrigerator.  This would work just as well with chicken, shrimp or beef, too.  Get creative and mix it up, because a stir-fry like this doesn't have to be made the same way twice!
Tom's Pork and Vegetable Stir-Fry (Serves 2)
In preparation, perform the following:
Slice one onion (in Georgia we prefer Sweet Vidalia's)
Slice two yellow squash
Slice several stalks of celery
Slice a few wedges of bell pepper
Slice (or buy pre-sliced) several mushrooms (any variety)
Slice a handful of grape tomatoes into halves
Trim a head of broccoli (or buy just the heads)
Slice several large carrots (or include whole baby carrots)
Cut two boneless pork chop into cubes
Prepare the following spices, or season to taste:
Turmeric, red pepper, garlic powder, curry, salt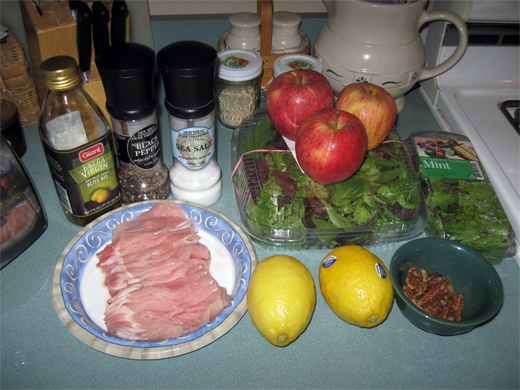 Melt about two tablespoons of Coconut Oil in the wok. Add a generous handful of onion, the squash, celery, bell pepper, tomatoes, and pork.  Add a generous handful of sliced mushrooms. Add a generous handful or two of broccoli florets and baby carrots.
I like my food spicy, so I add a heavy dusting of turmeric, red pepper, garlic powder, salt, and curry.  (Note, curry includes turmeric and red pepper, but nothing seems complete to me without adding at least a little curry.) If you like your food really hot, add more red pepper.
Cook 8-10 minutes with the heat on high. If the meal looks dry (and it usually does after you lay on as much spice as I do), add a little water and/or a little extra virgin olive oil. You will know everything is cooked well enough when you can divide chunks of broccoli, carrots, and pork with a wooden spatula.
Fruit rounds out a meal nicely. There is nothing like a mandarin orange or some sliced banana after a hot and spicy meal from the wok!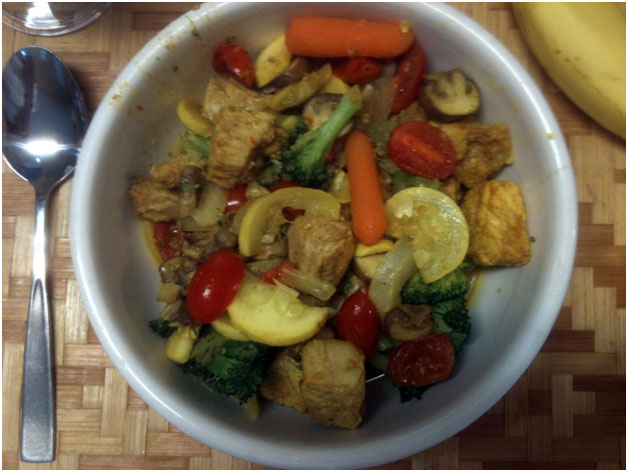 Got your own Whole30-approved recipe to share with the world? Send your Steal This Meal entry (along with photos and YOUR story!) to [email protected].
Melissa Urban
Co-Founder / CEO
Melissa Urban is a 7x New York Times bestselling author (including the # bestselling The Whole30) who specializes in helping people establish healthy boundaries and successfully navigate habit change. She has been featured by the New York Times, People, the Wall Street Journal, Forbes, The Today Show, and Good Morning America, and is a prominent keynote speaker on boundaries, building community, health trends, and entrepreneurship. She lives in Salt Lake City, UT with her husband, son, and a poodle named Henry.