Steal This Meal: Chicken, Simple.
Today's STM submission comes from CrossFit Quantum's own Paleo Dinner Hostess, Summer Innanen.  Summer attended both our Foundations of Nutrition Workshop and Trainer's Workshop in Toronto, and recently lead (and completed) the Whole30 program with her fellow members at Crossfit Quantum.  Today, Summer is passing her nutrition know-how and experience in the kitchen to Whole9 readers.  Because so many of you loved the simplicity of last week's STM, we're continuing our "keep it simple" theme today… and challenging you to try something new.
Summer writes, "I'm queen of simplicity and love nothing more than to create something that takes little effort and tastes amazing.  One of my go-to favourites – especially when I'm doing a mass cooking on Sunday to prep for the week – is a roasted chicken with veggies.  Working with a whole chicken can seem intimidating, but it's actually SO EASY and economical.  When you roast a chicken with the skin on, you get so much more flavour – the meat stays juicier and there are always plenty of leftovers.   You can throw whatever veggies you like into the roasting pan and they'll also pick up all the flavour from the chicken juice."

Steal This Meal:  Whole roasted chicken
Ingredients:
1 whole chicken
Spice rub mix (I use a combo of paprika, garlic/onion powder, cumin, cayenne, salt and pepper)
1 lemon – cut in half
4 cloves of fresh garlic
Fresh herbs (rosemary and thyme work well)
Loads of Brussel's sprouts, celery root, onion and leeks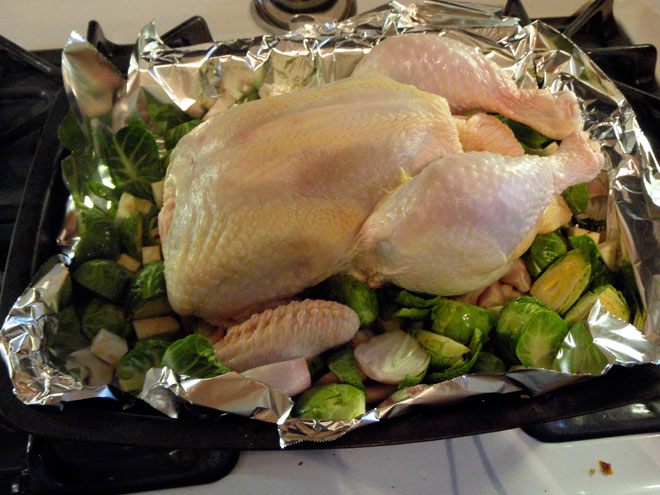 Directions:
Preheat oven to 375
Put your veggies into a deep roasting pan that's been lined with foil.
Prep the whole chicken: Cut off the neck (if it's still attached).  Rinse the inside and outside of the chicken thoroughly under cold water. Pat it dry completely.
Put the chicken into a roasting pan right on top of the veggies, breast-side up.
Stuff the lemon, garlic and fresh herbs into the chicken.  (You can truss it, but you don't need to.  I always let my chicken roast without the string.)
Rub the spice mix thoroughly over the chicken skin
Roast for 60-80 min – until internal temp in the breast is 165.  1/2 way through cooking, toss the veggies around to ensure that they're getting roasted evenly.
Tent the chicken for 10 min under foil.
Carve and serve!  The juices from the chicken will spread onto the veggies – mix them around to spread evenly.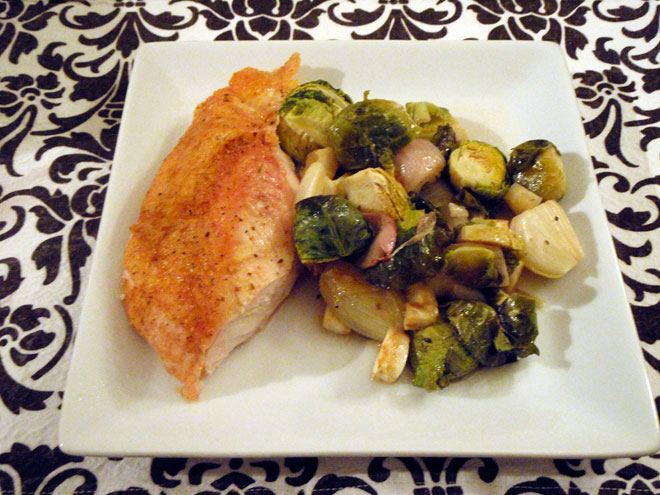 Got a delicious, simple, Whole30-approved list of ingredients for our next Friday recipe feature? Send your Steal This Meal entry (along with photos and YOUR Whole30-inspired story!) to [email protected].
Melissa Urban
Co-Founder / CEO
Melissa Urban is a 7x New York Times bestselling author (including the # bestselling The Whole30) who specializes in helping people establish healthy boundaries and successfully navigate habit change. She has been featured by the New York Times, People, the Wall Street Journal, Forbes, The Today Show, and Good Morning America, and is a prominent keynote speaker on boundaries, building community, health trends, and entrepreneurship. She lives in Salt Lake City, UT with her husband, son, and a poodle named Henry.