Steal This Meal: Salmon with Creamy Avocado Spread
Our first Steal This Meal submission comes from Alycia, gym owner and Whole30 participant.  Ashley and her husband Justin attended our nutrition workshop at CrossFit King of Prussia earlier this year, and just opened their own affiliate, CrossFit Aspire.  Alycia writes:  "We try to educate our members on nutrition, stress, sleep and other factors that could be helping or hindering their progress in the gym.  You've been a great inspiration to the way that we have chosen to speak to our clients on the subjects of food and training, and I'm so honored to be a part of the Whole9 site and spread the Good Food Word!"
Salmon with Creamy Avocado Sauce and Swiss Chard
In preparation, perform the following:
Rinse, remove stems and cut a large bunch of Swiss chard into 2-inch squares
Peel and de-pit one ripe avocado
Chop 1/4 of a red onion into long slivers
Dice another 1/4 of an onion
Dice 1/4 of a red pepper
Set all aside for later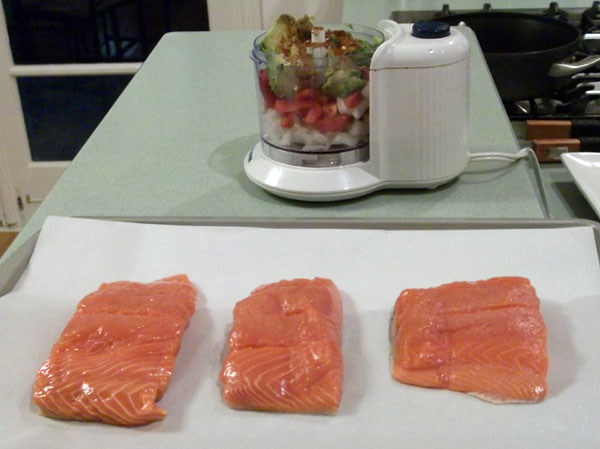 Next, preheat the oven to 350 degrees and line a baking sheet with parchment paper.
Place 1-1/2 pounds of wild caught King salmon, cut into 3 pieces, on a baking sheet
Bake for 10-12 minutes
When the salmon is done, it should be oozing a little fat (this looks white)
While the salmon is cooking, place the following ingredients into a food processor:
1 ripe avocado
Prepared 1/4 red onion, diced
Prepared 1/4 red pepper, diced
Garlic powder (about 5 shakes)
Paprika (3 shakes)
Red pepper flakes (2 shakes)
Salt and pepper (to taste)
Pulse for about 30 seconds, add 2 Tbsp of water, and pulse until all ingredients are blended together.  The color is a muddy green – but it"s less about how it looks and ALL about how it tastes!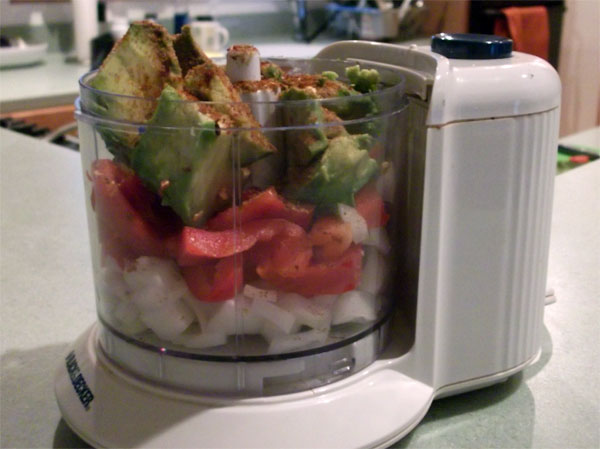 Finally, pour some olive oil into a large pan and, on low heat, sautee the prepared sliced red onions until they get soft.  Add the Swiss chard and cover for 5 minutes. Uncover and, stir, cook for an additional 2 minutes.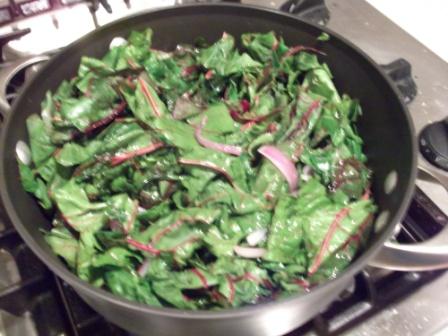 The last step – serve, top the salmon with the avocado spread, and ENJOY!  Got your own Whole30-approved recipe to share with the world? Send your Steal This Meal entry (along with photos and YOUR story!) to [email protected].
Melissa Urban
Co-Founder / CEO
Melissa Urban is a 7x New York Times bestselling author (including the # bestselling The Whole30) who specializes in helping people establish healthy boundaries and successfully navigate habit change. She has been featured by the New York Times, People, the Wall Street Journal, Forbes, The Today Show, and Good Morning America, and is a prominent keynote speaker on boundaries, building community, health trends, and entrepreneurship. She lives in Salt Lake City, UT with her husband, son, and a poodle named Henry.