Steal This Meal: Cinnamon Steak and Vegetables
Today's STM comes from Rich Martin, in Woodbridge, VA. Rich writes, "I flat out changed the way I ate back in January 2009. I began on the Zone, but over the course of several months, took the time to read, re-read, and re-evaluate what I was doing. As a result, and in large part from following the evolution of Urban Gets Diesel into the Whole9, I've become a disciple of what Whole9 would call "Eating Good Food" and the lifestyle that goes along with it. I've followed the Whole30 program, and have found my sweet spot in terms of what I need to do to keep my pursuit of health and longevity consistently moving forward."
This recipe was inspired by a recent vacation Rich and his girlfriend Amy took to the Turks and Caicos. During a conch dive expedition, the crew fried the conchs and made a vegetable salad to mix the meat into. Rich "borrowed" the vegetable salad part, and added a cinnamon steak recipe he created several months ago. Rich says, "I've been using an oven to bake the meat because I'm in a condo that doesn't allow grilling. A cardinal sin to some, I'm sure, but my baked steaks actually taste better than the ones I grill."
Steal This Meal: Cinnamon Steak and Vegetables
Ingredients (serves 2)
(1) grass-fed sirloin steak
(1-2) cucumber
(1-2) beefsteak tomatoes
(1-2) bell peppers
(1-2) avocado
Extra virgin olive oil (EVOO)
Ground cinnamon
Tony Chachere Creole Spice*
* Salt, red pepper, garlic and other spices, plus silicon dioxide to prevent it from caking. Whole30 approved – but feel free to use your own "Creole-inspired" spice blend. M&D.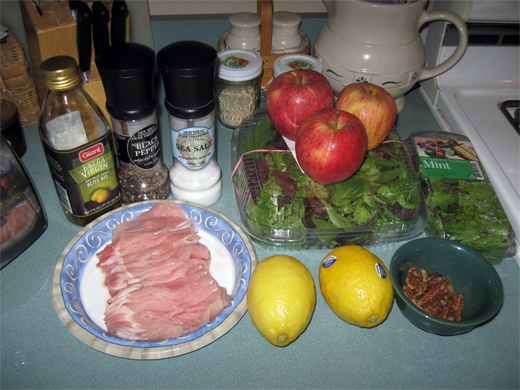 Preparation
Preheat the oven to ~400 degrees. (I use 380, feel free to modify based on how "hot" your oven runs.)
Dice the vegetables, including avocado. I like small pieces.
Put them in a container and stir, after mixing in a desired amount of EVOO (I tend to be generous). I use a few shakes of Tony's here, too.
Chill the vegetable mixture for the duration of the meat prep and bake.
Coat the baking pan with enough EVOO to take care of the steak.
Put a generous coat of cinnamon and some ginger on the steak.
I bake it for 22 minutes – cooking time will vary depending on how you like your steak.
Once baked, cut the steak into strips or chunks.
Mix with your chopped vegetables and enjoy!
Got a delicious, simple list of ingredients for our next Friday recipe feature? Send your Steal This Meal entry (along with photos and YOUR Whole30-inspired story!) to [email protected]. And if you're looking for more delicious recipe ideas from Whole9 and our readers, just select "Recipes" from the category list on our sidebar!
Melissa Urban
Co-Founder / CEO
Melissa Urban is a 7x New York Times bestselling author (including the # bestselling The Whole30) who specializes in helping people establish healthy boundaries and successfully navigate habit change. She has been featured by the New York Times, People, the Wall Street Journal, Forbes, The Today Show, and Good Morning America, and is a prominent keynote speaker on boundaries, building community, health trends, and entrepreneurship. She lives in Salt Lake City, UT with her husband, son, and a poodle named Henry.