Steal This Meal: Roasted squash and sausage
Today's Steal This Meal submission comes from Mike Norris, Whole30 success story and owner of Voodoo Combatives in Lafayette, LA. Of his Whole30 program, Mike says: "I've followed this lifestyle for 5 weeks now and have lost 23 lbs! My CrossFit performance has improved greatly…hell, all of my performance has improved greatly. I can't say enough about the people who put this great information out there for free – I now have a link on my site recommending you guys!"
Mike's results rock, and we're happy to feature his Whole30-approved breakfast recipe here, especially since people are always asking us, "What do you eat for breakfast if you don't eat eggs?" Trying to get people to get off the idea of traditional "breakfast, lunch and dinner" is often a tough sell, and a burger and broccoli first thing in the morning just doesn't appeal to many people. Mike's STM submission is the perfect compromise of semi-traditional breakfast fare (sausage), plus fresh vegetables, plus a recipe that's easy to prepare the night before and reheat for a quick and easy morning meal. (Note, butternut squash is relatively carb-dense, so keep your serving size reasonable, and feel free to add a side of steamed spinach for extra vegetable goodness.)
Steal This Meal: Roasted Butternut Squash with Local Sausage
Ingredients (serves 2):
1 small butternut squash
1 medium sweet onion
6-10 links of sausage (pork or chicken)
1/4 cup coconut milk
1/2 tablespoon of cinnamon
Tony Chachere's seasoning to taste
Directions:
Pre-heat oven to 400 degrees.
Cut sausage into cubes or slices. (Mike used a free range turkey sausage from a local farm that contains turkey breast and thigh meat, green onions and spices).
Slice/dice onion.
Split squash in half lengthwise, remove the seeds, and place upside down on roasting pan.
Cook until soft (about 30-45 minutes).
Brown sausage and onions in a pot.
Scoop squash out of shell and into the pot with the sausage. Stir, adding seasoning and coconut milk.
Serve hot, or refrigerate and re-heat the next day.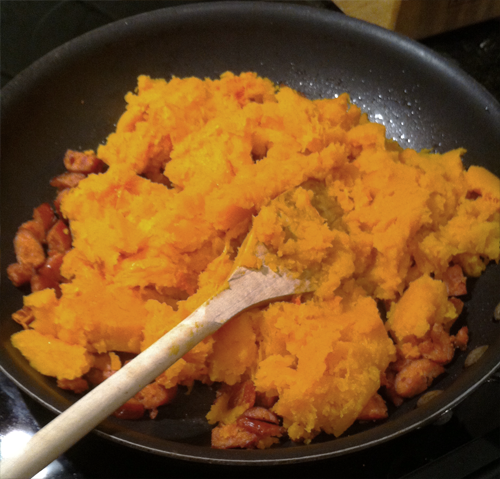 Got a delicious, simple list of ingredients for our next Friday recipe feature? Send your Steal This Meal entry (along with photos and YOUR Whole30-inspired story!) to [email protected], and we'll send you a free copy of our Whole30 Success Guide if we feature your dish. And if you're looking for more delicious recipe ideas from Whole9 and our readers, just select "Recipes" from the category list on our sidebar!
Melissa Urban
Co-Founder / CEO
Melissa Urban is a 7x New York Times bestselling author (including the # bestselling The Whole30) who specializes in helping people establish healthy boundaries and successfully navigate habit change. She has been featured by the New York Times, People, the Wall Street Journal, Forbes, The Today Show, and Good Morning America, and is a prominent keynote speaker on boundaries, building community, health trends, and entrepreneurship. She lives in Salt Lake City, UT with her husband, son, and a poodle named Henry.