Steal This Meal: Stuffed Sweet Acorn Squash
We created this STM recipe with some serious fall inspiration. It kind of sounds like Thanksgiving in your mouth, and that's how it tastes, too. Enjoy!
Steal This Meal:  Stuffed Sweet Acorn Squash
Ingredients (serves 2)
1 acorn squash
1 pound grass-fed, organic ground beef (ground turkey would work, too)
1 chopped onion
1 finely-chopped apple (we used a Braeburn, but find something local-ish)
½ cup chopped cranberries (fresh, not dried)
¼ cup chopped pecans
1 tsp thyme
1 tsp oregano
½ tsp sage
unrefined coconut oil
salt, pepper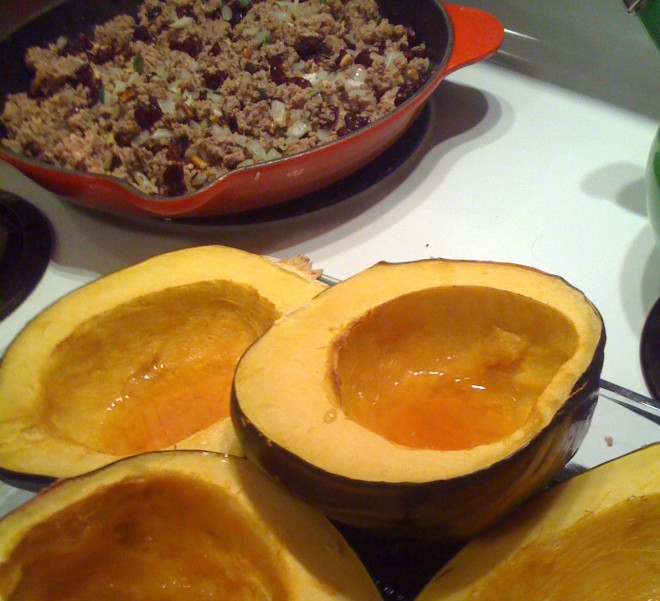 Instructions
Preheat the oven to ~400 degrees.
Cut the acorn squash in half, and scoop out the seeds and any stringy stuff.
Place the squash cut side up in a large baking pan, and put a tablespoon of water into each "cup", and pour ¼ cup of water into the bottom of the pan.
Loosely "tent" the pan with aluminum foil, and bake for 30-35 minutes.
While squash is baking, chop the onion, apple, pecans and cranberries.
Saute the beef and onion in a little coconut oil for 2-3 minutes, then add pecans, cranberries, and herbs. Add salt and pepper. Do not completely cook this mixture.
Pull squash out of the oven, spoon the mixture into the "cups" (heaped to overflowing is okay).
Bake uncovered for another 15-20 minutes.
We added a simple arugula and watercress salad with lemon-basil vinaigrette, but any green veggie would do as a side.
If you're looking for more delicious recipe ideas from Whole30 and our readers, head on over to our"Recipes" category.
Melissa Urban
Co-Founder / CEO
Melissa Urban is a 7x New York Times bestselling author (including the # bestselling The Whole30) who specializes in helping people establish healthy boundaries and successfully navigate habit change. She has been featured by the New York Times, People, the Wall Street Journal, Forbes, The Today Show, and Good Morning America, and is a prominent keynote speaker on boundaries, building community, health trends, and entrepreneurship. She lives in Salt Lake City, UT with her husband, son, and a poodle named Henry.