When your world revolves around gourmet (and sometimes bizarre) foods, taking on a program like the Whole30® might seem a bit daunting. But that's exactly what Molly Mogren, co-host of Go Fork Yourself (with James Beard Award-winning chef and TV personality Andrew Zimmern), is doing right now.
Along the course of her journey, she's discovered that some of Andrew's best recipes are a perfect fit for the Whole30 program. Each Friday in the month of April, we'll be featuring one of Andrew's recipes, modified for our Whole30 program. (See other Foodie Friday offerings here.) We've chosen recipes that feature more exotic ingredients, an international theme, or a creative blend of spices—things that are likely outside of your normal Whole30 wheelhouse. So take a chance, try something new, expand your cooking horizons, and give your taste buds something delicious and exciting along the way.
Foodie Friday, Week 4
The next recipe in our Foodie Friday feature: Creole Chicken with Coconut Cauliflower Plantation Rice.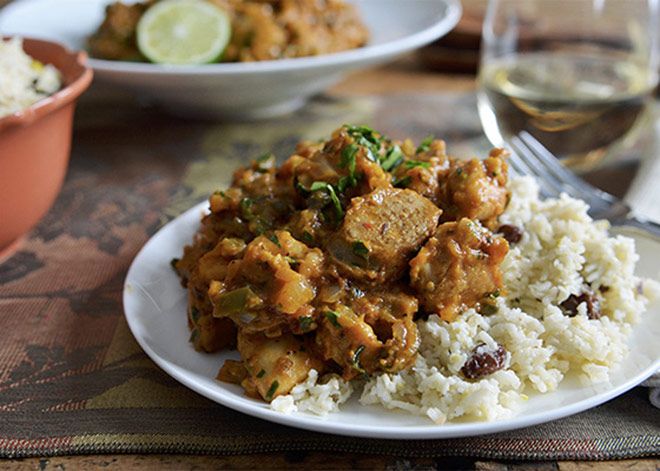 Looking for something with a little spice to jazz up your Whole30 menu?  This Creole chicken stew is loaded with bold flavors like Andouille sausage, capers and cloves.  Originally served with plantation rice, the Whole30-friendly version swaps that out for rich and flavorful coconut cauliflower rice seasoned with cinnamon, cardamom, and raisins.  This recipe is perfect for a  family dinner at home,  but it could easily be adapted for a crowd.
Click on over to Andrew Zimmern's website to get the full recipe, and to check out more of his fabulous (but not always Whole30) meal creations. View our other Foodie Friday collaborations right here on the Whole30 blog.
Connect with Andrew and Molly
Listen to their podcast, Go Fork Yourself (be sure to check out Melissa Urban's follow-up interview)  
Follow Molly (and read up on her Whole30 adventures) on her blog, Hey Eleanor
Share in Andrew's travels on AndrewZimmern.com
Header image courtesy of AndrewZimmern.com. Photo credit Madeleine Hill.
Melissa Urban
Co-Founder / CEO
Melissa Urban is a 7x New York Times bestselling author (including the #1 bestselling The Whole30) who specializes in helping people establish healthy boundaries and successfully navigate habit change. She has been featured by the New York Times, People, the Wall Street Journal, Forbes, The Today Show, and Good Morning America, and is a prominent keynote speaker on boundaries, building community, health trends, and entrepreneurship. She lives in Salt Lake City, UT with her husband, son, and a poodle named Henry.