When your world revolves around gourmet (and sometimes bizarre) foods, taking on a program like the Whole30® might seem a bit daunting. But that's exactly what Molly Mogren, co-host of Go Fork Yourself (with James Beard Award-winning chef and TV personality Andrew Zimmern), is doing right now. In the face of freshly made Cuban sandwiches and Salt & Straw ice cream, Molly is rocking her Whole30—and avoiding that post lunch haze that descends on the office.
Along the course of her journey, she's discovered that some of Andrew's best recipes are a perfect fit for the Whole30 program. Now she can enjoy fancypants foodie-food and the health benefits of the Whole30 at the same time…and thanks to our month-long collaboration with Andrew, so can you!
Each Friday for the next four weeks, we'll be featuring one of Andrew's recipes, modified for our Whole30 program. We've chosen recipes that feature more exotic ingredients, an international theme, or a creative blend of spices—things that are likely outside of your normal Whole30 wheelhouse. But that's the whole point of Foodie Friday—take a chance, try something new, expand your cooking horizons, and give your taste buds something delicious and exciting along the way.
Foodie Friday, Week 1
The first recipe in our new Foodie Friday feature: Grilled Sardines with Mint and Almonds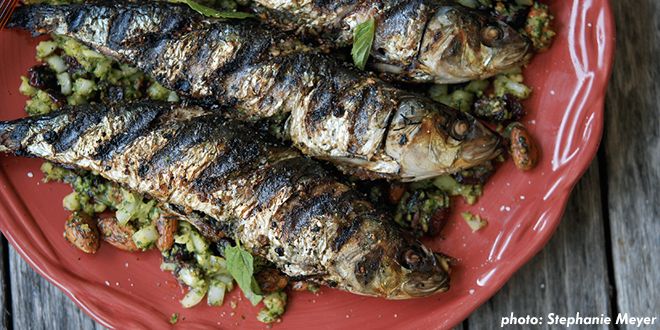 Combining the pungent North African flavors of mint and saffron, Chef Andrew's Grilled Sardines with Mint and Almonds will bring out the world-traveler in you. With a total prep and cook time of 30 minutes, this recipe is ideal for busy Whole30ers. Bonus: Whole fish (like sardines) are an excellent source of calcium and healthy fat, and are low in mercury and other environmental toxins. ote, Andrew recommends using fresh sardines for this dish, so no guarantees if you decide to use up that tin you've had in the back of your pantry for the better part of a year.
If sardines aren't your thing, you can also use the rub on any small fish (or big fish, if you multiply). Andrew says, "I make this recipe once a year with a whole wild salmon—I just triple the rub/sauce elements and cut deep slashes in the fish for holding the seasonings and to help it cook evenly."
Click on over to Andrew Zimmer's website to get the full recipe, and to check out more of his fabulous (but not always Whole30) meal creations. View our other Foodie Friday collaborations right here on the Whole30 blog.
Connect with Andrew and Molly
Listen to their podcast, Go Fork Yourself (be sure to check out Melissa Urban's interview)
Follow Molly (and read up on her Whole30 adventures) on her blog, Hey Eleanor
Share in Andrew's travels on AndrewZimmern.com
Header image courtesy of AndrewZimmern.com
Melissa Urban
Co-Founder / CEO
Melissa Urban is a 7x New York Times bestselling author (including the #1 bestselling The Whole30) who specializes in helping people establish healthy boundaries and successfully navigate habit change. She has been featured by the New York Times, People, the Wall Street Journal, Forbes, The Today Show, and Good Morning America, and is a prominent keynote speaker on boundaries, building community, health trends, and entrepreneurship. She lives in Salt Lake City, UT with her husband, son, and a poodle named Henry.