Whole30 Dressings | Secret Sauce
Secret Sauce
The secret is out.
100% WHOLE30 COMPATIBLE: NO added sugar, NO vegetable gums, NO fillers, NO natural flavors, and Certified Humane eggs
Fries made this special sauce famous in Utah; we made it an everyday staple. You'll put this tangy, creamy concoction on everything from burgers to veggies.
Our dressings make changing your life fast, easy, and satisfying, one meal at a time. Available exclusively at Thrive market.
VIEW NUTRITION FACTS
Call it a dip, call it a dressing, this kind of magic is good on everything (shhh).
INGREDIENTS:
High Oleic Sunflower Oil, Water, Tomato Paste, Egg Yolks (Egg Yolks, Salt), Less Than 2% of: Salt, Apple Cider Vinegar, Lemon Juice Concentrate, Balsamic Vinegar (Wine Vinegar, Concentrated Grape Must), Distilled Vinegar, Garlic*, Onion*, Chipotle Pepper*, Spices. *Dried
<!- MODAL OVERLAY -->
---
Recipes featuring with the Whole30 Secret Sauce: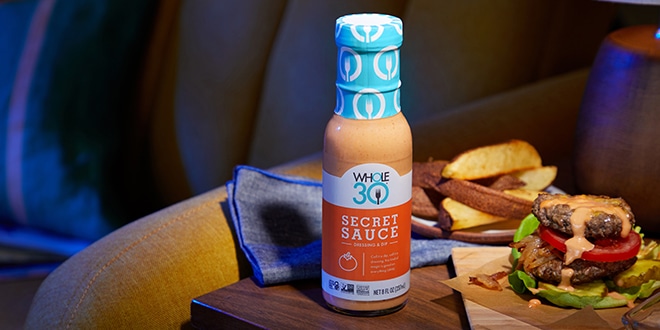 This is a knife-and-fork, Whole30 take on a certain burger-and-fries franchise that's very popular on the West Coast. The secret to the burger's tastiness is dividing a single portion of meat into two patties and cooking them in a cast-iron skillet, which increases the surface area of meat that gets crispy and caramelized. And, of course, the Secret Sauce.
READ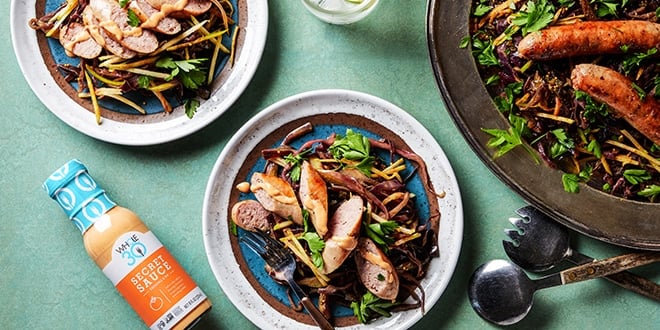 Along with the warming and sweet-spice flavor of curry, the Secret Sauce gives this red cabbage and apple salad a hint of peppery heat.
READ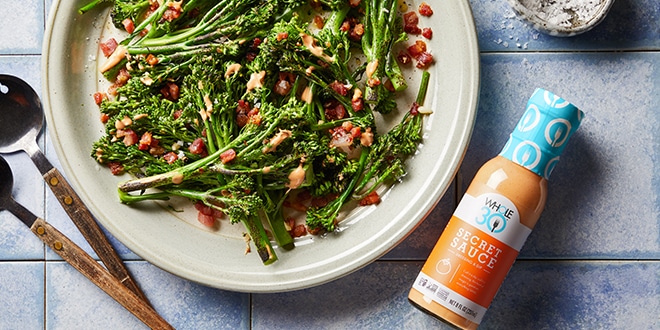 Broccolini isn't baby broccoli, though it may look like it. It's a cross between standard-issue broccoli and a Chinese broccoli called gai lan. It has a mellower flavor than regular broccoli and a nice crisp texture. But if you can't find Broccolini, you can use baby broccoli.
READ