Exclusive: The Whole30 Slow Cooker Pre Order Bonus for Real Plans Members
Get early access to Whole30 Slow Cooker recipes! We've partnered with Real Plans to offer more pre-release access to a Whole30 book than ever before.
If you're a Real Plans member, you already have access to THREE exclusive recipes from The Whole30 Slow Cooker in your Whole30 planner. As more people pre-order the new book, more recipes will be added to Real Plans. Help us unlock up to 15 recipes by pre-ordering today. Then, schedule the exclusive preview recipes in your Real Plans meal plan, sit back and slow cook yourself a hearty, mouth-watering meal like Spicy Italian Pot Roast with Fingerling Potatoes or Balsamic Glazed Sweet Potatoes and Salmon.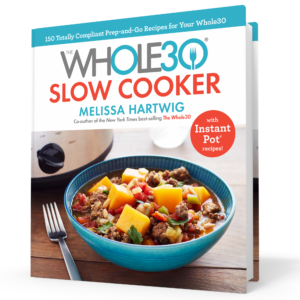 Pre-Order The Whole30 Slow Cooker

The ALL NEW Whole30 Cookbook from Melissa Hartwig, arriving October 23, 2018. Easy, healthful, and delicious slow cooker and Instant Pot recipes for the Whole30 and beyond.

Since 2009, millions of people have transformed their lives with the Whole30. Now, co-creator Melissa Hartwig is making it even easier to achieve Whole30 success, with delicious slow cooker recipes that turn ingredients into delicious, hearty meals while you're out and about.
The Whole30 Slow Cooker is packed with 150 recipes designed to get you out of the kitchen fast, so you can enjoy all the benefits of your Whole30-inspired lifestyle. You'll find delicious no-fuss dinners that cook while you work; roasts that transform into tacos, salads, and soups for easy meals throughout the week; and satisfying one-pot dishes that make prep and clean-up a breeze. These creative meals use whole-food ingredients found in any supermarket, and as an added bonus, feature recipes and directions for making your Whole30 meals Instant Pot-friendly!
Join the conversation on social media with the #Whole30 and #IAmWhole30 hashtags
---
Pre-Order The Whole30 Slow Cooker

---
For media requests, contact Rebecca Liss
Publication date: October 23, 2018
Publisher: Houghton Mifflin Harcourt (U.S.), Penguin Random House (Canada)
List Price: $30.00 USD/$35.00 CAD
Save
Save
Save
Save
Save
Save
Save
Shanna
Chief Content Officer
Shanna Keller, our Chief Content Officer, hails from Boise, Idaho, where she lives with her husband Alan and a poorly-behaved terrier named Olly. She has spent her career telling stories of life transformation on social, web, e-mail and print media platforms. In addition to celebrating Whole30 successes and stories online, Shanna loves to cook, read, and climb.