Doing a Whole30 in March? This year, skip the green beer and make this nutrient-dense, vibrant and tasty Whole30 St. Patrick's Day recipe. Our in-house recipe creative Sarah Steffens created this shareable dish: Rainbow Veggies and a Pot of Gold.
The veggie dip gets it's gorgeous gold color from turmeric, a warm spice that's prized for it's anti-inflammatory properties. Blended with tahini and lemon, this fresh, creamy dipping sauce is great with raw veggies and also works well as a topping for chicken or salmon.
Get to chopping those veggies, and enjoy! If you make this recipe, share photos on Instagram and tag us @whole30 so we can see.
Rainbow Veggies and a Pot of Gold
Ingredients
For the Rainbow Veggies
Choose your favorite brightly-colored produce. For a platter that feeds a group of 8-10 as a shareable bite, we recommend:
Two red bell peppers, sliced
10 small whole carrots, peeled
One yellow squash, sliced into rounds
1/4 lb green beans, trimmed and blanched
2-3 stalks celery, cut into 2-inch pieces
1 small container blueberries, washed
1 small bunch purple grapes, washed
1 large or 2 small beets, peeled and sliced
2-3 radishes, sliced into rounds
Garnishes of your choice: Sarah used bunches of small flowers and sprigs of parsley and rosemary, as well as clusters of nuts and dried fruit to achieve this look. Work with what you have on hand!
For the Pot of Gold Dipping Sauce
1 10.6 oz jar of tahini (Check your label to be sure it's Whole30 compliant. Look for only sesame seeds in the ingredient list.)
1/2 tsp. sea salt
1/4 tsp. black pepper
1 Tbs. dried turmeric powder
Juice from 1/2 lemon
Instructions
ARRANGE the fruits and veggies on a platter or cutting board. Group them by color, in the shape of a rainbow, as shown in the photo.
MIX all of the ingredients for the dip in a small bowl and scrape with a baker's spatula into a small black bowl to serve on your rainbow board.
Note: Sarah found this small cast iron pot at Target. Here's a similar one via Amazon.
Please note, some links in this post are affiliate links, meaning we make a small commission on items purchased via our link. Thank you for supporting our Whole30 partners!
---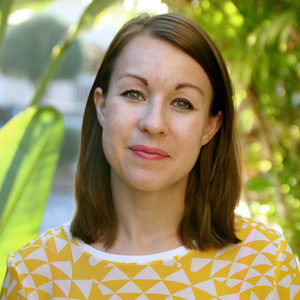 Sarah Steffens has a B.A. in Business Administration, Public Relations from The Master's College in Southern California. After years of experimenting with nutrition and recipes in her own kitchen, she now works as a Personal Chef in Los Angeles, cooking meals that support her client's intention to physically and mentally thrive. She has catered several independent film sets, making it her goal to optimize the energy and well-being of each creative crew. She is the in-house recipe creative for the Whole30, and the creator of the Savor and Fancy blog. When Sarah is not cooking Whole30 and Autoimmune Protocol meals, she is likely exploring mid-century sites in L.A., taking photographs, listening to an audio book or hiking at Griffith Park.