Steal This Meal: Stewed Tilapia
Today's gorgeous Steal This Meal submission comes from Tom Denham, of CrossFit North Fulton in Roswell, GA. Tom writes, "I started the Whole 30 four months ago, and have had such good results that I've just kept it up. The best result is that I am sleeping soundly nearly every night. I'm also lifting heavier weight for more reps in the gym and have dropped to 200 pounds from 213 while eating an enormous amount of food. I used to eat most meals in restaurants, but have been relearning to cook since dedicating myself to "clean" food. I started watching the Food Network for inspiration and got the idea for this recipe after watching an episode of Chopped."
We love the variety of vegetables here, and the addition of olives to this dish. Based on the Monterey Bay Aquarium's Seafood Watch for best choices for seafood, shellfish and sushi, we would recommend choosing U.S. raised farmed tilapia over other sources. You could also easily sub another light white fish like wild caught cod or mahi mahi. Finally, we asked Tom about the inclusion of clam juice in the recipe, in case readers are allergic to shellfish. Tom replied, "I think you can omit the clams without a problem. Cutting them would reduce salt, liquid, and flavor, though, so you may want to add a small amount of salt, some water, and a little more Fish Sauce."
Steal This Meal: Stewed Tilapia (Serves 4)
Ingredient list:
One can of green olives (look for olives packed in water and salt and nothing else)
One small can of clams (look for clams packed in clam juice and salt and nothing else)
One bunch of green onions
Four roma tomatoes
One package of shitake mushrooms
Four tilapia (or other white fish) filets
Fish Sauce
Extra Virgin Olive Oil
Garlic powder
Salt
Pepper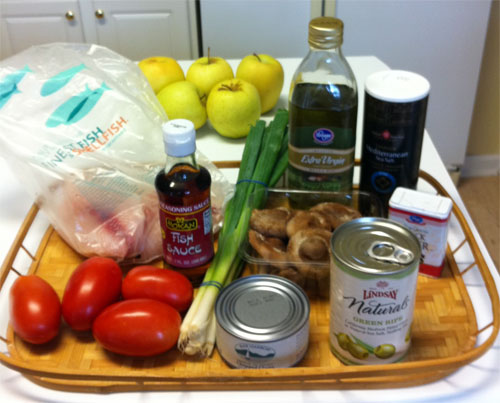 In preparation, perform the following:
Finely chop onions
Coarsely chop mushrooms
Cut tomatoes into cubes
Directions:
Set heat to medium high. Coat the bottom of a pan with EVOO. Add onions and sauté with a little salt, pepper, and garlic powder.
Add green olives with all the water in the can and clams with all the juice in the can.
Add mushrooms and tomatoes. The salt with the olives and clams is substantial, but add pepper to taste.
Add generous splashes of Fish Sauce to enhance flavor, and let the mixture cook covered for about 15 minutes.
Lay the tilapia filets on top of the vegetable stew and let them cook covered for another 5 minutes. Turn the filets with a spatula and let them cook another 10 minutes.
Eat everything in the pan – the juice tastes great.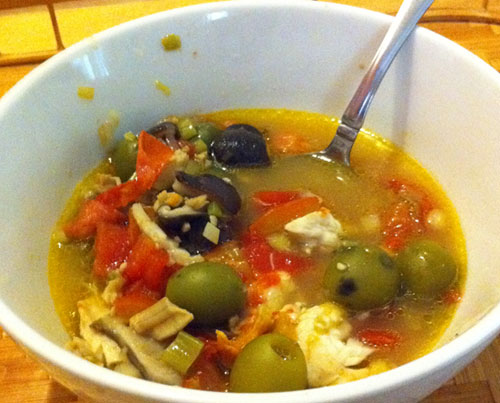 Got a delicious, simple list of ingredients for our next Friday recipe feature? Send your Steal This Meal entry (along with photos and YOUR Whole30-inspired story!) to [email protected]. And if you're looking for more delicious recipe ideas from Whole9 and our readers, just select "Recipes" from the category list on our sidebar!
Melissa Urban
Co-Founder / CEO
Melissa Urban is the co-founder and CEO of the Whole30 program, and a six-time New York Times bestselling author. She has been featured by the New York Times, People, the Wall Street Journal, Forbes, Dr. Oz, and Good Morning America, and ranked #19 on Greatists Top 100 Most Influential People in Health and Fitness in 2018. Melissa has presented more than 150 health and nutrition seminars worldwide, and is a prominent keynote speaker on social media and branding, health trends, and entrepreneurship. She lives in Salt Lake City, UT.