Summit Speakers


Whole30 Community Cares Summit 2020

Almost 40 years ago, Audre Lorde educated many on an "extraordinary point of choice. To refuse to participate in the shaping of our future," Lorde wrote, "is to give it up … Each of us must find our work and do it."
Whole30 finds itself—like so many of us—facing several extraordinary points.
Of choice, yes. Emphatically.
And also, urged on by Lorde's call for personal work in communal efforts, we stand with our community, facing down unwieldy points of acknowledgment, conviction, concern, and dynamic, lively, and operational community care.
Derived from Whole30's core work and responsibilities within the food, health, and wellness communities, and buoyed by Whole30 friends, family, and our phenomenal Whole30 Coaches, the 2020 Community Cares Virtual Summit is a 4-day imperative.
Engage with keynotes, workshops, community forums, and movement sessions as we touch topics like resistance visibility, politics of food and body, reimagining community, voting with resources; rest, recuperation, inter-industry accountability, and so much more.
Community Cares is more than a virtual gathering.

It's a communion of co-creators asking, answering, and activating our agency around three ever-evolving questions:
What now? What next? What are our most nurturing ways forward?
Abeer Najjar
MODERATOR, OWNING OUR FOOD FUTURES—A self-taught chef & food writer, Abeer writes to preserve memories of cooking with her mother & to share her food experience as a child of immigrants.
Alexis Jacinto
PRESENTER, MAKE DO & PANELIST, FACILITATING FOOD FREEODM—After 10 years in radio, film, and television, through her coaching practice Alexis is focused on helping others find their inner power and start their own journey of self-love and healing.
Alica Forneret
PANELIST, ON GRIEF AND GRATITUDE—Alica's grief work focuses on how we can support each other through death-related loss and the grief sparked by (and before) end-of-life experience.
Alise Parrish
INSTRUCTOR, MOVEMENT SESSION—Through her Ally Wellness practice, Dr. Alise specializes in physical therapy including joint motion, muscle strength and endurance, and performance of activities required in daily living.
Amber Phillips
PANELIST, INTER-INDUSTRY ACCOUNTABILITY PANEL—Storyteller, creative content strategist, reproductive justice activist, and founder of Amber Abundance Productions, a creative incubator and production house.
Angela Davis
PRESENTER, LIVE COOKING DEMO—A self-taught home cook, food blogger, recipe developer, and food photographer, Angela is the founder of The Kitchenista Diaries.
Autumn Michaelis
PRESENTER, WELCOME—Mom to 5 boys, a recipe creative, and founder of the blog Wholefoodfor7, Autumn is the Coaching Program Manager for Whole30.
Betsy Karr
PRESENTER, YOU TO THE WORLD: USING YOUTUBE TO EXPAND YOUR BRAND—Whole30 transformed Betsy's life, and then became her passion. Now, she coaches her clients through the Whole30 program by focusing on those initial first steps that are so crucial to making lasting lifestyle changes.
Brandon Talbot
INSTRUCTOR, MOVEMENT SESSION—NASM master trainer, mobility expert, and content creator, Brandon is the founder of the Mobile90 program.
Bree Shields
PRESENTER, WHOLE30 COACHING 101—Combining her artistic background, military experiences, and family and human development studies, Bree creates tools that aid in life management, creating a sense of hope as people find community and begin investing in themselves.
Brittany Hammond
INSTRUCTOR, MOVEMENT SESSION—Certified Personal Trainer, Group Fitness Instructor, and contributor for Livestrong.com, providing workouts for the Livestrong Community.
Carrie Kholi-Murchison (Kholi)
PANELIST, FAMILIES FORWARD PANEL—Writer, critical thinker, entrepreneur, and growth strategist, Kholi is the Director of People and Culture at Whole30, and the co-founder and Director of Partnerships and Content at HOLI.
Charlyn Griffith
PANELIST, OWNING OUR FOOD FUTURES Charlyn Griffith is an alchemist, transmitter, interdisciplinary artist, social scientist and cultural worker, and homesteader. Charlyn's own arts background started in dance and theater, and was born out of the 1980's/90's era Zeitgeist of modernism. They study the anthropo, bio, socio and technological implications of popular and emergent culture to understand the future of their practices and ppl.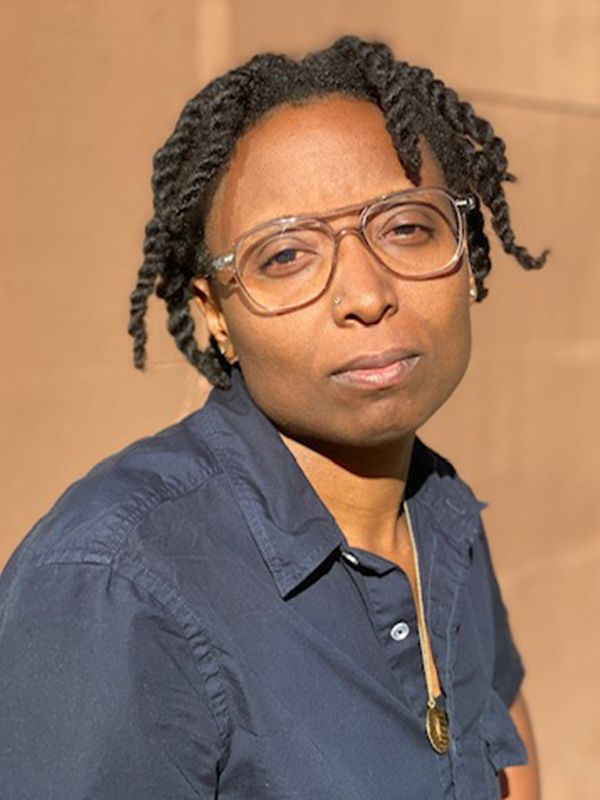 ché fm
FACILITATOR, MEDITATION & INTENTION SETTING—ché f.m. is a channel for the divine, here to assist others with breath and stillness.
ChihYu Smith
PRESENTER, LIVE COOKING DEMO—Recipe creative, cookbook author, founder of popular blog IHeartUmami and meal planning program Easy Homemade.
Courtney Connell
PANELIST, FACILITATING FOOD FREEDOM—A certified alcohol and drug counselor working primarily with opioid addiction. Through her own struggles with food and exercise addiction, Courtney worked towards food freedom utilizing her education in psychology, career in addiction treatment and the Whole30.
Cristina Houston
INSTRUCTOR, MOVEMENT SESSION—Yoga teacher, life coach, and leadership consultant and co-founder of Mind Tribes. Cristina's life's work is to empower women to feel whole and complete in all areas of life.
Diana Rodgers
PANELIST, OWNING OUR FOOD FUTURES—A ͞real food͟ nutritionist and writer living on a working organic farm, Diana is the author of several books, including the recently-published Sacred Cow.
Debbie Marlowe
PRESENTER, GET PAID—Through her massage therapy practice, Debbie digs deep into the aches, pains, symptoms and stressors of our busy modern lives. She's also an avid CrossFitter (L1) and massage therapist.
Dora Kamau
FACILITATOR, WIND DOWN SESSION—A mental health visionary, self-care advocate and the founder of Bliss Your Heart.
Elaina Ripepi
PRESENTER, YOU TO THE WORLD: USING YOUTUBE TO EXPAND YOUR BRAND—A systems engineer by day, Elaina is an aspiring homesteader who wants to show others you can have a normal life, succeed with the Whole30, and have time with your own hobbies.
Elizabeth Mcgrath
FACILITATOR, WIND DOWN SESSION—Los Angeles based sex therapist and sexuality educator.
Floritza Gomez
PANELIST, COLLABORATIVE KEYNOTE—A blogger and recipe developer with a passion for creating healthy variations of traditional Latin cuisine.
Holley M. Kholi-Murchison
PRESENTER, 8 LESSONS IN LOVE—Speaker, coach, and adviser creating lasting opportunities and pathways for historically marginalized voices to thrive via her work with Oratory Glory and HOLI. Brands.
James Harris
PANELIST, ON GRIEF AND GRATITUDE—Licensed mental health professional providing community-based services and private practice via The HEALing Hub, Avail Outpatient, and Inner Self.
Jacob Heath Henriquez
PRESENTER, NURTURE NATURE & PANELIST, FACILITATING FOOD FREEDOM—The 2019 Whole30 Whole30 Certified Coach of the Year, Director of Marketing for The New Primal, and upcoming podcast host of I Don't Do Recipes But…
Janae Williams
STORYTELLER, LIVE-READING OF AUDRE LORDE— Janae Williams (juh weems)—photographer, digital visual artist, dj, and the creative co-director and lead organizer of the DC-based, Black Femme Brunch—is a fat black genderqueer circus of a human being born and raised in the Black Baptist church pews of Virginia. Janae is a dreamer, doer and diviner deeply committed to the transformative and contagious power of being whole.
Jillian Knox
PANELIST, INTERINDUSTRY ACCOUNTABILITY PANEL—Jillian Knox is an interdisciplinary creative polymath based in San Francisco, California. She currently works as a food + fashion stylist and is the founder of The Astute Agency.
Josmine Evans
PANELIST, DECOLONIZING YOUR KITCHEN—Josmine is a home cook and culinary history enthusiast.
Judith Forman
PANEL, FACILITATING FOOD FREEDOM—Mother, nonprofiter, fitness enthusiast, and meal prep queen who discovered Whole30 in 2015 and hasn't looked back. Judith is the moderator of a popular Whole30 Facebook group and one of the voices behind Everyday Whole, a Whole30 lifestyle blog.
Karima Chellouf
PANELIST, OWNING OUR FOOD FUTURES—A nutritionist and founder of the Glory & Guts Nutrition practice, Karima focuses on digestive wellness, immune health, sports performance, energy/cognitive function, disease prevention, and herbal medicine.
Katie Horwitch
PRESENTER, MIND MOVEMENT SESSION—Writer, speaker, mindset coach, and activist, Katie is the founder of WANT: Women Against Negative Talk.
Kelly Warner
PRESENTER, WHOLE30 IN YOUR WHOLE LIFE—A stay-at-home mama of three who has mastered the art of meal prepping while babywearing, learned how to cook nutrient-dense meals while diffusing a toddler meltdown, and has successfully stayed Whole30 compatible while traveling and attending social events.
Laila Ali
INSTRUCTOR, MOVEMENT SESSION & FIRESIDE CHAT—The most successful female athlete in boxing history, Laila is a fitness and wellness advocate, TV host, home chef, and founder of the Laila Ali Lifestyle Brand.
Last Supper Society
PRESENTER, DINNER DEMONSTRATION—a Culinary Collective and Tastemakers Community that creates radical food experiences. Treat Every Meal Like It's Your Last.
Lily Diamond
MODERATOR, ON GRIEF AND GRATITUDE—Creator and editor-in-chief of Kale & Carmel, Lily is a writer, wellness advocate, and best-selling author.
Lindsey Pastorova
PRESENTER: NAVIGATING DIFFICULT CLIENTS: ARE YOUR CLIENTS READY FOR CHANGE?—A Masters prepared Registered Nurse who is also a Certified Functional Medicine Health and Wellness Coach.
LK Whitney
MODERATOR, INTER-INDUSTRY ACCOUNTABILITY PANEL—Laura Kate Whitney (LK) is the Chief Cheerleader and Purveyor of good vibes, heart-centered conversation, mindful movement, intentional engagement, and supportive community at GOOD Fest.
Lucas OchoaGarcia
PRESENTER, HERBALISM 101—A registered 200h yoga teacher, brand consultant, and cosmetics sales manager.
Mark Brand
CHEF, COOKING FROM THE HEART—Chef, serial social entrepreneur, and founder of A Better Life Foundation Canada and A Better Life Foundation USA, Mark Brand's interdisciplinary work holds space for the principles of radical inclusion and everyday advocacy at the core of his mission.
Maisha Davis
PANELIST, INTER-INDUSTRY ACCOUNTABILITY PANEL—A Family Medicine physician living in Oakland, Maisha strives every day to foster alignment between their passion of healing and profession of medicine.
Maya Feller
PANELIST, FAMILIES FORWARD—A speaker, writer, and national nutrition expert, Maya is a registered dietitian nutritionist focused on approachable, real food based solutions.
Melissa Urban
SPEAKER, CLOSING KEYNOTE—Co-founder and CEO of the Whole30 program and a six-time New York Times bestselling author.
Mike Salguero
PANELIST, INTER-INDUSTRY ACCOUNTABILITY PANEL—Entrepreneur, CEO, Coach, Board Member, and Investor, Mike is the founder of ButcherBox.
Minerva Arias
INSTRUCTOR, MOVEMENT SESSION—Yoga teacher, spiritual healer, and founder of Roots Healing, a center for yoga, Ayurveda, and Spiritual Medicine.
Nader Khouri
MODERATOR, INTER-INDUSTRY ACCOUNTABILITY PANEL—A celebrated food and lifestyle photographer and director, Nader's passion for good food and living is apparent in his work for Whole30, Whole Foods, Fiji Water, Peet's Coffee, Fairmont Hotels, OpenTable and countless restaurants and wineries.
Nicole Cardoza
PANELIST, INTER-INDUSTRY ACCOUNTABILITY PANEL—Award-winning serial social entrepreneur, investor, author, and public speaker making wellness accessible for everyone.
Nicole Cooke
INSTRUCTOR, FAMILY WORKOUT—CrossFit L1 Trainer, CrossFit Kids Trainer, and Whole30 Certified Coach who has led dozens of people through the program.
Nicole Sciacca
INSTRUCTOR, BODYWORK SESSION—Yoga teacher, FRCms, professional dancer, host, and personal trainer, Nicole is currently the Chief Yoga Officer of Playlist Yoga in West Hollywood.
Paco de Leon
SPEAKER, SOCIAL MEDIA AT ANY STAGE—Founder of The Hell Yeah Group, a boutique bookkeeping company. Co-founder of arts-based non-profit Allies in Arts, co-host of Refinery29's Money Diaries podcast and musician.
Dr. Peniel Joseph
PANELIST, FAMILIES FORWARD—The Barbara Jordan Chair in Political Values and Ethics at the LBJ School of Public Affairs and professor of history and the Founding Director of the Center for the Study of Race and Democracy at the University of Texas at Austin.
Rachel Gurjar
GUEST, COLLABORATIVE KEYNOTE—Chef turned writer, food photographer and stylist—is the test kitchen manager and food editor/photographer at the Feedfeed.
Rachel Reis
FACILITATOR, WIND DOWN SESSION—Rachel Reis is a CPT + Movement Coach, and a Pilates – contemporary, strength training, functional movement teacher. She empowers and encourages sustainable movement, body autonomy, and body acceptance.
Rachel Ricketts
PANELIST, ON GRIEF AND GRATITUDE —Queer Black woman, international thought leader, speaker, healer + author of the forthcoming book Do Better: Spiritual Activism for Fighting and Healing From White Supremacy. Rachel's life's mission is to help heal the collective divide by dismantling white supremacy (and thus all forms of oppression), supporting healing for Black + Indigenous women+ and helping us all reclaim our freedom-mind, body and soul.
Redwood Hill
PANELIST, DECOLONIZING YOUR KITCHEN—A reconstructor of culinary perspectives, Redwood uses timeless, sustainable, nutrition to intentionally advocate for food sovereignty and the decolonization of food systems.
Ronny Joseph Lvovski
PRESENTER, LIVE COOKING DEMO—A self-taught cook, photographer, and cookbook author, Ronny holds a PhD in Art History and Visual Culture, and is an award-winning scholar and part-time professor.
Sah D'Simone
PANELIST, INTER-INDUSTRY ACCOUNTABILITY PANEL—Spiritual guide, meditation teacher, transformational speaker, and international best-selling author. Sah is pioneering a spiritually sassy, heart-based healing movement.
Shanna DiPaolo Keller
MODERATOR, FAMILIES FORWARD PANEL—Digital and social media strategist and writer, Shanna is the Director of Digital Media at Whole30.
Shirley Johnson (Soulistic Wellness)
FACILITATOR, BREATHWORK SESSION—Shirley Johnson is a licensed psychotherapist and intimacy coach providing astrology, reiki, and yoga services to help heighten one's intuition and live a free life.
Shivangi Rao
GUEST, COLLABORATIVE KEYNOTE—A food creative and recipe developer, Shivangi is the founder of Raody's recipes.
Siedeh Foxie
FACILITATOR, CLOSING BREATHWORK. Siedeh Foxie is an intuitive practicing shamanic healing through ancient traditions. Accessing a blend of energy modalities including breathwork, healing touch, sound vibration, and plant medicine, Siedeh holds space that allows connection to our inner wisdom; thereby gaining insight and clarity to empower profound shifts.
Stephanie Greunke
PANELIST, OWNING OUR FOOD FUTURES – Registered Dietitian and Education Manager for Whole30, certified in perinatal mental health and host of the Doctor Mom podcast. Steph makes healthy eating accessible through the science of behavior change.
Stephanie Vanlochem
PRESENTER, MAKE AND DO AND PANELIST, FACILITATING FOOD FREEDOM—Nutritional Therapy Practitioner, Certified Whole30 Coach, and the founder of Cook By Color Nutrition, where she teaches the power of cooking real food as nourishment for both mind and body.
Sunny Marie Negless
PRESENTER, GET PAID—A Holistic Nutritionist, Nutritional Therapy Practitioner, Aerial Artist, and Educator.
Teri Turner
PRESENTER, LIVE COOKING DEMO—Founder of NoCrumbsLeft, social media influencer, full-time blogger, and author of the Whole30 Endorsed No Crumbs Left cookbook.
Vicki Singer
PRESENTER, KNOW YOUR AUDIENCE: A WORKSHOP ABOUT LEARNING TO ACCOMMODATE VARIANT ABILITIES—Avid CrossFitter and singer, Vicki is dedicated to making the Whole30 community more accessible and inclusive for those who have disabilities and deal with chronic pain, illnesses or autoimmune disorders.
Vickie Bhatia
MODERATOR, FACILITATING FOOD FREEDOM—A licensed clinical psychologist who has extensive specialized training in evidence-based treatments for a range of disorders, including depression, anxiety, trauma, disordered eating, and relationship dissatisfaction.
Vivian Nunez
PANELIST, ON GRIEF AND GRATITUDE—Founder of Too Damn Young, co-host of Forbes Podcast Creating Espacios, freelance writer and digital media strategist and content creator.
Dr. Will Cole
PANELIST, FOOD OWNING OUR FOOD FUTURES—Dr. Will Cole – named one of the top 50 functional-medicine and integrative doctors in the nation – specializes in clinically investigating underlying factors of chronic disease and customizing health programs for thyroid issues, autoimmune conditions, hormonal dysfunctions, digestive disorders, and brain problems.