Melissa Hartwig, Whole30 Headmistress, will be hitting the road in October 2018 for a North American tour to talk about the Whole30 program and her new book The Whole30 Slow Cooker. At each event, Melissa will speak, answer questions from the audience, and spend time meeting, greeting, and signing your copies of the books  (and any other book your wish to purchase at the event… as long as it's not the newest Stephen King novel).
Please note, the events in Chicago, Kansas City and St. Louis require a ticket.  Use the links below to purchase your tickets and RSVP for ticketed events.
Coming to an event? Share your photos, stories, and snaps with us on social media by tagging @Whole30 and @melissa_hartwig, and using #Whole30!
The 2018 Whole30 Book Tour
Chicago, IL
DATE: Tuesday, October 23, 2018, 7PM
LOCATION: Everybody's Coffee, 935 W Wilson Ave, Chicago, IL
HOSTED BY: The Book Cellar
PURCHASE TICKETS: www.brownpapertickets.com/event/3609482
Melissa will be in conversation with Chicago-area recipe creative Teri Turner of No Crumbs Left
Kansas City, MO
DATE: Thursday, October 25, 2018, 7PM
LOCATION: Unity Temple on the Plaza,  707 W 47th St, Kansas City, MO 64112
HOSTED BY: Rainy Day Books
PURCHASE TICKETS: www.rainydaybooks.com/MelissaHartwig2018
Melissa will be in conversation with Shanna Keller, Director of Digital Communication for Whole30
St. Louis, MO
DATE: Friday, October 26, 2018, 7PM
LOCATION: St. Charles Public Library, Spencer Road Branch: 427 Spencer Road St. Peters, MO 63376
HOSTED BY: The Novel Neighbor
RSVP: thenovelneighbor.com/event/author-melissa-hartwig
Melissa will be in conversation with a special guest, to be announced soon!
Minneapolis, MN
DATE: Sunday, October 28, 2018, Noon
LOCATION: Barnes & Noble: 3230 Galleria, Edina, MN 55435
PURCHASE BOOKS: Barnes & Noble
NO RSVP REQUIRED
Denver, CO
DATE: Monday, November 5, 2018, 7PM
LOCATION: Douglas County Libraries, Highlands Ranch branch: 9292 Ridgeline Blvd, Highlands Ranch, CO 80129
HOST:
PURCHASE BOOKS:
RSVP:
Seattle, WA
DATE: Tuesday, November 6, 2018, 7PM
LOCATION: Third Place Books, Lake Forest Park location: 17171 Bothell Way NE, Lake Forest Park WA 98155
PURCHASE BOOKS: Third Place Books
NO RSVP REQUIRED
Portland, OR
DATE: Thursday, November 8, 2018, 7PM
LOCATION: Powell's Cedar Hill Crossing
PURCHASE BOOKS: Powell's
NO RSVP REQUIRED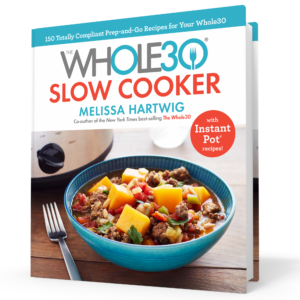 Not in a tour city? Order The Whole30 Slow Cooker online!