with recipes from Laura Miner @CookatHomeMom
We are thrilled to introduce you to our newest Whole30 Approved partner: Veggie Noodle Co. They offer organic, pre-spiralized veggies (zucchini, sweet potato, butternut squash, and beet) in a few different "noodle" shapes including spirals, Veggiccine™ (their smooth and easy take on fettuccine), and hash.
There is SO MUCH TO LOVE about Veggie Noodle Co.; they're a more nutritous "pasta" option, the shape cuts your veggie cooking time in half, and they're super-convenient, letting you get fast and easy Whole30 meals on the table even on the busiest weeknight. They're also widely available, and can be found in most places throughout the U.S. including Target, Whole Foods, and Kroger. (Use their handy store locator to find Veggie Noodle Co. in a store near you.)
We asked recipe creative Laura Miner to create three dishes with Veggie Noodle Co. veggies, and the dishes she landed on are fresh, flavorful, and make the most of seasonal summer produce.
[Tweet "Three summer recipes featuring our newest #Whole30Approved partner, @veggienoodleco! #whole30 #ad"]
Sweet Potato Nicoise Bowl
Ingredients
For the Salad
1 package Veggie Noodle Co. Spiralized Sweet Potato
2 4-6 oz. salmon fillets
2 eggs, soft boiled
2 tsp. olive oil
1 cup fresh spinach or baby kale
1/4 lb. asparagus, blanched
1/4 lb. green beans, blanched
2 Tbsp. raw unsalted sunflower seeds
4 radishes, sliced
1 tbsp. fresh parsley, chopped
1 tsp. fresh thyme
For the Lemon-Mustard Vinaigrette
1/2 cup olive oil
1/2 lemon, zested and juiced
2 Tbsp. white vinegar
1/4 tsp salt
1/8 tsp pepper
1/2 Tbsp. mustard (be sure it's compatible!)
1/2 Tbsp. finely minced shallots or scallions
Instructions
To Make the Vinaigrette
WHISK together all vinaigrette ingredients but the oil. Very slowly, pour the oil into the mixture as you whisk until emulsified. Note: You can also add all ingredients to a deep bowl and use an immersion blender.
To Prepare the Salmon
DRIZZLE each salmon fillet with olive oil and season with salt and pepper. Heat a skillet over medium heat and place the salmon skin side down, allowing to cook for 4-5 minutes. Flip the fish and cook for another 4-5 minutes, or until flakey and cooked through.
To Prepare the Salad
FILL two bowls with spiralized sweet potatoes (if you prefer them cooked, gently sautee the noodles for 3-4 minutes and allow to cool slightly). Divide the spinach, asparagus, green beans, sunflower seeds and radishes between the bowls. Place the salmon and eggs on top and drizzle with the vinaigrette. Top with parsley and thyme.
Farmer's Market Beet Bowl
For the Salad
1 Veggie Noodle Co. Spiralized Beets
2-4 eggs
4-6 strips compatible bacon
1 cup snap peas
1/3 cup blueberries
1/4 cup walnuts, chopped
1 cup sunflower shoots or any other microgreens
1 lemon, zested
For the Lemon Parsley Vinaigrette
1/2 cup olive oil
Juice of 1 lemon, about 2 Tbsp.
1 T. apple cider vinegar
1 packed cup flat leaf parsley, large stems removed
1 garlic clove
1/2 tsp salt
1/4 tsp pepper
To Prepare the Vinaigrette
ADD all ingredients to a deep bowl and blend gently with an immersion blender. Alternately, you can finely chop the parsley and garlic, then whisk all ingredients together.
To Prepare the Salad
COOK the bacon and allow it to cool. Chop the bacon into bite-sized pieces. Fill two bowls with spiralized beets. Divide the snap peas, sunflower shoots, blueberries and walnuts between the bowls. Prepare the eggs your favorite way (Here they're fried sunny side up, fried in 1 tsp. Olive oil for about 4 minutes). Place the eggs and bacon on each bowl, then top with lemon zest.
Spicy Shrimp & Zucchini Bowl
Ingredients
For the Salad
1 Veggie Noodle Co. Zucchini Spirals
1 avocado
4 squash blossoms (optional)
1 lime, sliced
Cilantro leaves
For the Shrimp
12 oz. shrimp, peeled and deveined
1 T. olive oil
1/2 tsp. Chili powder
⅛ tsp. Garlic powder
1/4 tsp salt
pinch cayenne pepper (optional)
For the Mango Salsa
1 mango, peeled and diced
¼ cup sliced cherry tomatoes
1 T. finely diced red onion
1 – 2 T. lime juice
1 T. cilantro
½ tsp salt
¼ tsp. pepper
For the Coconut Lime Crema
¼ cup coconut cream
1 tsp. Lime juice
¼ tsp. Lime zest
¼ tsp. Salt
1 tsp. Finely chopped cilantro
Instructions
To Prepare the Crema
VERY gently warm the coconut cream for about 10 seconds in the microwave, just until softened. Whisk in the lime juice, zest, salt and cilantro.
To Prepare the Salsa
COMBINE all ingredients and mix, and season to taste.
To Prepare the Shrimp
PAT the shrimp dry with a paper towel. Gently toss the shrimp in a bowl with oil, chili powder, garlic powder, salt and cayenne, turning to coat. Heat a skillet over medium heat and sautee the shrimp just until pink in color, 2-3 minutes.
To Prepare the Salad
Fill two bowls with spiralized zucchini. Add the shrimp to each bowl, and top with sliced avocado, squash blossoms, mango salsa and crema. Garnish with cilantro leaves and lime slices.
Want to win some Veggie Noodle Co. of your own? This week we're giving away Veggie Noodle Co. products on our Whole30 Approved Instagram, follow along there for your chance to win.
This post is sponsored by Veggie Noodle Co.
Some links in this post are affiliate links, meaning Whole30 makes a small commission on items purchased via these links. Thank you for supporting our Whole30 Approved partners.
---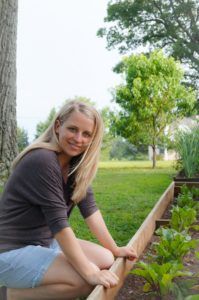 Laura is a wife, mom of two, and home cook devoted to finding balance and wellness. Since 2013, she's completed eight rounds of Whole30 and loves to share her compatible recipes on Instagram at @cookathomemom.
Save
Save
Save
Save
Save
Save
Save
Save
Save
Save
Save
Save
Save
Save