Today's Whole30 success story features Alan C. (40), of Kwajalein, Republic of the Marshall Islands.  They say a picture is worth 1,000 words – or, in Alan's case, 15 pounds lost in just 30 days (and a whole person's worth of weight lost in his three year journey).  We're not going to smuck up his amazing success with a long intro… read what Alan has to say, in his own words.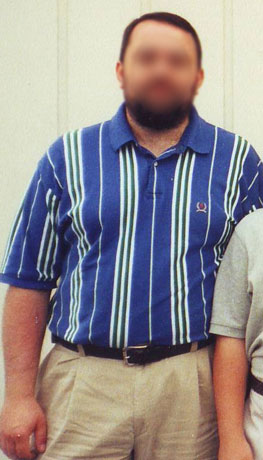 Alan's Story
"Just wanted to give some feedback on the completion of my first Whole30, but first, some background.  My big health and fitness year was actually 2007, when I went from ~300 lbs. to 210 lbs.  I thrived on the bike at that weight for a few years, but wasn't able to break my weight loss plateau until this year, with the Whole30.
So how did I find your program? Almost a year ago I was whining about my inability to control my appetite and my struggle on a message board. Someone suggested that I take a look at Mark's Daily Apple, so I bought Mark's book and tried the Grok thing for a while. No weight loss at all. I believe it was because of the freakin' dairy. I don't do moderation well with certain things, and dairy is one. I was literally making entire snacks out of nothing but butter. (sigh)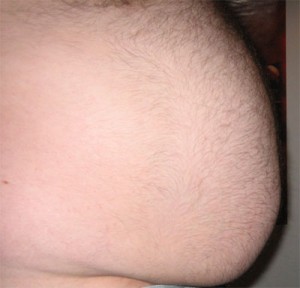 I kept seeing this reference to Whole30 on the MDA message boards and decided to give you a look. At first, I wrote it off as too restrictive and not worth the trouble… but your words kept ringing in my head. "This is not hard" is so very, very true when you put it in perspective, so I decided to give it a go.
First off, it was very nice to settle into a style of eating that required no logging or counting.  With the Whole30 I was easily (yes, very easily) able to follow the MealSimple™ guidelines and be completely satisfied.  I have always had such a terrible tendency to binge, especially after a hard workout.  Unfortunately the target foods were things like peanut butter, crackers, bread, butter, milk, etc.  But during my program,  I "binged" only when I was genuinely hungry… and I stuck to Whole30 foods. 
Alan's Whole30 Results
Start: 
215 lbs
23% body fat
Finish: 
200 lbs
20% body fat
My clothing fits MUCH better.  I had to dig out a belt to keep from being embarrassed in public.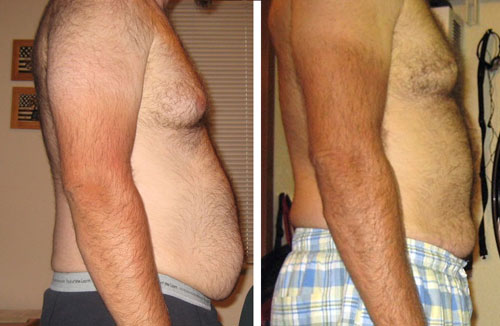 And here is the best part.  I live on a small island in the Pacific, essentially a U.S. military base.  We have a very close knit, fitness-conscious community and there always is a load of discussion and comparison going on.  I was mocked by a few of the more fit folk here, who said, "There is no way you can maintain any sort of athletic intensity eating like that.  You NEED sugar and grains for energy".  Huh… well… Okay.  I just politely said I disagreed and moved on.
Last week I broke the record for fastest time-trial in Kwajalein history, powered by nothing but Whole30-approved food.
I finished a 42 kilometer (26 mile) bike time trial in 1:03:27, averaging 24.5 mph.  Sure that's not Tour de France quality, but it broke a record that many people considered untouchable here.  I am completely convinced that the Whole30 allowed me to train at a higher intensity, and most  importantly, RECOVER from that training very quickly.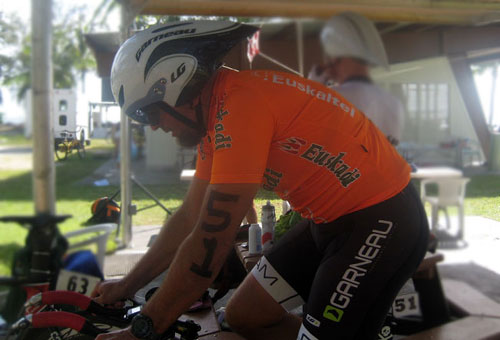 And Now… 
So I'm sitting here staring at my calendar with 30 days crossed out.  Just like ZenHabits.com says, a 30 day challenge does wonders for forming good habits.  I really don't have a desire to have a huge stack of pancakes or a plate full of pizza.  I really do feel like I've 'turned the corner' on the way to reaching my goals.  I feel very motivated to start another Whole30.
The cool thing about the Whole30 program is that it takes most of the stress out of eating.  The only remaining stress is the social factor… but your words in the Whole30 Success Guide really have rang in my head.  I have the Guide printed and clipped to my calendar.  The first two weeks I read it every day, underlining and highlighting the best part.  It's so elegantly simple, yet extremely powerful.  "You never, ever, ever HAVE to eat anything you don't want to eat".  "It is not hard.  Don't you dare tell us this is hard.  Giving up heroin is hard.  Beating cancer is hard….".  Those words were a huge help to me during the 30 days. 
I think I have my wife interested now, which thrills me because I want my 4-year old daughter to be on this plan as well.  Now, if I can just fall in love with the gym like I have with cycling…
KUDOS to you and Dallas, and THANKS AGAIN for your good work."
Alan, You Rock
We were beyond thrilled to hear of Alan's success with the Whole30. A four-year weight loss plateau busted, a performance metric shattered, and an entire family on the Good Food Bus, getting healthier and happier together. Get inspired, people, because there's not much more we could ask of a testimonial.
Congratulations to Alan on his success, and kudos to YOU for all of your hard work and dedication. Got a Whole30 Success Story of your own? Email it to us at [email protected].
Melissa Urban
Co-Founder / CEO
Melissa Urban is a 7x New York Times bestselling author (including the # bestselling The Whole30) who specializes in helping people establish healthy boundaries and successfully navigate habit change. She has been featured by the New York Times, People, the Wall Street Journal, Forbes, The Today Show, and Good Morning America, and is a prominent keynote speaker on boundaries, building community, health trends, and entrepreneurship. She lives in Salt Lake City, UT with her husband, son, and a poodle named Henry.