In January, we received a note from Zack Finer, trainer at CrossFit Herzliya, the only CrossFit affiliate in Israel. (He's featured in our header photo.) Zack wrote, "We are about a week into our first Whole30 program, and things are going great. One of my members just informed me that she finally fits into her pre-pregnancy pants for the first time in three years. There are no other CrossFit gyms in the country, so we are doing our best to set ourselves up as a center for overall fitness by giving our members the best access to exercise and nutrition information."
While CrossFit Herzliya isn't the first to take the Whole30 international, we are always fascinated by the idea of taking our US-based Whole30 program to a foreign country. We asked Zack for more information on what it's like to run a program like Paleo and the Whole30 in Israel.
Zack's Story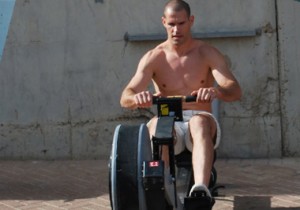 As I said, we are the first and only CrossFit affiliate in Israel, both an honor and a very big responsibility. In December we were approaching our one year anniversary – a big milestone for any affiliate – and the time seemed better than ever to add another element to our program. I have always been a big advocate of Paleo nutrition, so I approached Omry Peled (CFH owner) with the idea of holding a nutrition seminar at the box, and following it with a month long challenge. Our seminar focused on whole, natural foods and the Paleo diet. Following the seminar, we introduced our first nutrition challenge. And when it came to giving our clients a clear picture of how to implement the Paleo diet, there was no better choice than to follow your Whole30 program.
We wanted to make sure our clients had the right kind of support throughout the program, so we created a group page on Facebook for our members. We designed the page so questions could be answered in a group setting, where everyone could benefit. We posted daily recipes and articles about nutrition, and required all members to post their weekly food logs. I wanted to make sure our clients had no excuses, and that they had all the support they needed to follow through with what could be one of the biggest changes they would make in their lives.
CrossFit Herzliya: Their Whole30 Program
Step one was to announce the nutrition seminar and schedule a date, easy enough. But this is where the work really started for myself; I knew enough about the Paleo lifestyle to keep myself satisfied, but now I really had to know my stuff if I was going to convince a room full of skeptics (including nutritionists and one of the trainers from the Biggest Loser Israel). Two resources proved most helpful at the time; Robb Wolf's website and podcasts and Whole9's Resources page.
You know when you try to explain something to a toddler, only to get the same response over and over, "But why?" Yeah… explaining Paleo is a lot like that, especially when people have been fed the low fat/high carb diet model most of their lives. The seminar went well, however, and as soon as the talk was over we announced the nutrition challenge, taken straight from the Whole30 (plus an extra 10 days, for good measure). I combined the resources from Whole9 with the tactics from Dave and Nancy Werner's (Level4, CrossFit Seattle) "Spring Leaning" program back in Seattle. The idea of the program – 40 days of total support and gym-wide camaraderie, and no excuses to quit.
A word of advice… make sure you are out of arm's reach when you tell an Israeli they can't have hummus for the next 40 days.
We had 21 participants in all. All 21 stayed on the program for the full 40 days. And despite the initial week or two of, "This is too hard!" and "BUT WHAT DO I EAT!?" everyone got into the rhythm. People started cooking for themselves and their families while exploring with new foods and recipes. It seems pointless for me to tell you what happened, you've heard the story so many times before. PRs in the gym, more energy in the day, body composition changed at tremendous rates, and we had 21 very happy members.
The Results, and Dikla's Story
It may sound cheesy, but even though only two of the challengers could go home with prize money, they were not the only winners. Everyone who participated saw improvements, not just in body composition, but overall health and well being. They realized that yes, it IS possible that the foods they were eating before were not as good for them as they had thought. There were also plenty of unexpected side effects (even for me). Two of our members, husband and wife, went into the challenge together. When I asked them what the biggest improvement was for them they answered, "We spend more time cooking with each other and our kids, and less time watching TV." Needless to say, that made me smile.
This is a testimonial from Dikla, one of our two winners, about her Whole30 experience.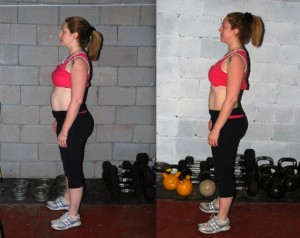 "My name is Dikla Oren, I am a 30 year old mother of two, Yoav (2.8yrs) and Libby (1.2yrs). I was very skeptical about the Paleo diet, I didn't know how I could incorporate the program into my life. I work a full time job, raise two small children, and of course want to spend some time with my husband and a little time to myself (is it too much to ask?) I studied naturopathy and nutrition is very close to my heart. At the beginning it was very difficult for me to accept the different thinking regarding meat and fat, like most people I believed that they are bad for the heart and for the cholesterol levels.
Luckily my husband and I did it together, along with a devoted group of individuals from our box. 40 days of the Whole30 Paleo diet, no cheating. The beginning was hard!! Giving up the little things like coffee (don't like it without milk), preparing food for a day at work, breakfast and lunch, preparing everything in advance, keeping a food log of everything I ate… plus taking care of the house do laundry, clean etc. It's like having a second job!
But two weeks in, my life had already begun to change. I found a way to juggle my work, family, and health as if someone added more hours to the day, I'm full of energy and now I can't wait for the evening to go to the box. My endorphins kicked in and I became addicted to sports, yes ME! It was shocking, only a few weeks earlier I found it impossible to run 600m without stopping multiple times, a few days ago I ran 3K and didn't stop once!!
Now I pay attention to what I put into my body and I decided to give it the respect it deserves. After 40 days of the diet I saw my before and after photos and I was shocked by the changes.
In 40 days I went down by two pants sizes (a good excuse to buy a new wardrobe), my energy levels are soaring, my skin has never been better, I feel healthy and most importantly I'm smiling.
I feel that the healthy lifestyle my husband and I chose changed us and our children's lives. To hear my son saying: "Mom are you going to do sport – look I also do sport" (as he shows me how he lifts his leg) or "Mom I eat healthy and I'm going to have muscles like Dad and you have"… These little things make me realize that we made the right choices. The challenge is over, but neither me nor my husband have any interest in going back to our old lifestyle. I won't lie, there are times when I have soy milk with my coffee, or maybe something sweet. But there is no comparison to how I fueled my body before. I am healthy, happy, and feel like a new person!"
Has YOUR Gym Done a Whole30?
We want to congratulate Zack, Omry and the members of CrossFit Herzliya on their Whole30 success, and wish them best of luck on their next Whole30 program, set to begin soon. Has your gym completed a Whole30 program? You don't have to be a Whole9 Nutrition Partner to be featured here – we'd love to hear about your results too! Send us a note at [email protected] with your results, testimonials and photos, and we'll put your gym in the spotlight.
Melissa Urban
Co-Founder / CEO
Melissa Urban is a 7x New York Times bestselling author (including the # bestselling The Whole30) who specializes in helping people establish healthy boundaries and successfully navigate habit change. She has been featured by the New York Times, People, the Wall Street Journal, Forbes, The Today Show, and Good Morning America, and is a prominent keynote speaker on boundaries, building community, health trends, and entrepreneurship. She lives in Salt Lake City, UT with her husband, son, and a poodle named Henry.