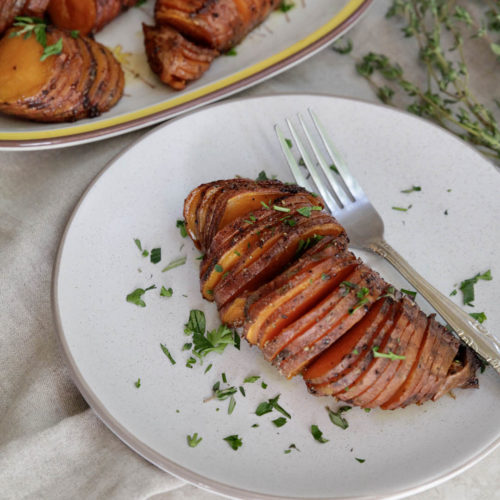 Whole30 Hasselback Sweet Potatoes
Small slits by "hasselbacking" your veggies create big flavor as these sweet potatoes caramelize in the oven, making every bite creamy with the perfect amount of delicate crunch.  Olive oil, avocado oil, ghee, or coconut oil are all wonderful cooking fats to coat your sweet potatoes in and increase your body's ability to absorb all of the essential vitamins found in whole foods.
Preheat oven to 350 degrees Fahrenheit.

Rinse sweet potatoes and pat dry.

Carefully slice sweet potatoes in thin slits, stopping just before actually slicing through. This is what makes them "hasselback".

Coat the sweet potatoes with olive oil and sea salt. Arrange in a skillet or on a baking tray lined with parchment paper.

Bake in the oven until very soft and the bottoms have begun to brown, about 35-40 minutes.

Serve sweet potatoes fresh parsley and fresh or dried rosemary and thyme, storing any leftovers in the fridge for up to 5 days.

Enjoy!