Our @whole30recipes Instagram feed brings you delicious, Whole30 compatible recipes all day, every day. And, in our series, The Best of @Whole30Recipes, we bring our favorites to the blog.
Here at Whole30 HQ we're currently riding out a giant heatwave that's affecting pretty much the entire continental U.S. It's making us crave light, fresh produce with tons of crisp veggies, satisfying proteins and refreshing seasonal fruit.
[Tweet "Too hot to cook? Try one of these refreshing + satisfying Whole30 salads."]
We've collected six of our recent favorite salad recipes featured on the @whole30recipes feed. We love how our guest posters combine leafy greens and tasty proteins with in season veggies and fruit to create flavorful and fresh dishes to carry you through the rest of the summer.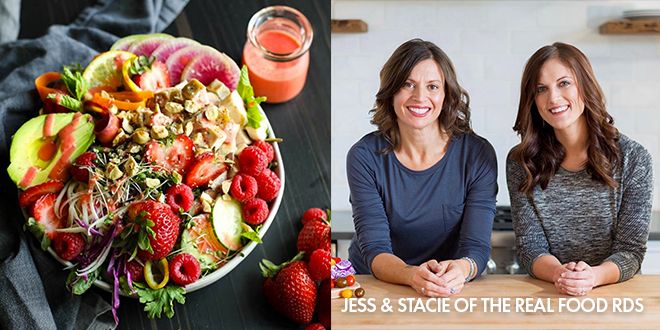 Ingredients
For the Vinaigrette:
4 organic strawberries
3 Tbsp. olive oil or avocado oil
2 Tbsp. champagne vinegar (may substitute white balsamic vinegar)
2 Tbsp. lemon juice
Salt & pepper to taste
For the Salad:
6 cups mixed greens of choice
3-4 cups assorted vegetables of choice (sliced red cabbage, carrots, cucumbers, radishes, snow peas, bell peppers, etc.)
1/4 cup nuts or seeds of choice
1 cup microgreens or sprouts
2 cups organic strawberries, washed, hulled and sliced
1 small avocado, pit removed and sliced
1 8-ounce chicken breast, cooked and chopped
Instructions
IN a blender or small food processor, combine vinaigrette ingredients. Blend until smooth. Set aside.
DIVIDE the salad ingredients among two salad bowls.
DRIZZLE 2-3 Tbsp. vinaigrette over each salad just before serving. Leftover vinaigrette can be stored in the fridge for up to 4 days.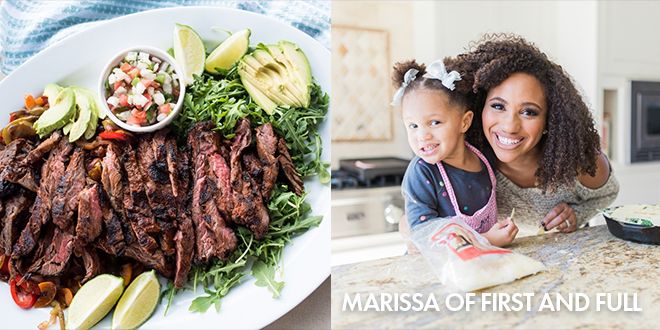 Ingredients
2 lbs of skirt steak

For the Marinade:
2-3 Dried Chiles (i.e. Chile de Arbol, ancho chiles, red chiles etc.), stem and seeds removed, rehydrated in warm water
2 dates, pitted and soaked in warm water
3 cloves of garlic
1/4 C coconut aminos
1 tbsp Apple Cider Vinegar
1 tbsp cumin
1 tbsp oregano
1/2 tsp coriander
1/2 tsp chili powder
Juice of 1 lime
1/4 C- 1/2 C water, depending on marinade thickness
1/2 tsp salt + 1/4 tsp pepper
1 tbsp tomato paste (optional)

For the Salad:
2 red onions, sliced
1 red pepper, sliced
1 green pepper, sliced
1 orange or yellow pepper, sliced
1 tbsp avocado oil
1/2 tsp salt
1/2 tsp pepper
Mixed greens or arugula
Avocado slices
Pico de Gallo or your favorite compatible salsa
Instructions
For the Marinade:
ADD the rehydrated chilies, pitted dates, garlic, coconut aminos, apple cider vinegar, cumin, oregano, coriander, chili powder, lime juice, water, and the salt + pepper to a blender. Pulse till mixture is smooth. Add more water if mixture is too thick. Let marinate for 4+ hours.
For the Salad:
SAUTE the onions and peppers in a skillet with 1 tbsp of avocado oil. Season with salt + pepper.
GRILL the skirt steak over high heat till desired doneness. (For medium, this is roughly 4 minutes per side.)

SERVE onions, peppers and steak over fresh greens, avocado, pico de gallo, and compatible salsa.
Salmon Nicoise Salad from Chef Josh From Kitchfix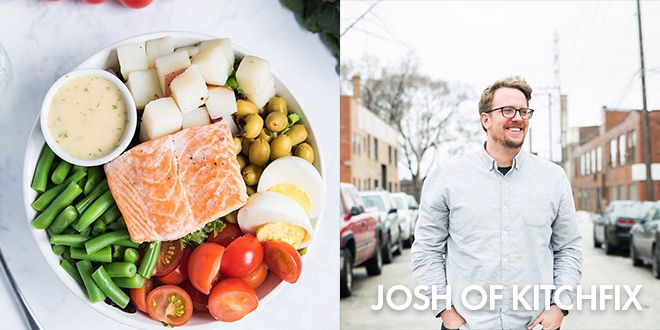 Ingredients
For the Dressing:
2 Tbsp white wine vinegar
¼ c lemon juice, freshly squeezed
1 Tbsp dijon mustard (whole30 compatible)
1 Tbsp shallots, minced
¼ tsp sea salt
pinch cracked black pepper
½ c organic sunflower oil
2 Tbsp EVOO
1 Tbsp fresh chopped dill
For the Salad:
Poached wild-caught salmon
Hard boiled egg
Organic mixed greens
Green beans, blanched
Nicoise olives
Organic cherry tomatoes, halved
Boiled fingerling potatoes, halved .
Instructions
BLEND vinegar, lemon juice, dijon, shallots, salt, and pepper together in a blender. Drizzle in the sunflower and olive oil slowly to emulsify the dressing.
SPRINKLE in the freshly chopped dill, don't blend or the dressing will turn green. Adjust the seasoning of the dressing with more salt if necessary.
TOSS the salad together with all of the components above.
Rainbow Ginger Shrimp Bowls from Cook At Home Mom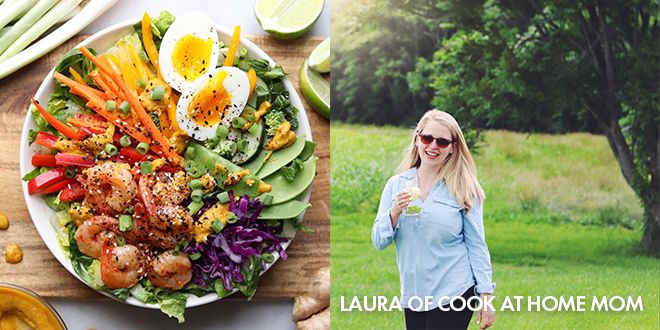 Ingredients
For the Shrimp:⠀
1 lb shrimp⠀
2 Tbsp ghee or avocado oil ⠀
1/2 tsp chili powder⠀
1/2 tsp garlic powder⠀
1/4 tsp cumin⠀
1/2 tsp salt⠀
1/4 tsp red pepper flakes (optional)⠀
For the Ginger Dressing:
4 celery stalks⠀
1 medium tomato⠀
1/2 small onion⠀
Zest of 1 lemon⠀
2 Tbsp Lemon juice⠀
1 Tbsp tahini⠀
1 clove garlic⠀
1 inch peeled ginger⠀
2 dates ⠀
1/3 – 1/2 cup coconut aminos ⠀
1/3 cup avocado oil⠀
1/4 tsp. Hot sauce ⠀
S & P to taste ⠀
For the Salad:
1 red & yellow bell pepper, sliced⠀
1 carrot, sliced⠀
4 soft boiled eggs⠀
1 cup shredded red cabbage⠀
1 cup snap peas⠀
½ english cucumber, sliced⠀
1 green onions⠀
1 Tbsp. sesame seeds
Instructions
RINSE the shrimp & pat dry with paper towels.

MIX the seasonings in a bowl, then add the shrimp. Toss to coat, then set aside.
OVER medium heat, melt the ghee in a skillet. Add the seasoned shrimp and cook, stirring occasionally and turning, until firm and pink, about 4-5 minutes.
ROUGHLY chop all the ingredients for the Ginger Dressing, and add to a high powered blender or food processor. double blend on high.
BUILD your salad with the above ingredients.
ADD shrimp and drizzle dressing on top. ⠀⠀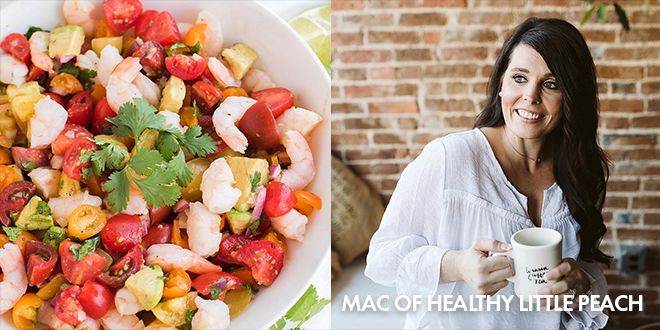 Ingredients
2 cups Cooked Shrimp
1 large cucumber, diced
1/3 cup red onion, chopped
1 avocado, diced
2 cups multi color cherry and grape tomatoes , diced
1 1/2 tsp salt
1/2 tsp garlic
1 tsp pepper
1/4 cup olive oil
3 tbsp. red wine vinegar
Juice from 1 lime
Juice from half a lemon
2 tbsp chopped Cilantro
Instructions
CHOP the onions, slice the tomatoes into fourths.
CUT the avocados and remove the pit. Slice into large cubes.
CUT the shrimp in half.
TRANSFER all of the veggies and shrimp to a mixing bowl.
ADD in the seasoning, cilantro, olive oil, vinegar, and lime juice to the veggies and mix until combined.
PLACE in the refrigerator to chill for 1 to 2 hours.
Radish, Dandelion, Beet, Tomato and Sardine Salad from LP Fed Me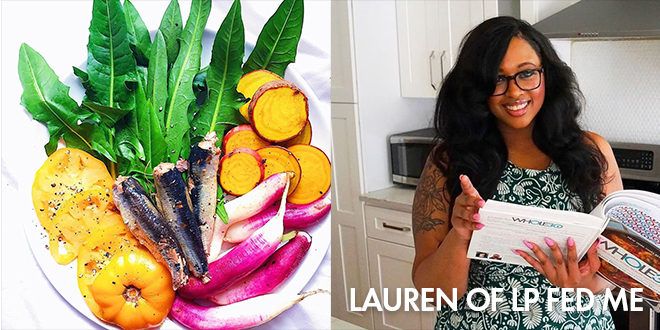 Ingredients
1 heirloom tomato, sliced ⠀
1 beet, sliced⠀
5 oz. dandelion greens⠀
5 french radishes
1 can of fresh Whole30 approved or compatible sardines, drained
Primal Kitchen Foods Green Goddess Dressing
Instructions
SLICE vegetables into rounds.
ARRANGE greens and fill the plate with vegetables.
DRIZZLE with Primal Kitchen Foods Green Goddess dressing or other similar Whole30 compatible salad dressing.
TOP with sardines, sprinkle with salt + pepper and serve.
Melissa Urban
Co-Founder / CEO
Melissa Urban is a 7x New York Times bestselling author (including the #1 bestselling The Whole30) who specializes in helping people establish healthy boundaries and successfully navigate habit change. She has been featured by the New York Times, People, the Wall Street Journal, Forbes, The Today Show, and Good Morning America, and is a prominent keynote speaker on boundaries, building community, health trends, and entrepreneurship. She lives in Salt Lake City, UT with her husband, son, and a poodle named Henry.