Wondering which Whole30 book to start with? Read this first!
---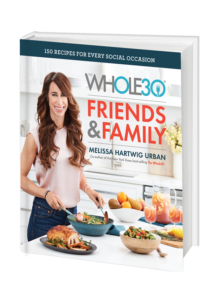 THE WHOLE30 FRIENDS & FAMILY: coming October 15, 2019
150 Recipes for Every Social Occasion
Whole30 menus and recipes for everyday social occasions from birthday parties to baby showers, movie night, tailgating, and more
The Whole30 Friends & Family is packed with recipes for all of life's special moments, from birthdays to baby showers, barbecues to brunches. All of the recipes are Whole30 compliant, designed to mix and match to create the perfect menu whether you're hosting or contributing a dish as a guest. And in true Whole30 style, the recipes are creative, colorful, and so flavorful that your guests will never miss the added sugar.
Details | Pre-Order: Amazon, B&N, Indie Bound, Powell's, BAM, Hudson, Indigo, Amazon.ca, iBooks, Google Play
---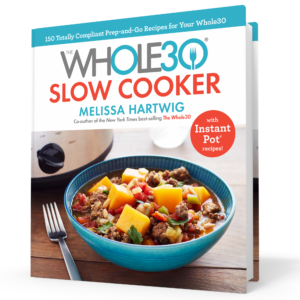 THE WHOLE30 SLOW COOKER
150 All-New Recipes for Your Slow Cooker and Instant Pot
Designed to get you out of the kitchen fast, so you can enjoy all the benefits of your Whole30
Co-creator Melissa Hartwig is making it even easier to achieve Whole30 success, with delicious slow cooker and Instant Pot recipes that turn ingredients into delicious, hearty meals while you're out and about. You'll find delicious no-fuss dinners that cook while you work; roasts that transform into tacos, salads, and soups for easy meals throughout the week; and satisfying one-pot dishes that make prep and clean-up a breeze.
Details | Order: Amazon, B&N, Indie Bound, Powell's, BAM, Hudson, Indigo, Amazon.ca, iBooks, Google Play
---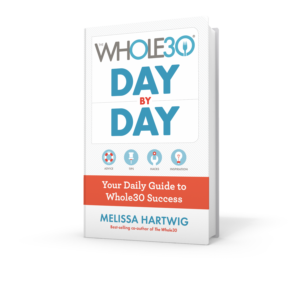 THE WHOLE30 DAY BY DAY
Your Daily Guide to Whole30 Success
Tips, hacks, advice, and inspiration to help you achieve Whole30 success every day of the program 
Whole30 Day by Day is the essential companion to the New York Times bestseller The Whole30; a daily handbook to keep you motivated, inspired, accountable, and engaged during your Whole30 journey. It's like having Whole30's own Melissa Hartwig coaching you through the Whole30 one day at a time, sharing a day-by-day timeline, personal motivation, community inspiration, habit hacks, and meal tips; plus guidance for self-reflection, food journaling, and tracking your non-scale victories.
For many people, changing their habits around food is an enormously difficult task. This indispensable book provides accountability and practical tools to help readers make the change they seek. — GRETCHEN RUBIN, best-selling author of The Four Tendencies
Details    |    Purchase: Amazon, B&N, Indie Bound, Powell's, BAM, Hudson, Indigo, Amazon.ca, Amazon.uk, iBooks,  Google Play   | An Apple iBooks Most Anticipated Books pick
---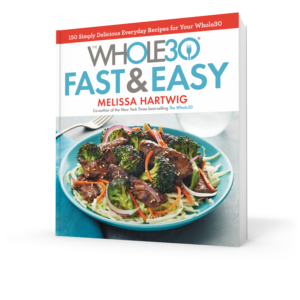 THE WHOLE30 FAST AND EASY COOKBOOK
150 Simply Delicious Everyday Recipes for Your Whole30
An instant The New York Times Bestseller

Millions of people have transformed their lives with Whole30, yet co-creator Melissa Hartwig wants to make it even easier to achieve Whole30 success—with delicious, compliant, fast, and easy recipes. The Whole30: Fast & Easy is packed with 150 delicious, brand new Whole30 recipes, perfect for weeknight cooking, lunches in a hurry, and hearty breakfasts that still get you out the door on time. It also features nearly effortless skillet meals, stir-fries, sheet-pan suppers, and slow-cook and no-cook meals, most of which can be made in 30 minutes or less using widely-available ingredients found in any supermarket.
You don't have to spend hours in the kitchen to feed your family healthy, home-cooked meals. These simple but delicious recipes will stay in your weeknight rotation long after your Whole30 is over. — DANIELLE WALKER, best-selling author of Against All Grain
Details    |    Purchase: Amazon, B&N, Indie Bound, Powell's, BAM, Hudson, Indigo, Amazon.ca, Amazon.uk, iBooks,  Google Play
---
FOOD FREEDOM FOREVER
Letting Go of Bad Habits, Guilt, and Anxiety Around Food
End the yo-yo dieting cycle… forever. Welcome to the Food Freedom plan.
Millions of people have successfully completed the groundbreaking Whole30 program and radically transformed their energy, sleep, cravings, waistline, and health. Now, Food Freedom Forever offers real solutions for anyone stuck in the exhausting cycle of yo-yo dieting and the resulting stress, weight gain, uncontrollable cravings, and health complaints. In her newest book, best-selling author Melissa Hartwig defines true "food freedom" as being in control of the food you eat, instead of food controlling you.
Food Freedom Forever gives you everything you need for achieving dietary success, for today and for the rest of your healthy life. Melissa Hartwig's information is spot on in terms of its scientific validity, and wonderfully approachable in terms of its implementation. — DAVID PERLMUTTER, MD, Author, #1 New York Times Bestseller, Grain Brain
Details    |    Purchase: Amazon, B&N, Indie Bound, Powell's, BAM, Hudson, Indigo, Amazon.ca, Amazon.uk, iBooks
---
THE WHOLE30 COOKBOOK
More than 150 Delicious and Totally Compliant Recipes to Help You Succeed with the Whole30 and Beyond
Still think the Whole30 is a diet? Not with recipes like these.
In this cookbook, best-selling author and Whole30 co-creator Melissa Hartwig delivers over 150 all-new recipes to help readers prepare delicious, healthy meals during their Whole30 and beyond.
Whether you've done the Whole30 once or five times—or just want to make a variety of satisfying, nourishing meals—this book will inspire you to change your life in 30 days with the Whole30 program.
"Say good-bye to mundane meals with The Whole30 Cookbook. These mouth-watering recipes will help you reset your health while filling your life with delicious good food." — DANIELLE WALKER, New York Times best-selling author, Against All Grain and Meals Made Simple
Details    |    Purchase: Amazon, B&N, Indie Bound, Powell's, BAM, Hudson, Indigo, Amazon.ca, Amazon.uk, iBooks
---

THE WHOLE30
The 30-Day Guide to Total Health and Food Freedom
Can you change your life just by changing the food you put on your plate? Our Whole30 program will prove you can, with results you never expected.

In their New York Times bestselling book It Starts With Food, Dallas Hartwig and Melissa Hartwig explained the science behind their revolutionary approach to food and nutrition. Now, the New York Timesbestselling The Whole30 prepares participants for the program in five easy steps, previews a typical thirty days, teaches the basic meal preparation and cooking skills needed to succeed, and provides a month's worth of recipes designed to build confidence in the kitchen and inspire the taste buds.
"The Whole30 has transformed the lives of thousands of people around the world. I can't recommend this program highly enough." — CHRIS KRESSER, New York Times best-selling author and functional medicine provider

Details    |    Purchase: Amazon, B&N, Indie Bound, Powell's, BAM, Hudson, Indigo, Amazon.ca, Amazon.uk, iBooks
---
IT STARTS WITH FOOD
Discover the Whole30 and Change Your Life in Unexpected Ways
Imagine yourself healthier than you ever thought possible. It starts with food.
It Starts With Food outlines a clear, balanced, sustainable plan to change the way you eat forever – and transform your life in unexpected ways. Your success story begins with "The Whole30," Melissa Hartwig's powerful 30-day nutritional reset. Here, Hartwig and Hartwig detail the theories behind the Whole30, summarizing the science in a simple, accessible manner, and showing you how certain foods may be having negative effects on how you look, feel and live – in ways that you'd never associate with your diet.
"I've read plenty of healthy eating books, but this is the one that makes the most sense." ―ANDREW ZIMMERN, James Beard Award-winning chef and host of Travel Channel's Bizarre Foods

Details    |    Purchase: Amazon, B&N, Indie Bound, Powell's, Kobo, iBooks, Audible, iTunes
---
Please note, these books present the research and ideas of their authors. The information in these books is for informational purposes only. It is not intended nor implied to be a substitute for professional medical advice. The reader should always consult his or her healthcare provide to determine the appropriateness of the information for their own situation or if they have any questions regarding a medical condition or treatment plan. Talk to your healthcare practitioner before beginning any diet, supplement, or lifestyle regimen.
Save