This creamy chickpea tomato curry is creamy, comforting, and so satisfying! Inspired by Indian butter chicken, this plant-based version uses chickpeas as the star ingredient, with a cream sauce made from cashews and tofu for extra protein. We also like to throw in some chopped spinach at the end for extra nutrients!
Chickpea Curry Ingredient Tips + Substitutions
Chickpeas can be swapped for another legume or plant-based protein, like white beans, red lentils, baked or fried tofu, or tempeh. 
For a nut-free version, try raw sunflower seeds, coconut cream, or Plant-Based Whole30 compatible yogurt instead of cashews.
Nutritional yeast will add a little extra umami and protein, but you can omit it if necessary without impacting the flavor of the curry too much. 
You can replace the cumin, coriander, turmeric, cinnamon, cayenne, and black pepper with 3.5 teaspoons of curry powder. You can use regular paprika if you don't have smoked paprika, but of course, you will lose that smoky flavor.
For the tomatoes, even though we will be crushing them during cooking, we highly recommend using canned whole tomatoes. Whole tomatoes generally have better flavor than the diced or crushed variety. Canned diced tomatoes don't break down easily due to the addition of calcium chloride, but for this curry, we want a thick, slightly chunky texture.
Spinach can be omitted or replaced with another leafy green, like chopped kale.
Meal Prep
Curries are great for meal prep since the flavors develop more as the curry sits in the fridge (the ingredients are essentially marinating in the spices). Left to chill overnight, starches in the vegetables and chickpeas have time to soak up excess liquid, making the curry even thicker and tastier. Day-old curry is one of my favorite leftover dishes!
Storing
Leftovers should be refrigerated within two hours of cooking. Leftovers will keep for 3-4 days in the fridge. You can also freeze the curry for up to two months. Let the curry cool uncovered for a bit first, or it can accumulate excess moisture, which will dilute the curry.
Creamy Chickpea Tomato Curry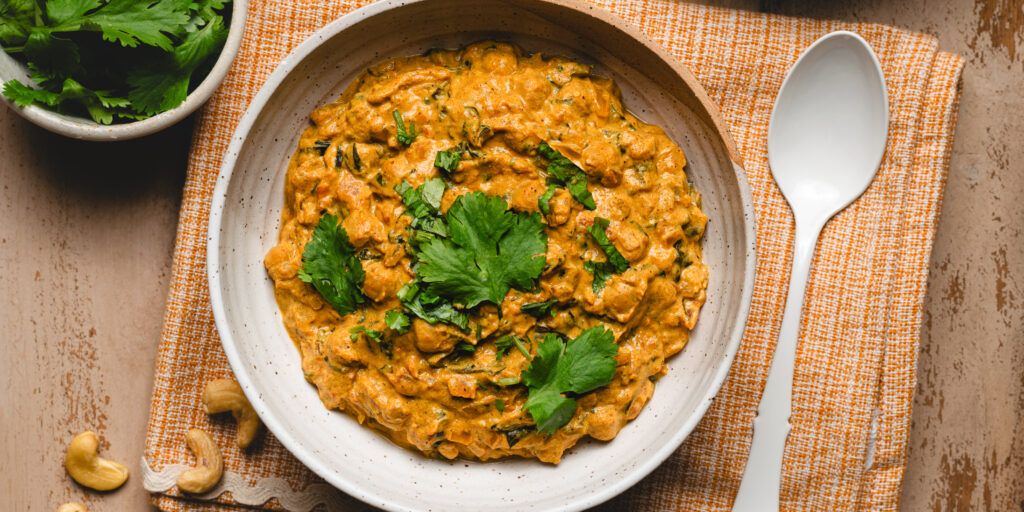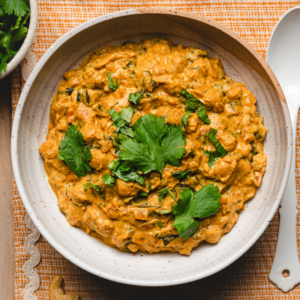 Creamy Chickpea Tomato Curry
Ingredients
Cream Sauce
150

grams

silken firm tofu

1/2

lemon

juiced

1/3

cup

raw cashews

soaked in hot water for 10 minutes

1/4

tsp

salt

1-2

tbsp

soy milk

if needed to thin
Spices
1

tsp

cumin

1

tsp

coriander

3/4

tsp

turmeric

1/4

tsp

cinnamon

1/4

tsp

cayenne pepper

1/4

tsp

black pepper

1

tsp

smoked paprika

1.5

tsp

garam masala

2

tbsp

nutritional yeast

1

bay leaf
Curry
1

tbsp

olive oil

1

onion

diced

3

cloves garlic

minced

1

tbsp

ginger

minced

400

grams

canned whole tomatoes

1

cup

water

minced

2

cups

water

4

cups

spinach

chopped

1/2

cup

cilantro

chopped
Instructions
ADD all cream sauce ingredients to a blender and blend until smooth. Set aside.

MIX spices together in a small bowl.

HEAT olive oil in a deep pan over medium heat. Add onions and cook until translucent and onions start to brown.

ADD garlic and ginger and stir constantly for 1 minute.

ADD spices and stir constantly for another minute.

STIR in tomatoes and water. Cover and simmer for 5 minutes.

CRUSH tomatoes with the back of a large mixing spoon.

STIR in chickpeas. Simmer covered for 10 minutes.

STIR in cream sauce and spinach. Cover and simmer for another 5 minutes. Add more water if the curry is too thick.

REMOVE bay leaf and turn off heat.

SPRINKLE with cilantro and serve as is or over cauliflower rice.
Ellie Yamanaka
Recipe Creator and Photographer | Ellie Likes Cooking
Ellie Yamanaka is a food photographer and recipe developer who loves making simple, feel-good plant-based recipes that don't compromise on taste or nutrition. She's been making messes in the kitchen since she was 12, and after finishing university 10 years later, she decided to trade in her nutrition degree for a camera and a kitchen. Through her food blog Ellie Likes Cooking, she hopes to inspire others to eat more plants and get creative in the kitchen.