Greek-Inspired Tofu Dip: a Plant-Based Whole30 Mini Meal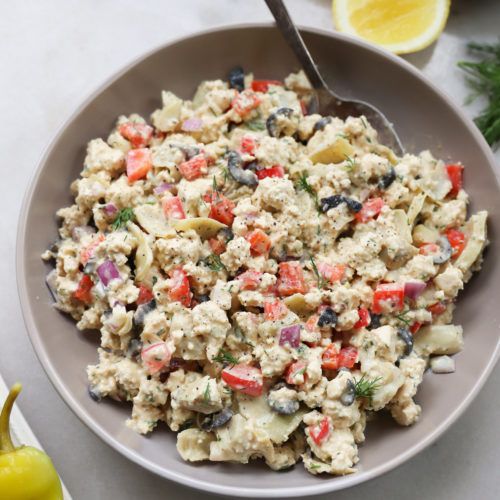 Greek-Inspired Tofu Dip
Ingredients
½ (16-ounce) package super-firm tofu, drained
½ (14-ounce) can artichoke hearts packed in water ,drained and chopped
½ cup diced red bell pepper
¼ cup chopped Kalamata olives
2 tbsp finely chopped red onion
½ cup Whole30-compatible hummus
1 tsp fresh lemon juice
2 tsp chopped fresh dill
1 tsp coarse salt
¼ tsp coarse black pepper
Sliced cucumbers, zucchini, and/or pepperoncinis
Instructions
Crumble tofu into a medium bowl. Add artichoke hearts, bell pepper, olives, onion, dill, lemon juice, salt, and black pepper. Fold to combine.

In a small bowl stir together hummus and 2 tablespoons of water. Add to tofu mixture and fold to combine. Serve with assorted vegetables.
Notes
Tip: Super-firm tofu doesn't need to be pressed. If you use extra-firm tofu, press and drain the excess water before crumbling. To press a block of tofu, wrap the block in a dish towel and place on a rimmed plate. Place a cast-iron skillet on top or other heavy object on top; let tofu drain for 20 minutes. This can be done up to 24 hours ahead of time.
---
You Might Also Like…