Whether you're gearing up for a football watch party, a birthday gathering, or any other celebration scheduled during your Plant-Based Whole30, you don't have to miss out on the festivities. These Sweet Potato & Black Bean Burger Bites are a great appetizer or shared dish you can bring to the table.
These smaller-than-slider veggie burger bites can be served appetizer style or as a fun, bite-sized meal alongside some oven fries. Here they're served "open-faced" with romaine lettuce on the bottom. Feel free to sandwich them with a second piece of romaine to form the top "bun" for serving or use larger pieces of lettuce to fully wrap the bites. Hold them together with decorative toothpicks.
This burger mixture has a lot of moisture, so you'll want to be careful as you scoop up the bites for cooking. There are a few things you can do to help make sure your bites stay together without fail.
Tips to ensure your Burger Bites have just the right moisture and texture:
After cooking your sweet potato, cut it open and let the steam release to remove as much moisture as possible.
After rinsing your black beans, use a paper towel to pat them dry. You can also spread them in a single layer on a baking sheet to let air dry while you prepare the other ingredients.
This recipe calls for 1/3 cup almond flour as a binding agent. If your mixture seems too wet, add up to 3 additional tablespoons of almond flour – one at a time – until you get a firmer texture.
Don't like the toppings? Mix up your traditional burger toppings with your favorite Plant-Based Whole30 compatible ingredients. Ketchup, vegan mayo, and minced red onion also taste delicious! Just remember to check your labels for compatible ingredients.
Sweet Potato and Black Bean Burger Bites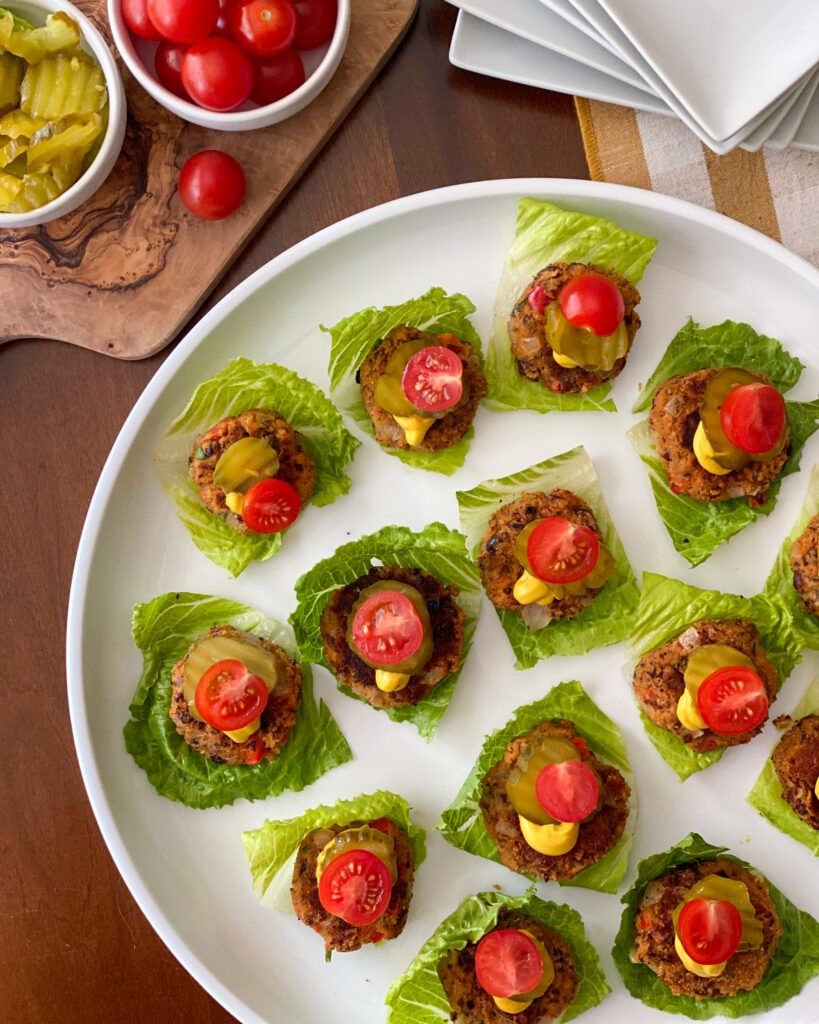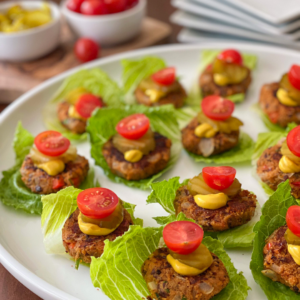 Sweet Potato and Black Bean Burger Bites Square
Ingredients
1/2

cup

mashed sweet potato, from 1 medium sweet potato

(1) 15

oz

can black beans

drained and rinsed

3

tbsp

olive oil

divided

1/2

white onion

diced small

1/2

red bell pepper

diced small

1

cup

garlic

minced

1/3

cup

almond flour

1

tsp

ground cumin

1/2

tsp

chili powder

1/2

tsp

kosher salt

1/4

tsp

black pepper

2

tbsp

fresh parsley

finely chopped
Instructions
WASH medium sweet potato and poke several times with a fork. Wrap in damp paper towels and microwave for 5 minutes. Flip and microwave for an additional 3 to 5 minutes, until a fork easily pierces through the potato. Set aside to cool.

ADD 1/2 a cup of the cooked sweet potato to a food processor with drained and rinsed black beans. Pulse several times, until the beans are broken up, but some pieces are still intact. Transfer mix to a large bowl.

HEAT 1 tbsp olive oil over medium to medium-high heat in a large skillet. Once heated, add diced onion and red bell pepper. Sauté for about 4 minutes, until onion is translucent. Add in garlic and stir for about 30 seconds. Remove from heat and add to sweet potato and black bean mixture.

ADD almond flour, cumin, chili powder, salt, pepper, and chopped parsley. Use a spatula to fold and combine well. Using the same skillet from the onion and peppers, heat additional 2 tbsp olive oil over medium-high heat.

FORM the mini burgers using a #50 cookie scoop (1.25 tbsp each) and using your fingers to gently flatten and shape each patty. Place in the skillet, working in batches, and cook for 2 to 3 minutes before flipping and cooking for an additional 2 to 3 minutes to form a crispy exterior.

SERVE atop a 3-inch piece of cut romaine lettuce with a bit of mustard, a dill pickle slice, and a halved cherry tomato. Optional: Use decorative toothpicks to hold everything together.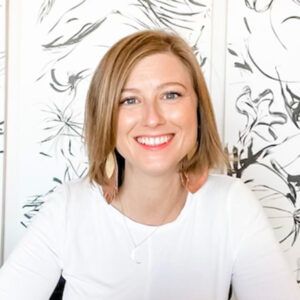 Liz Parrent
Senior Manager, Whole30 Recipes
Liz Parrent is Whole30's Senior Manager, for Whole30 Recipes content.She comes to Whole30 with over a decade of CPG and content marketing experience in the health and wellness space. Having been a part of Primal Kitchen's founding and pre-acquisition team, Liz holds a deep passion for the Whole30 community and the transformative power of a whole foods-focused lifestyle.