If you love the flavors of Pad Thai, you will love this Thai Kale Salad with Crispy Tempeh. It's packed with flavor, bursting with texture, and the best part is leftovers taste amazing! The salad uses a base of hardy kale and veggies like cabbage, broccoli, and bell pepper, all of which hold the dressing well and won't get soggy, so feel free to make a double batch and have this wonderful salad though the week. I recommend adding the tempeh right before serving, as we want the tempeh to stay crisp. I've included two methods of cooking the tempeh — on the stove and in an air fryer. Both turn out great!
Recipe tips and swaps:
If pressed for time, I love using a coleslaw mix to speed things up and reduce some of the chopping.
The dressing asks for one tablespoon of compatible chili sauce. If you can't get your hands on any, you can also make your own. This recipe is simple to make, and I'm sure you will be able to use it in a number of other ways.
If you can't get your hands on compatible peanut butter, almond butter works well too.
You may have extra dressing left over, and if you do, it works wonderfully as a dip for crudités to have as a snack or as a marinade for tofu or tempeh to have as part of a meal. The dressing also freezes well for later use.
The Thai Kale Salad calls for chopped toasted almonds or peanuts, but any nuts would work well. Roasted cashews, walnuts, or toasted pumpkin seeds are other great alternatives. The main thing is to get in some nice texture.
---
This salad is a complete meal with all you need, from fiber, protein, and healthy fats, but if you want to pair it with something, I recommend a lovely warm miso soup.
Thai Kale Salad with Crispy Tempeh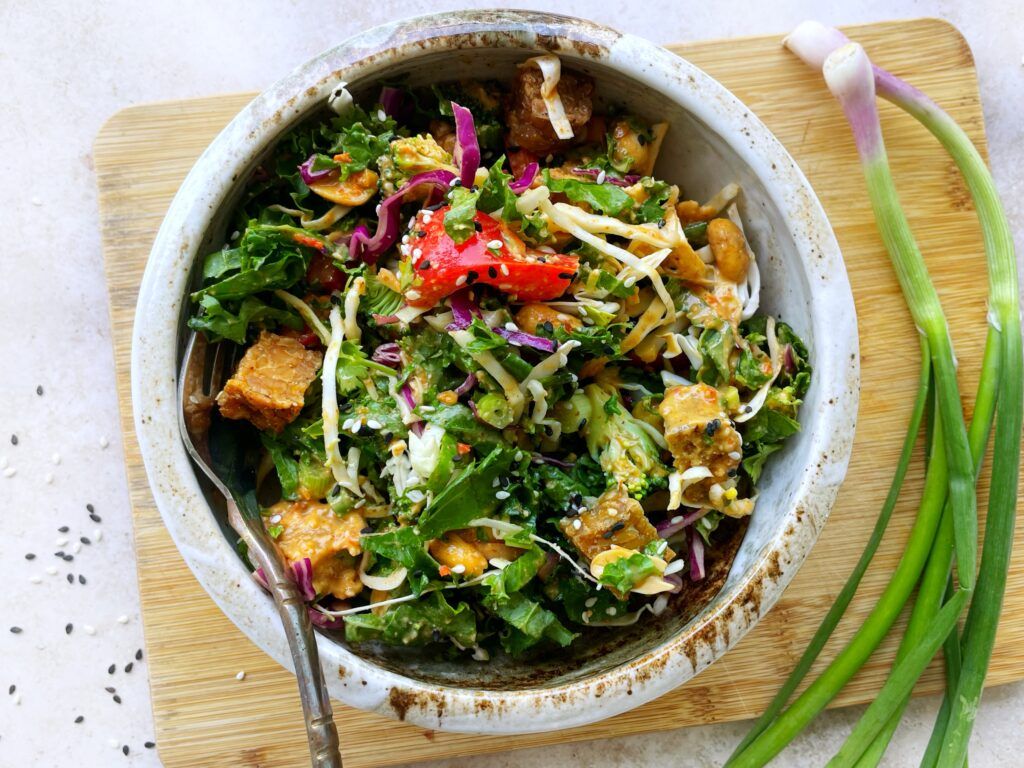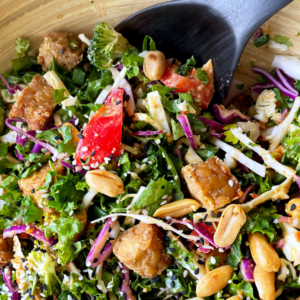 Thai Kale Salad with Crispy Tempeh
If you love the flavors of Pad Thai, you'll love this Thai Kale Salad with Crispy Tempeh. It's packed with flavor and bursting with texture!
Ingredients
Tempeh
11 oz (or 300 grams) organic tempeh
4 tsp onion powder
3/4 tsp garlic powder
salt and black pepper to taste
2 tbsp avocado oil
Dressing
4 tbsp compatible peanut butter
1 tbsp compatible red chili sauce
3 tbsp coconut aminos
1.5 tbsp lime juice
1 tbsp rice vinegar
2 tbsp sesame oil
water as needed to thin
Salad
1.5 cup shredded purple or white cabbage
1.5 cup shredded kale
1 cup broccoli chopped into bitesize pieces
1/2 red bell pepper chopped
1/4 cup chopped cilantro
1/4 cup chopped mint
1/4 cup chopped scallions
1/3 cup chopped toasted almonds or peanuts
Optional Garnish
toasted sesame seeds
A few more toasted chopped peanuts
Instructions
CUT your tempeh into 1-inch squares and season with garlic powder, onion powder, salt & pepper.

HEAT a frying pan over medium flame, and add your avocado oil. Once hot, fry your tempeh until golden brown. Alternatively, you can cook your tempeh in the air fryer for 20 min at 375 ℉/190 ℃.

COMBINE your dressing ingredients in a mason jar and shake well. Add water if needed to thin the dressing and taste and adjust the seasonings if needed.

MIX all your salad ingredients, and dressing, then toss to coat.

ADD your tempeh before serving and give another quick toss

GARNISH with toasted sesame seeds and enjoy!

NOTE — You can store leftovers in the fridge for 3 to 4 days.