Perfect for a plant-based main course or a hearty side dish, this tofu quiche is sure to impress with its flavorful filling of tofu, mushrooms, zucchini, spinach, and savory herbs and spices. Thinly sliced russet potatoes replace traditional pie crust, giving it a satisfying texture while remaining gluten-free.
This quiche is easy to prep and customize, making it a great base recipe to repeat without getting bored. Use any leftover herbs and vegetables you have on hand, or experiment with different combinations to find your favorites.
Whether vegan, vegetarian, or just looking to incorporate more plant-based options into your diet, this tofu quiche will hit the spot. Whip one up today and treat yourself to a nourishing meal that's just as pretty as it is delicious.
For a little extra pizzazz, serve it topped with a dollop of plant-based sour cream!
Plant-Based Whole30 Tofu Quiche with Potato Crust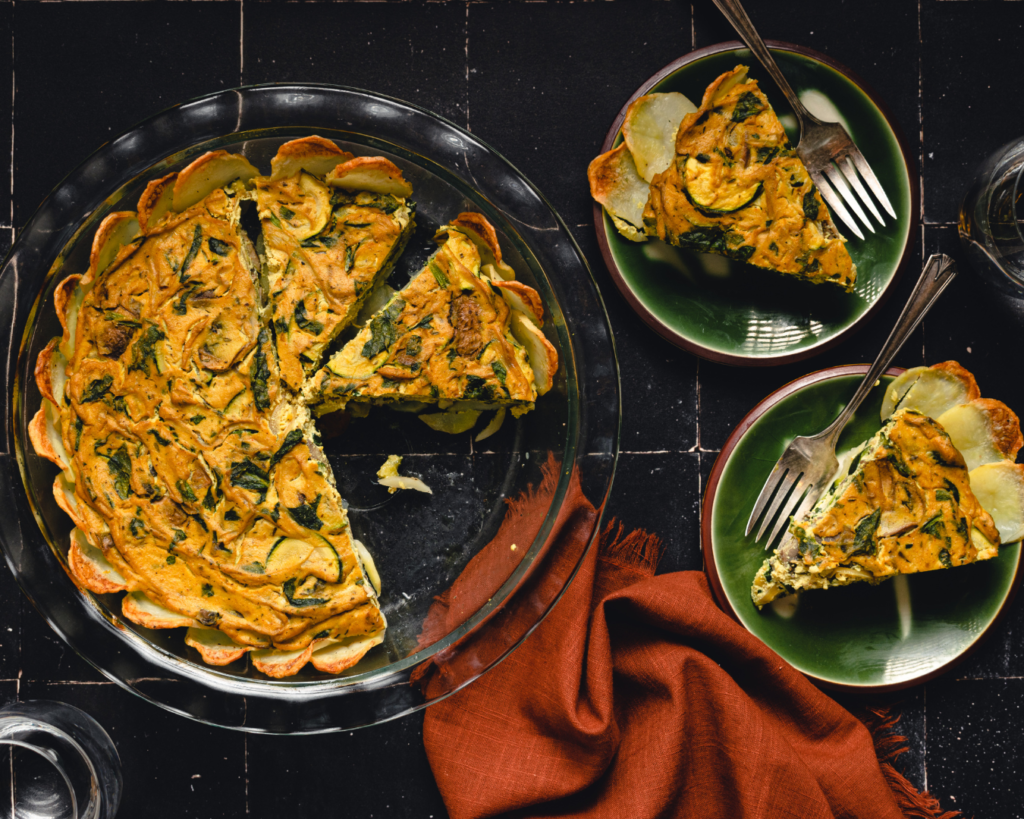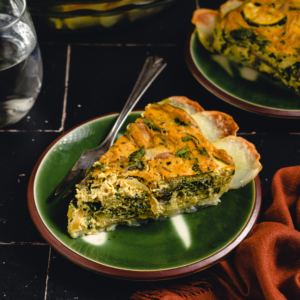 Tofu Quiche with Potato Crust
With a veggie-loaded filling and hearty potato crust, this plant-based tofu quiche packs a healthy punch of protein, nutrients, AND flavor!
Ingredients
Crust
1 lb russet potatoes (about 2 medium) sliced 1/8-inch thick
tbsp olive oil
Pinch of salt and pepper
Veggies
1 tbsp olive oil
1/2 large onion thinly sliced
1/4 tsp salt
2 cloves garlic minced
2 cups mushrooms sliced
1 zucchini halved and sliced
1 cup spinach, chopped
Tofu Filling
1 lb firm tofu drained (not pressed)
2 tbsp nutritional yeast
2 tbsp chickpea flour
1 tbsp unsweetened soy milk
1/2 tsp smoked paprika
1/2 tsp dried thyme
1/4 tsp turmeric
1/2 tsp salt
1/4 tsp pepper
Instructions
PREHEAT oven to 400°F. Lightly grease a pie dish with olive oil.

PREP your veggies, using a mandolin slicer for the potatoes if you have one. Otherwise, a sharp chef's or Santokku knife will do the trick.

MAKE the crust: Toss potato slices with olive oil, salt, and pepper. Spread the potato slices out on the bottom and sides of the pie dish, slightly overlapping the slices as needed to fit in the dish.

BAKE the crust for 15 minutes until the potatoes are tender but not brown. Remove from oven and turn the heat down to 350°F when done. 

MEANWHILE, cook the veggies: Heat olive oil in a skillet over medium heat. Add onion and some of the salt and cook until onions start to brown, stirring occasionally, for about 3 minutes.

ADD garlic, mushrooms, zucchini, and remaining salt. Cook, stirring occasionally, until mushrooms and zucchini are just tender, for about 5 minutes.

STIR in spinach and cook another 30-60 seconds until spinach wilts.

REMOVE from heat and let the veggies cool for a bit while you prepare the tofu filling.

TO MAKE the tofu filling, add all ingredients to a food processor and blend until smooth. You can add an extra tablespoon of soy milk if needed to help blend.

MIX the veggies with the tofu filling. Spread the filling out over the potato crust. Use a spatula or spoon to smooth out the top.

BAKE at 350°F for 30 minutes, until golden on top and the filling is firm. Cool for 10-15 minutes before slicing.