If you're looking for a quick and easy 30-minute meal, this Balsamic Chicken Sheet Pan recipe is for you! You can find the ingredients at most grocery stores, and we love that sheet pan meals are short on prep and hands-on time in the kitchen with easy cleanup!
This Whole30 chicken sheet pan meal stays gluten-free and dairy-free by using a simple sauce tossed with chicken breast and veggies. The balsamic vinegar in this one lays down the foundation with seasoning, similar to how a dried Italian dressing packet creates a flavorful dish. Dried spices are often more budget-friendly and easy to find. Plus, they minimize food waste with a long shelf life!
Tips and tricks:
This chicken sheet pan meal's preparation will result in the carrots being just tender. If you prefer them fork-tender, steam the carrots for 5 minutes before cooking. Then, add them at the 10-minute baking mark with the asparagus. Be sure to wait to add the asparagus with the chicken as instructed to avoid overcooking!
Want a foolproof way to meal prep like a pro? Check out Autumn Michaelis' article about how she feeds her family of seven with a simple, timing-saving technique.
Balsamic Chicken Sheet Pan Meal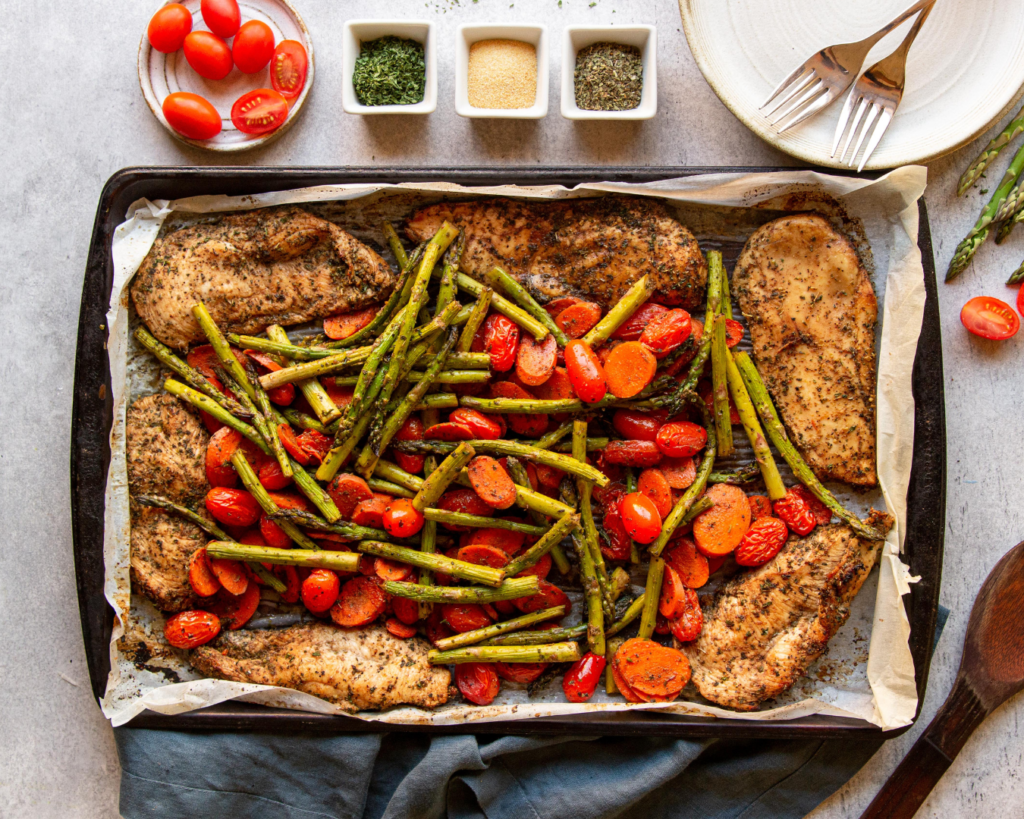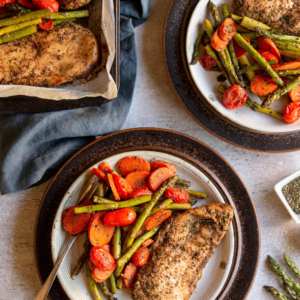 Balsamic Chicken Sheet Pan Meal
With just a few simple ingredients, this 30-minute Balsamic Chicken Sheet Pan Meal is the fast, delicious dinner solution you need!
Ingredients
1 ½ lbs boneless skinless chicken breast sliced thin
3 carrots sliced thin at a diagonal
1 bunch fresh asparagus ends trimmed and cut in half
1 pint cherry tomatoes
3 tbsp balsamic vinegar
2 tbsp olive oil
1 tbsp salt
1 tbsp oregano
1 ½ tsp onion powder
1 ½ tsp garlic powder
1 ½ tsp parsley
1 tsp basil
1 tsp pepper
Instructions
PREHEAT oven to 400 degrees. Line a rimmed baking sheet with parchment paper.

ADD chicken, carrots, asparagus, and tomatoes to a large bowl. Drizzle with olive oil and balsamic vinegar and stir until mixed.

COMBINE all the dry spices in a small bowl. Sprinkle on top of chicken and veggies and stir well.

SPREAD the chicken, carrots and tomatoes on a lined baking sheet. Make sure the chicken is on the outside edges towards the back of the oven where the pan gets hottest. Save asparagus for later.

BAKE for 10 minutes. Drain any juices. Stir the carrots and tomatoes and then add the asparagus on top. Bake for an additional 10 minutes.

REMOVE from oven and serve.
You Might Also Like…
---
Autumn Michaelis
Recipe Creator | Whole Food for 7
Autumn Michaelis is an ACSM Certified Exercise Physiologist, with a B.S. in Exercise Science from BYU. Though exercise was her first love in the health world, nutrition has become her passion. She created the blog Wholefoodfor7, sharing easy and budget-friendly Whole30, Paleo, and gluten-free + dairy-free recipes for families. In August 2022, Autumn released the newest Whole30 Endorsed cookbook, Whole Food for Your Family. She is mom to 5 boys (yes 5!) and when not in the kitchen can be found adventuring, hiking, and tearing up the dance floor.