By Kristen Dittami, in-house chef for Tessemaes and Whole30 alumni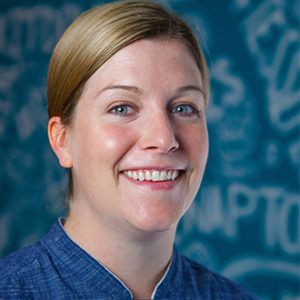 Chef Kristen from the Tessemae's Kitchen checking in! This year will mark my third #JanuaryWhole30 with the Tessemae's crew. Around this time of year my days are jam packed. I'm constantly in and out of the Tessemae's Kitchen, traveling for work, and being Mom to my 4-year-old daughter, Natalie. But, no matter what, I always commit to Whole30'ing right along with you in January.
At this point I point I feel pretty confident claiming #Whole30Alumni status. (Do they give out badges for that yet?) While my schedule keeps me super busy, I have figured out The Secret: it's all about the meal prep. It is the only reason I successfully make it through a Whole30.
[Tweet "A make-ahead recipe + #JanuaryWhole30 giveaway from @tessemaes. #Whole30 #ad"]
My favorite make-ahead meal? Meatballs. My Ginger & Lemon Turkey Meatballs are versatile and packed with flavor. They can be thrown on top of a bed of spinach, cauliflower rice (see page 272 of The Whole30), or some zoodles. I make a double batch and freeze half of them for those days when I just don't have time to cook a full meal. They can be cooked from frozen. The most miraculous part of all is that Natalie LOVES them!
If you try out this recipe, I'd love to see your creations. Be sure to share them with us on Instagram by tagging @tessemaes. And don't miss our fantastic #JanuaryWhole30 giveaway at the end of this post.
Lemon and Ginger Meatballs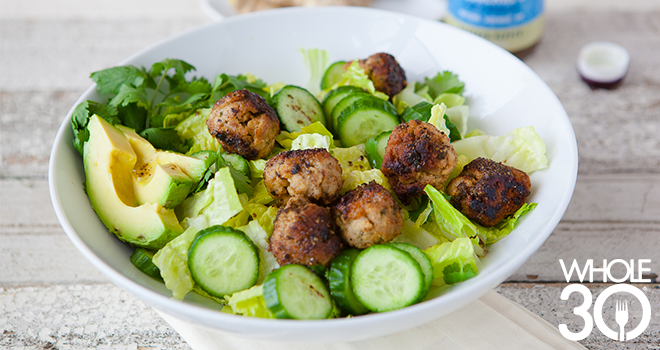 Ingredients
1 zucchini
2 tablespoons Tessemae's Cracked Pepper dressing
1 large egg
2 cloves garlic, minced
¼ cup chopped fresh cilantro
1 tablespoon grated fresh ginger
kosher salt and freshly ground pepper
1 pound lean ground turkey
Salad, cauliflower rice, or zoodles, for serving
Instructions
GRATE the zucchini very finely, on the smallest side of a box grater or using a micro plane. Grate 1 cup total.
IN a mixing bowl, stir together the zucchini, Tessemae's Cracked Pepper, egg, garlic, cilantro, ginger, 1 teaspoon salt and 1⁄2 teaspoon pepper. Add the turkey and mix until combined.
HEAT your broiler to high and line a sheet pan with foil. Form the beef mixture into about 25 balls, using a heaping tablespoon for each. Place on the sheet pan and broil until browned, about 5 minutes. Turn over with tongs, and continue to broil until cooked through, about 5 minutes more.
Note: alternatively, you can cook the meatballs on the stove top. Heat 1 tablespoon of Tessemae's Cracked Pepper in a large non stick or cast iron skillet. Cook the meatballs, turning occasionally, until cooked through, about 10 minutes.
Serving Suggestions
A Giveaway from Tessemae's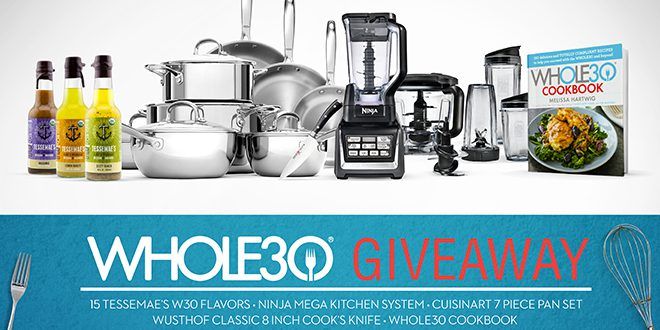 Click here to enter to win a #JanuaryWhole30 Giveaway from Tessemae's, including their delicious #Whole30Approved dressings, a Ninja Blender, a 7-piece Cuisinart Pan Set, Wusthof Knives, and a copy of The Whole30 Cookbook.
This post was sponsored by Tessemae's
Save
Save
Save
Save
Save
Melissa Urban
Co-Founder / CEO
Melissa Urban is a 7x New York Times bestselling author (including the #1 bestselling The Whole30) who specializes in helping people establish healthy boundaries and successfully navigate habit change. She has been featured by the New York Times, People, the Wall Street Journal, Forbes, The Today Show, and Good Morning America, and is a prominent keynote speaker on boundaries, building community, health trends, and entrepreneurship. She lives in Salt Lake City, UT with her husband, son, and a poodle named Henry.