This 5-part freezer cooking series comes from Maria Barton of MariaMakes.com. If you'd like to submit a recipe, helpful tip, testimonial, or Whole30 article for consideration, email it to [email protected].
Welcome back to our Whole30 freezer cooking series. I've been sharing original recipes and demonstrating how to adapt recipes from the New York Times best selling book, The Whole30, for freezer cooking. Today for the final post we're talking protein: the backbone of a solid Whole30 meal.
Both of these proteins can be used in multiple ways, so stocking your freezer with them means you are just 5-10 minutes away from an easy and delicious breakfast, lunch, or dinner.
[Tweet "The last post in the #Whole30 Freezer Cooking series: Multi-Purpose Protiens."]
But, before we get into the recipes we'll be addressing a Dear Melissa question.
A Dear Melissa Maria Quickie
Dear Maria,
What's the best way to freeze burgers and salmon patties ­­ before or after cooking? Or, do they even freeze well at all? ­-Lucie, Spokane, WA
Dear Lucie,
For meats like salmon patties, burgers, sausage patties, and meatballs, there are several ways to prep them for the freezer. You can freeze them before cooking or after cooking.
I prefer to cook meatballs and sausage patties before I freeze them. For things like burgers and salmon patties, I typically freeze them "raw," then thaw them before cooking. However, depending on your intended use, one method may work better than the other. Here are my basic methods; experiment to find what works best for you.
COOKED PATTIES / MEATBALLS: Cook patties / meatballs per recipe instructions. Remove to a wax paper­-lined cookie sheet. Allow to cool completely in the refrigerator before transferring cookie sheet to freezer. Once the patties / meatballs are frozen solid, store in a zip-­top bag (removing as much air as possible) or a freezer-safe plastic container.
RAW PATTIES / MEATBALLS: After you have portioned out and formed the patties / meatballs, arrange them on a wax paper-­lined baking sheet, then freeze until the outside of each is frozen solid. Store in a zip-­top bag or in an airtight plastic container with waxed paper in-­between the layers. Thaw overnight in the refrigerator and cook as desired.
Best,
Maria
P.S. Now onto the recipes!
Taco Burgers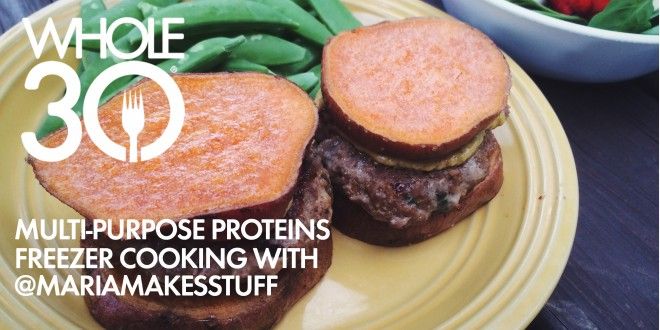 I created this recipe long before my Whole30 days, and with just a few substitutions they have easily become a Whole30 staple for me. By freezing the patties and storing them individually, you have perfect serving­-size portions of protein that can be used in SO many ways. Aside from serving the patties as a burger or sliders, you can break them apart and cook the meat along with some eggs for an easy taco scramble, or break up the meat, brown it and add to spaghetti sauce.
Ingredients
For Patties:
2 eggs
40 oz. (2-1/2 lbs.) ground beef
1⁄2 cup almond meal
2 cans mild diced green chiles, drained
1⁄2 cup chopped cilantro
Homemade Taco Seasoning:
2 tsp chili powder
2 tsp cumin
2 tsp garlic powder
2 tsp onion powder
1 tsp salt
Instructions
ADD eggs to a large bowl and lightly beat.
ADD all other ingredients and combine with a fork or with your hands. Be careful not to over mix.
LINE a cookie sheet with waxed paper, and using a 1/3 measuring cup, portion the burger mixture into 10 equal scoops.
FORM each scoop into a patty, spacing them out equally on the cookie sheet. If all burgers will not fit on a single layer, top the first layer with another sheet of waxed paper and place any other patties directly on top of the first layer.
Freezing Instructions
PLACE trays in the freezer for about an hour or until the burgers are frozen on the outside.
ONCE solid, place burgers in zip­-top bags. I like to put two in a bag which is perfect for dinner for my husband and I.
STORE all burgers in a gallon zip lock bag or airtight container in the freezer.
To Serve
THAW overnight in the refrigerator or using defrost function on your microwave.
FOR BURGERS: grill for 4-­5 minutes on each side or until cooked through.
FOR SLIDERS: split each burger patty into two smaller patties before cooking.
FOR TACO MEAT: brown in skillet, breaking meat apart with a spatula as you cook.
Shredded Chicken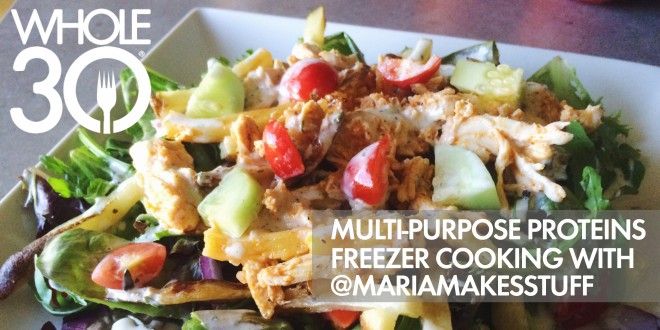 This isn't so much a recipe as it is an easy method for cooking and freezing chicken to reuse at a later time in whatever recipe strikes your fancy. It pairs perfectly with the buffalo sauce from pg. 304 of The Whole30.
Ingredients
4 lbs. of boneless skinless chicken breasts
Extra-virgil olive oil
spices of your choice
Buffalo sauce from pg. 304 of The Whole30
Instructions
LINE two cookie sheets with aluminum foil, spray with olive oil, and pre­heat oven to 350 degrees.
TRIM chicken breasts to remove visible fat and cut it into consistently sized pieces. I usually cut it in half, then cut the thick rounded end in half (like a hamburger bun) to half the thickness.
ARRANGE the chicken on cookie sheets and drizzle or spray with olive oil.
SPRINKLE chicken breasts with seasonings of your choice. I recommend salt, pepper, garlic powder, and chili powder. OR ­ Trader Joe's 21 Seasoning Salute is also fantastic.
BAKE for 15­20 minutes or until chicken is cooked through (opaque in the center).
Freezing Instructions
LABEL zip-­top bags with "Shredded Chicken, date"
SHRED chicken using two forks.
PORTION out into zip­-top bags, sized based on your end use.
LAY flat and freeze.
PORTION Buffalo sauce into freezer-safe containers and freeze
To Serve
THAW overnight in the refrigerator and use as desired. This chicken is ideal for chicken salad, adding to soups, topping salads or stuffing peppers. For shredded Buffalo chicken, thaw a container of Buffalo sauce and combine with thawed, heated shredded chicken.
So concludes our freezer cooking adventure! Thanks so much for cooking along with me these past few weeks. I hope you now have the knowledge to stock your freezer full of Whole30 goodness. For more recipes and some other cool stuff, visit me at Maria Makes, and follow me on Instagram at @mariamakesstuff!
Article photos courtesy of Maria Barton.

---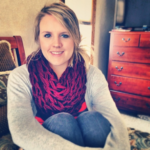 Maria Barton is a fledgling blogger, Whole30-er, home chef, DIY-er, gardener, wife, dog mom, soon-to-be former "fat kid for life." You can find more delicious recipes at http://mariamakes.com and connect with her at @mariamakesstuff on Instagram.
Shanna
Chief Content Officer
Shanna Keller, our Chief Content Officer, hails from Boise, Idaho, where she lives with her husband Alan and a poorly-behaved terrier named Olly. She has spent her career telling stories of life transformation on social, web, e-mail and print media platforms. In addition to celebrating Whole30 successes and stories online, Shanna loves to cook, read, and climb.