Today, the very first Whole30 Endorsed cookbook hits the shelf at your favorite book retailer. The Whole Smith's Good Food Cookbook is the debut cookbook from Michelle Smith. It contains 150 delicious, family-friendly recipes to support your Whole30 and Food Freedom.
[Tweet "Good Food Cookbook by @thewholesmiths out TODAY! 150 tasty recipes, including 80 #Whole30 meals."]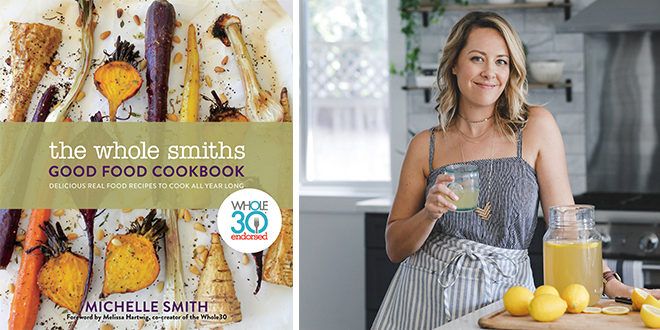 Michelle has been supporting the Whole30 community for years with her tasty Whole30 recipes on her blog The Whole Smiths, and on Instagram, where she goes by @thewholesmiths. Half of the recipes in Good Food Cookbook are Whole30 compatible or easily modified to be compatible; the other half are tasty dishes that will support your Food Freedom.
You'll get a peek into how Michelle includes non-compatible items into her routine, with recipes that include some whole grains, dairy and natural sweeteners. The Whole Smiths Good Food Cookbook makes healthy home cooking a manageable, delicious and family-friendly endeavor in your everyday life, during and after your Whole30.
Today, Melissa and the Whole30 team is celebrating Michelle in person at her sold-out book release party. Follow along on our Whole30 Instagram Story to see behind-the-scenes photos and videos, including a special question-and-answer time with Michelle and Melissa.
And now, a sneak peek recipe from the book! This Chipotle-Lime Shrimp dish is the perfect zesty protein to grill up and sevrve alongside your favorite summer-y salad or veggie side.
Chipotle-Lime Shrimp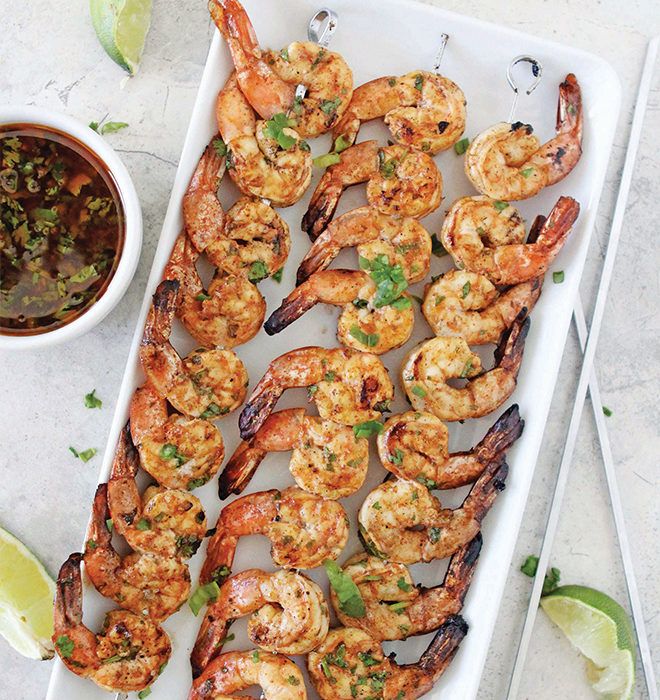 From The Whole Smiths Good Food Cookbook: These grilled shrimp kebabs just may be the best shrimp I've ever had. Truth. Serve them with some braised kale or grilled zucchini for a perfect meal, brushing any extra marinade over the veggies before braising or grilling. – Michelle

Ingredients
3⁄4 cup extra-virgin olive oil
1⁄2 cup chopped fresh cilantro, plus extra for garnish
4 garlic cloves, minced
1⁄4 cup fresh lime juice (from about 3 limes)
1 tablespoon ground chipotle 1 teaspoon salt
1 pound large raw shrimp, peeled and deveined
Grilled vegetable of your choice, for serving
Instructions
IN a large zip-top plastic bag, combine the olive oil, cilantro, garlic, lime juice, chipotle, and salt, seal the bag, and toss to thoroughly combine. Add the shrimp, seal the bag, and toss to coat. Set aside to marinate at room temperature for 1 hour.
HEAT an outdoor grill to high or heat a grill pan over high heat.
THREAD the marinated shrimp onto skewers, reserving the marinade. Grill for 3 minutes per side, brushing on the reserved marinade as they cook.
GARNISH with cilantro and serve immediately with the grilled veggie of your choice.
Grab your copy of The Whole Smiths Good Food Cookbook today, and celebrate your food freedom with more than 150 family-friendly recipes!
---
This post contains affiliate links, which means we make a small commission from purchases made via the link. Thank you for supporting our Whole30 partners!
Shanna
Chief Content Officer
Shanna Keller, our Chief Content Officer, hails from Boise, Idaho, where she lives with her husband Alan and a poorly-behaved terrier named Olly. She has spent her career telling stories of life transformation on social, web, e-mail and print media platforms. In addition to celebrating Whole30 successes and stories online, Shanna loves to cook, read, and climb.