Part 3 of this Whole30 summer meal series comes from Maria Barton of MariaMakes.com. If you'd like to submit a recipe, helpful tip, testimonial, or Whole30 article for consideration, email it to [email protected].
Summer has officially arrived — so turn off the oven, fill up the propane tank and fire up that grill!
In today's Part 3 of our Grilled Over Greens Series, we're mixing it up a bit. Pork isn't something you usually see on a salad, but it's a wonderful addition to your fresh, crunchy greens. If you can throw steak or chicken on a salad, why not pork? Pork tenderloin is a fantastic cut to serve over greens: it is tasty, lean and is super tender (think tender-loin), and it deserves some salad love.

Chinese 5-Spice Pork Tenderloin & Salad with Sesame-Ginger Vinaigrette

Ingredients
For the Grilled
1.25 – 1.5lb pork tenderloin
1 Tbsp sesame oil
1 tsp salt
½ tsp garlic powder
½ tsp white pepper
½ tsp dried ground ginger
¼ tsp Chinese 5-spice
For the Dressing/Marinade
½ cup orange juice (100% fruit juice, or freshly-squeezed)
¼ cup extra light tasting olive oil
¼ cup rice vinegar (check your labels and make sure there is no added sugar)
1 inch of fresh ginger, grated
1 Tbsp sesame oil
½ tsp salt
½ tsp white pepper
For the Greens
8 cups shredded Napa cabbage
4 cups shredded red cabbage
8 green onions, chopped (whites and greens)
1 cup fresh orange segments, cut into halves or thirds (this video demonstrates a common technique for how to supreme, or segment, citrus)
1 cup shredded carrots
½ cup sliced or slivered almonds

Instructions
Prep the Pork
COMBINE salt, garlic powder, white pepper, ground ginger, and Chinese 5-spice in a small bowl.
PLACE pork tenderloin in a gallon-sized zip top bag. Drizzle with sesame oil then sprinkle with spice blend. Work the spices in, making sure the pork is well coated.
SET the pork aside while you make the dressing.
Make the Dressing
USE a mason jar or the container that came with your immersion blender, adding all dressing ingredients at once.
BLEND with immersion blender until dressing is well combined. It will be very thin. Set aside.
Recipe note: the dressing will separate as it sits, so shake/stir well before serving.
Make the Grilled
PREHEAT the grill to medium-high heat and grease the grates using tongs to hold a bunched up paper towel saturated with olive oil.
GRILL the pork until it reaches an internal temperature of 145-150 degrees. I like the 7-6-5 method. With the lid closed, cook for 7 minutes on one side, flip and cook for 6 minutes, flip and cook for 5 minutes. Keep an eye on it and if it seems to be burning, lower the heat (or move to indirect heat). Add more time as needed to come up to temp.
Assemble the Greens
PILE four plates high with both types of cabbage.
TOP with green onions, shredded carrots, oranges, and sliced almonds.
ALLOW the pork to rest for 5-10 minutes, then slice it into ¼" – ½" medallions. Add medallions to each salad.
DRIZZLE with dressing and enjoy!
Recipe note: No grill? No problem. You can cook the pork tenderloin on an indoor electric grill or griddle, or sear it in a skillet and bake it at 425 degrees for 15-20 minutes (or until internal temp of 145 F is reached).
[Tweet "Part 3 of our #Whole30 Summer Meals Series: Grilled Over Greens. #Whole30Recipes"]
---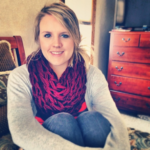 Maria Barton is a home chef, blogger, DIY-er, gardener, wife, and dog mom who is working on finding balance in her life after Whole30. Connect with Maria for more delicious recipes: Website | Instagram | Facebook
Save
Save
Save
Jen Kendall
Whole30 Approved Program Manager
Jen Kendall, our Whole30 Approved Program Manager, is a born and raised Floridian who now lives in Utah with her husband Quinn and their two-year-old boy Easton. She graduated the University of Florida in 2010 from the College of Journalism and Communications and has a strong interest in nutrition, health and exercise. Jen has an insatiable appetite for travel and adventure and also loves books, spending time in the kitchen cooking and experimenting with recipes, Crossfit, and enjoying as many days as possible in the outdoors year-round.