Bring on spring with the newest addition to our Instant Pot Pressure Cooker recipe series. This counter top appliance is popular among our Whole30 community, and Whole30 compatible Instant Pot recipes are one of our most-requested resources on social media. Sarah Steffens, our in-house recipe creative, is sharing her favorite recipes for nourishing, delicious Instant Pot dishes—Whole30 compatible, of course!
Here at Whole30 HQ, spring is upon us. While the days continue to grow warmer, we're also experiencing plenty of rainy days that call for nourishing, cozy fare. With that in mind, we're sharing this recipe for Braised Short Ribs over Creamy Broccoli Puree. It's light yet filling, with the perfect balance of savory protein and nutritious veggies.
[Tweet "A vibrant, springtime twist on a cozy, #InstantPot feast! Recipe on the #Whole30 blog now."]
Braised Short Ribs Over Creamy Broccoli Puree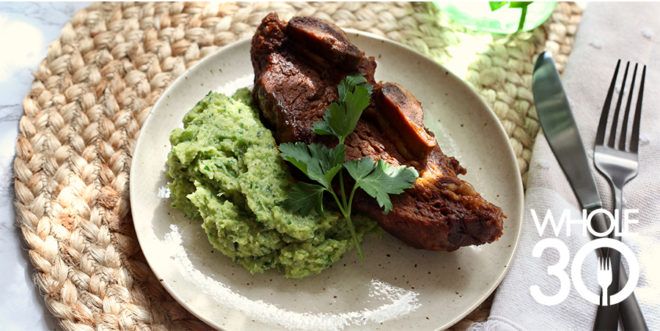 Ingredients

Short Ribs:
3 lbs. of bone-in beef short ribs
Short Rib Marinade:
1 6 oz. can of Whole30 approved tomato paste
2 Tbs. of avocado oil
1 Tbs. of sea salt
1 tsp. of black or white pepper
1 tsp. of garlic powder
2 Tbs. of coconut aminos (we like Big tree Farms)
2 Tbs. of balsamic vinegar
1 tsp. of smoked paprika
Broccoli Puree:
1 Tbs. of ghee (we like Tin Star Foods)
1 lb. of broccoli florets (fresh or frozen is fine)
1 onion, peeled and chopped
4 garlic cloves, peeled and minced
1 tsp. of sea salt
½ tsp. of black or white pepper
1 cup of fresh parsley, minced
2-4 Tbs. of olive oil
Instructions
WHISK all short rib marinade ingredients in a bowl and pour in a plastic bag with a seal. Add the short ribs to the bag and seal and allow to marinate for 1 hour or up to overnight.
PLACE the marinated short ribs in your Instant Pot. Place the lid on and set the steamer valve to "Sealing".
PLUG in your Instant Pot and set it to the "Meat/Stew" at "High Pressure" for 30 minutes. When the timer has reached "0" minutes, allow the steam to naturally release for an additional 30 minutes.
WHILE your short ribs are cooking, place all of the Broccoli Puree ingredients except the fresh parsley and olive oil in a medium-sized pot and simmer until the veggies are very soft, about 15 minutes.*
TRANSFER to a food processor and pulse with the minced parsley until all is well combined and creamy, scraping down the sides and adding olive oil as needed. Remove from the Instant Pot and serve over Broccoli Puree, garnish with fresh herbs and enjoy!
Some links in this post are affiliate links, meaning Whole30 makes a small commission on items purchased via these links. Thank you for supporting our Whole30 Approved partners.
---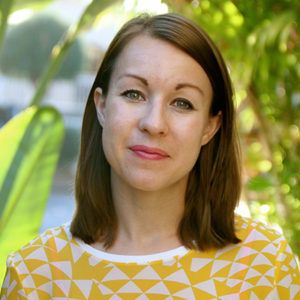 Sarah Steffens has a B.A. in Business Administration, Public Relations from The Master's College in Southern California. After years of experimenting with nutrition and recipes in her own kitchen, she now works as a Personal Chef in Los Angeles, cooking meals that support her client's intention to physically and mentally thrive. She has catered several independent film sets, making it her goal to optimize the energy and well-being of each creative crew. She is the in-house recipe creative for the Whole30, and the creator of the Savor and Fancy blog. When Sarah is not cooking Whole30 and Autoimmune Protocol meals, she is likely exploring mid-century sites in L.A., taking photographs, listening to an audio book or hiking at Griffith Park.
Melissa Urban
Co-Founder / CEO
Melissa Urban is a 7x New York Times bestselling author (including the #1 bestselling The Whole30) who specializes in helping people establish healthy boundaries and successfully navigate habit change. She has been featured by the New York Times, People, the Wall Street Journal, Forbes, The Today Show, and Good Morning America, and is a prominent keynote speaker on boundaries, building community, health trends, and entrepreneurship. She lives in Salt Lake City, UT with her husband, son, and a poodle named Henry.