As you settle into a #SeptemberWhole30 routine, you'll most likely find yourself cycling through 8-10 favorite recipes each week. This is actually a smart Whole30 success strategy; you're establishing new habits that will become part of your food freedom long after your 30 days are over.
But, it's equally important that you don't become bored with your Whole30 food. And with all of the delicious, fresh produce, protein, herbs, and spices that are in line with the Whole30 program rules, you shouldn't have to! Every Friday throughout the #SeptemberWhole30, we'll publish a few inspiring and creative Whole30 recipes. If you find yourself with a little time this weekend to experiment with new recipes, try one of the dishes below from Teri Turner of the Instagram nocrumbsleft. Maybe one of them will become a new Whole30 staple.
[Tweet "Three recipes from nocrumbsleft to inspire your #SeptemberWhole30, on the #Whole30 blog"]
Vietnamese Inspired Chicken, Cabbage and Fresh Herb Salad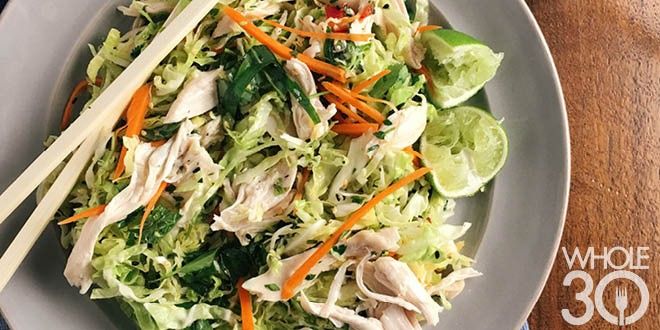 Teri's note: I adore a Vietnamese-inspired chicken and cabbage salad with lots of fresh herbs, julienned carrots and lime. Traditionally, salads like this would not be Whole30-compatible with all the added sweeteners, so the trick is inventing something compatible, healthy, and delicious. This was great for the weekend, as you can make a large salad and keep it in the refrigerator in individual bags, removing and tossing in dressing as needed.
Ingredients
For the salad:
1 small head Savoy cabbage, thinly sliced
1 cup julienned carrots
6-7 green (spring) onions, thinly sliced lengthwise
¼ cup fresh mint leaves, roughly chopped
¼ cup fresh basil leaves, roughly chopped
¼ cup fresh cilantro leaves, roughly chopped
2 roasted chicken breasts, shredded (see below)
Dressing (see below)
For the Roasted Chicken breasts:
2 chicken breasts, bone-in and skin-on
3 Tbsp olive oil
Kosher salt
Freshly ground black pepper
For the Dressing:
2 ½ Tbsp coconut aminos
2 Tbsp rice vinegar
1 tsp hot sauce (Whole30 compatible; I like Tessemae's)
1 tsp grated ginger
Instructions
PREPARE the chicken breasts – Preheat the oven to 350 F. Rub every crevice of each chicken breast generously with olive oil and sprinkle with kosher salt and black pepper.
BAKE for about 35 minutes. Remove from the oven and brush the top of the chicken with the juices. Return to the oven for 5 minutes to brown the top. Remove from the oven and let rest for 10 minutes. Once cool, shred the breasts by ripping apart with your hands.
MAKE the dressing — In a mason jar, combine all dressing ingredients and shake to mix well.
ASSEMBLE your salad — Place all the salad ingredients above, along with the shredded chicken, in a bowl. Pour dressing over salad. Toss and serve.
Sizzling Shrimp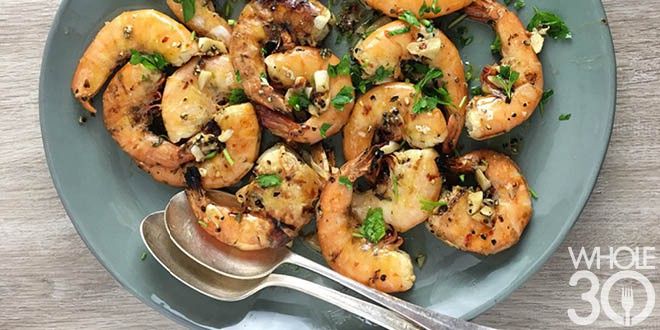 Teri's Note: Here's a succulent dish loved by all. Don't expect leftovers, because your guests will fight over every last piece. It's easy, delicious, and special enough for company; great when your food is feeling monotonous and you want to elevate it a notch.
Ingredients
1 to 1-½ lbs. large shrimp, shells on, about 16-25 pieces per pound
Juice from ½ lemon
¼ cup olive oil
4 cloves garlic, chopped
1 tsp crushed red pepper flakes (or less, depending on your preference)
¾ tsp salt
¾ tsp freshly ground black pepper
2 Tbsp clarified butter or ghee
Instructions
LEAVING the shells on, make a small cut on the back of the shrimp from the head to the tail, ¼ way through, and de-vein.
MAKE a marinade of lemon juice, olive oil, chopped garlic, red pepper flakes, salt and pepper. Marinate the shrimp for about 30 minutes while your grill is getting hot.
ONCE the grill is hot, grill the shrimp for 3 minutes on one side and 2 minutes on the other side, making sure they are just done, but not over-cooked. Remove and toss in clarified butter.
Tip: For luscious shrimp, Do not overcook them.
Grilled Zucchini Planks with Ginger and Green Onion Dressing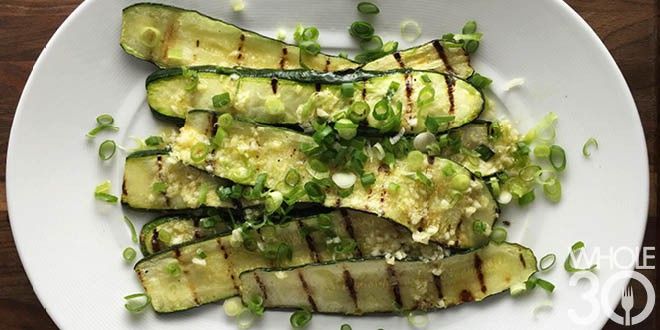 Teri's Note: There is never a better time for zucchini than September. This is a gorgeous side dish for a dinner party, but can be enjoyed during a weeknight dinner paired with grilled salmon or my everyday roasted chicken.
Ingredients
6 zucchini
2 Tbsp olive oil
2 Tbsp white wine vinegar
Juice of 1 lime
2 cloves of garlic, crushed
Juice from 1 handful squeezed ginger
3 green onions, thinly sliced
Instructions
TRIM zucchini and cut into even 1/4-inch planks, lengthwise (or less, if you prefer). Toss in a bit of olive oil and sprinkle with salt and pepper. On a clean, oiled grill, grill zucchini for about 4 minutes a side, flipping once.
WHILE the zucchini are grilling, make a concoction with olive oil, white wine vinegar, the juice of one lime, and a couple cloves of garlic, crushed. If you like a little bit of ginger, you can shred it, then pick it up and squeeze it into the concoction, discarding the leftovers, and stir.
AFTER removing zucchini from the grill, pour the concoction over, and top with thinly sliced green onions. Serve and Enjoy!
[Tweet "Combat food boredom during your #SeptemberWhole30 with three gorgeous recipes from nocrumbsleft."]
---
Teri Turner is a passionate home chef and foodie. She loves to create beautiful "Paleo-ish" dishes with approachable methods and recognizable ingredients—striving to inspire others to fall in love with cooking, too. You can find more delicious recipes on Teri's Instagram, @nocrumbsleft.
Save
Save
Save
Save
Save
Save
Save
Save
Save
Save
Save
Shanna
Chief Content Officer
Shanna Keller, our Chief Content Officer, hails from Boise, Idaho, where she lives with her husband Alan and a poorly-behaved terrier named Olly. She has spent her career telling stories of life transformation on social, web, e-mail and print media platforms. In addition to celebrating Whole30 successes and stories online, Shanna loves to cook, read, and climb.